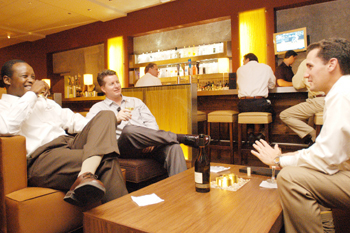 Photograph by Charlie Nucci

Groovy Goodies: Lounge and look good, eat and eat well, at Paragon.

American Beauty

Paragon Restaurant brings back 'Brady Bunch' cool

By Stett Holbrook

ALTHOUGH it's been open less than two months, downtown San Jose's Paragon Restaurant & Bar has the confidence of a veteran. With the still wobbly economy, launching a new restaurant remains a risky enterprise. But with its good looks, reasonable prices and satisfying food, Paragon seems to have read the market well and stepped out with a winner.

Yes, Paragon is a chain restaurant. There are locations in San Francisco, Oakland and Portland. But there is nothing prefabbed about the place. The owners have enough sense to let each location develop its own identity in the kitchen and dining room. As a result, Paragon feels like it was built from the bottom up, not the top down.

The restaurant is located inside the Hotel Montgomery and it gives the place an urbane, big city sensibility. The décor in the dining room and adjacent lounge is Greg Brady cool. Soft brown and beige tones, low couches, high-backed booths and a narrow, free-floating counter with opposing chairs give the room a groovy but restrained '70s chic. Outside, the sprawling open-air patio and adjoining bocce ball courts beckon on warm nights.

While the restaurant is a great place to sip a cocktail and look good doing it, the food deserves all the attention. Executive chef Thomas Connolly has created an appealing menu of sophisticated and satisfying new American cuisine. The kitchen won me over right away with a bowl of borscht ($6.50). While I think of borscht as a heavy winter soup, Connolly makes his with golden beets pureed silky smooth. Served chilled, it's a refreshing summer starter. Duck confit salad ($8.50) is another good opener. Slightly salty strands of tender, rich duck share the plate with dried cherries, cherry tomatoes and peppery arugula dressed with an on-the-money sherry vinaigrette. Best of all is the heirloom tomato salad ($8.50). This time of year, this dish is everywhere, and that's just fine with me. A bursting, almost-overripe tomato is the essence of summer on a plate.

Paragon handles seafood particularly well. Topping my list is the pan-seared halibut ($18). Crisped on the outside and snowy white inside, the meaty fillet arrives atop a jumble of morel mushrooms, leeks and barely cooked English peas luxuriating in a deep porcini and Madeira jus. Herb-crusted sea bass ($18), served with snappy summer green beans, cherry tomatoes and sun-dried tomato tapenade, scores points as well. While the grilled salmon special ($19) was perfectly cooked, Paragon's simple preparation atop a mound of corn-centric ratatouille needed more pop to distinguish it from backyard salmon.

Grilled hanger steak ($18) may well become Paragon's signature dish. Tender slices of beef are fanned atop a wild mushroom gratin, an elegant dose of meat and potatoes. The pinot noir reduction had me looking for a spoon. And for sheer comfort value, the crisp-skinned roasted chicken and baked mac and cheese ($16.50) is hard to beat.

The one dish that stumbled was the New York steak ($23). The generous cut of meat was tender but came out far pinker than the requested medium. And it was too fatty. The flavor of the steak was good, but it got lost in the crush of side vegetables, creating a stew on the plate. Less would have been more.

Paragon has desserts down cold. I loved the red wine and balsamic vinegar-braised strawberries with cornmeal poundcake ($7). Roasting the berries concentrates their flavor and makes them a great match for the grainy, moist poundcake. You've probably had pot de crème before, but Paragon's version made with Valrhona bittersweet chocolate and topped with a homemade, flame-browned marshmallow sets the pace.

Paragon has a solid wine list. I especially like the fairly priced wines by the glass. Not everyone wants to commit to a full bottle of wine, and it's nice to see more than a few token selections.

Given how new the restaurant is, service is quite good. While the servers are not all polished, they're friendly and attentive and know the menu well. On one visit, the floor staff outnumbered the customers, making me wonder if Paragon would have trouble filling its big dining room. But on a subsequent visit the place was hopping. Word must be getting out about this downtown standout.
---
Paragon Restaurant & Bar
Address: 211 S. First St., San Jose
Phone: 408.282.8888
Hours: Dinner 5:30-10pm Sun-Thu, 5:30-11pm Fri-Sat; open for lunch soon
Cuisine: New American
Full bar
---
---
Send a letter to the editor about this story to letters@metronews.com.
---
[ Silicon Valley | Metroactive Home | Archives ]