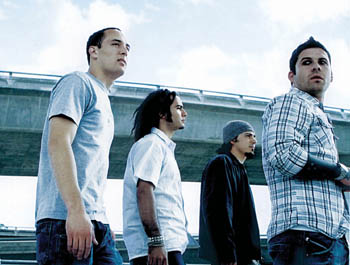 Photograph by Sarah Collins

Straight Outta Katie Bloom's: Strata's new video for 'The Panic' is on MTV.

Rock Hard

The buzz over Strata heats up, and the Campbell band fires up the fans

By Sarah Quelland

GUITARIST Ryan Hernandez is behind the wheel of Avril LaVan, Strata's touring vehicle, trying to get his band mates to a skatepark somewhere in Oklahoma City while doing an impromptu interview on his cell phone.

"I'm used to this," he says. "Talking on the phone, driving, drinking coffee, the usual. It's the Bay Area multitask."

This is life on the road for the Campbell band with a self-titled long-player on Wind-Up Records and a video ("The Panic") on MTV. Strata's tour with Finger Eleven and Moments in Grace is rigorous. Most of the band members' meals come from gas stations and diners, and the guys while away miles of blacktop chatting online, playing Halo on their Xbox, listening to music on their iPods or sleeping. Later that day, Hernandez will do his laundry in a facility that looks so ghetto it scares him.

Strata's getting used to this pace. The band toured for the better part of the past year and a half with Alien Ant Farm, dredg, Sno-Core, Smile Empty Soul and Finger Eleven. Immediately after wrapping the Finger Eleven tour, the band jumps on a Nonpoint/Skindred package that hits Slim's in San Francisco on Sept. 13.

"It all happened really fast," Hernandez says of their blossoming national recognition. "I haven't processed a lot of things."

Maybe not, but the reality that the group is reaching the next level is sinking in. "Slowly, this is becoming more of a home," bassist Hrag Chanchanian says. "I'm getting more comfortable with it, and I'm starting to realize I'm gonna be out here for a while. Nothing I can do about that, nothing I want to do about that. I'm just learning to adapt to it more and make the best of it."

Strata formed about four years ago as downside and became a regular at places like the Cactus Club in San Jose and the Gaslighter Theater in its hometown, but it wasn't until guitarist Hernandez, bassist Chanchanian and vocalist Eric Victorino recruited drummer Adrian Robison that the lineup finally felt complete. Last fall, after years of showcasing and a near-miss with Capitol Records, the band signed with Wind-Up (the home of Evanescence, Drowning Pool, Seether and Alter Bridge) and hit the road again in anticipation of its self-produced label debut, which came out July 27.

For a band trying to break on a national level, the exposure that comes from touring is critical. Chanchanian says first-week sales of Strata were encouraging. "It's not too much, not too little; it's just right. We're all really happy with that."

The record is stunning. It's elegant, poetic, provocative, majestic, dark, deep, vast, haunting and beautiful. There's vivid imagery in Victorino's lyrics, and a tragic narrative runs through the songs. The theme that ties the album together seems to be one of recovery, but Victorino is adamant that he's purely writing from an emotional perspective.

"It's just recovery from all the horrible things that happen to people," he explains. "I don't like to write all the lyrics about myself and what I've gone through. Some of them are observations of seeing someone else go through something really horrible. But," he adds, "I've said it so many times to people, if you look at every single song of ours, there's some sort of optimism underneath. Even the most negative-sounding songs have something positive behind them."

Though there's profound anguish in Victorino's words, he wonders if people will get the wrong impression. "I'm not normally a depressed person," he says. "I do have my serious lows, and that's when I do my writing, usually, so I think those are the times in my life that come through in the songs a little more."

There's a resonating power to Strata's songs, which are frequently epic, dramatic, operatic and apocalyptic expressions of sonic emotion drenched in symbolism, metaphor and meaning. The desperation Victorino expresses takes a lot out of him onstage. Each night, he transports himself back to the inspiration behind each song. After a set, he says, "I usually just find the closest door and take a walk outside the second we finish. It takes a while to get my head back together and to really focus and realize where I am. For that half-hour onstage, I kind of forget everything."

That type of creative magic happens to Victorino often. "Sometimes I'll write like 10 pages of shit, and I'll look at it, and it all rhymes and I don't even mean to do it," he says. The ending of the sensual "Just Like Silk" is also a mystery to him. The song builds and builds to a cathartic climax where he rages, "I'd kill you first, guilty one/ This is hurt/ Push it through/ Guide me/ Push it through/ Cut."

It was a spontaneous studio take, and he remembers, "I got in the booth and just started hollering and screaming. I didn't plan on what I was gonna say." That stream-of-consciousness flow of emotion has become his favorite line from anything he's ever written, and he has no idea where it originated.

"When I say there's an honesty in the music and an honesty in the lyrics, I think it's the most pure form of honesty, because it's coming from somewhere deep. I'm not sure where in my head it's coming from, but I'm just kind of finding it."

For local fans, the Wind-Up release may sound familiar. The album is a combination of tracks from Strata's Internet-only album, When It's All Burning, and the EP, now the industry is outnumbered ... their factories are burning down, that have been spruced up for national audiences. "They have a consistency now, and they have a solid feeling that they didn't have before," says Victorino.

Early fans may also notice a few four-letter words were changed on the Wind-Up release. The band did that to avoid getting slapped with the parental advisory sticker. Victorino says that for him the decision was an easy one because the changes were minor, and they didn't alter the sentiment of the songs. Referring to the red-flag words used in original versions of "Piece by Piece" and "The Panic," Victorino suggests, "If anything, for us, I think taking those words out lends a maturity to the songs that they didn't have before."

Victorino conceptualized the album's artwork of birds circling like vultures over corporate America on a sketch pad at one of Strata's favorite hangouts on Campbell Avenue, Katie Bloom's. It stems from the idea behind the EP, now the industry ... "That's something we can apply to the entertainment business, we can apply it to the arts, we can apply it to our country—it's in a state of peril. It's like the man in the suit, as average-normal-business guy as possible, represents all of that and the birds circling over him is the impending doom. I think it's a commentary on our society. The way I feel our country is, right now, is we're crawling across the desert, and we need water and there's vultures above us."

Being on the road seems to have intensified everything emotionally for the members of Strata, and they sound surprisingly vulnerable at times. Still, Chanchanian says he finds inspiration in the hardships of touring. "Missing your family, friend, girlfriend, your bed, your dog—that brings out certain emotions that you don't have when you're at home."

While both Chanchanian and Hernandez are anxious for the opportunity to channel those feelings into writing and recording new material, right now touring is the band's first priority.

"It's not every day that you get to just travel the country [and] play music," Hernandez says. "Everything is worth the 30 minutes we're onstage. You have to remember that so many other people would die for this position. And it's a great position.

"We're just four human beings, four dorks, playing instruments, making music, and people are actually into it. That's enough for us to continue doing this."
---
Strata, Nonpoint and Skindred perform Sept. 13 at Slim's, 333 11th St., San Francisco. Doors open at 8pm, and tickets are $15. (415.255.0333 or www.stratadirect.com)
---
---
Send a letter to the editor about this story to letters@metronews.com.
---
[ Silicon Valley | Metroactive Home | Archives ]