By Sarah Quelland
POWERED BY BIODIESEL GENERATORS and enhanced by PETA booths, stands selling organic produce and tables peddling T-shirts with aggressively political statements, Lollapalooza, the celebration of alternative and fringe culture founded by Jane's Addiction's Perry Farrell in 1991, returned to Shoreline Amphitheatre on Aug. 19 after a five-year hiatus. The event distinguished itself from other concert festivals, with entertainment provided not just by a variety of bands and DJs on multiple stages (including the Donnas, Jurassic 5, the Mooney Suzuki, A Perfect Circle, Incubus and Audioslave) but also by belly dancers and counterculture performers who used recycled and found plastics for costumes and instruments.
After putting Marilyn Manson and his band identity as Twiggy Ramirez behind him, bassist Jeordie White joined Tool frontman Maynard James Keenan in A Perfect Circle. No longer made up like a zombie in drag, White now has tailored clothes, styled hair and skin so sun-kissed it borders on tan. The most significant throwback to his Twiggy days was the pouty scowl that occasionally crossed his face between big smiles.
Normally the focus of the show, the unpredictable Keenan performed from an island raised at the rear of the stage. Distanced physically and emotionally, he appeared almost wholly consumed by the music and didn't let the audience get close to him. In contrast, White clomped and scooted happily around the stage, interacting with the fans and bringing the energy levels up as he sang silently along with Keenan to the songs.
The mood of the day was elevated even further when Audioslave hit the stage. Woody Guthrie's "This Land Is Your Land" played through the house system before the supergroup featuring Rage Against the Machine's Tom Morello (guitar), Tim Commerford (bass) and Brad Wilk (drums) and Soundgarden vocalist Chris Cornell launched into their set against a backdrop of fun-house mirrors. After a number of songs from their heavy classic-rock-influenced debut album, the band exited, leaving Cornell alone onstage. Calling it a good song for the day, Cornell stood with an acoustic guitar and A Perfect Circle's Keenan came out to sing back up on Nick Lowe's "(What's So Funny 'Bout) Peace, Love and Understanding?" It was one of those rare and memorable moments that make touring festivals like Lollapalooza special.
Jane's Addiction brought the night to a close with its primal and sexual energy in a performance full of lechery and debauchery. Enigmatic frontman Farrell appeared in fashionably tattered clothing that made him look like a refugee from some apocalyptic sci-fi flick. He whirled and twirled athletically across the stage as he interacted with his band mates, exotic dancers and the audience, and led everyone in a toast to Bill Graham.
The band played "True Nature," "To Match the Sun" and "Just Because" from its new album, Strays, but it was the familiar excursions like "Stop," "Mountain Song," "Been Caught Stealing" "Summertime Rolls" and the explosive "Ocean Size" that got the crowd the most excited. "Three Days" turned experimental as a voyeuristic peep show upstaged the band, and guitarist Dave Navarro used drumsticks on the steel scenery and his own guitar.
Compared to Jane's lavish appearance at Shoreline in 2001, this show seemed short, and it ended suddenly. Telling the crowd that they only had five minutes left, Farrell insisted, "Don't ruin the vibe. It's so nice."
Incubus' vocalist Brandon Boyd and drummer Jose Pasillas emerged from the wings to join in on the Jane's classic "Jane Says"--another special moment--before everyone took their bows and exited the stage at 10:59pm, one minute before curfew. Photos from Lollapalooza 2003 can be glimpsed below and on the next couple of pages.
HOT TOPIC: The management team behind SoFA club spy, including Paul Gerhardt and David Farling, have acquired the Catalyst in Santa Cruz. ... Called to Ruin celebrates its CD release this Friday (Aug. 29) at Waves Smokehouse with Friction, Mercury Sound and Alien Love Syndrome. ... Locale AM, DESA, ToNavigate, Just Right, Tragedy Andy and Dexter Danger play this Friday (Aug. 29) at a new youth center on the campus of Bret Harte Middle School called the Spot. ... Teeno Records presents Skank Irie Sounds Volume II with ska bands Monkey, Hebro, Sneaky Long, and Minus Vince this Friday (Aug. 29) at the Gaslighter Theater in Campbell.
---

Lollapalooza 2003 Photo Gallery
Photographs by George Sakkestad

Flirty in Pink: Three Lollapalooza dancers flaunt their stuff between bands.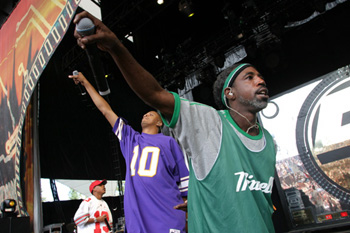 Hip-Hop Rise Up: The Jurassic 5 crew raises the roof.

Sassy Girl: Donnas singer Brett Anderson gets all messed up.

Mane Attraction: Donnas drummer Torry Castellano gets hyperactive.

Wigging Out: A Perfect Circle frontman Maynard James Keenan performs with pure power and soul.

Black in Action: Ex-Smashing Pumpkins guitarist James Iha plays it cool in A Perfect Circle.

Twiggy Who?: Former Marilyn Manson bassist Jeordie White grooves in A Perfect Circle.
---
Send a letter to the editor about this story to letters@metronews.com.
---
[ Silicon Valley | Metroactive Home | Archives ]