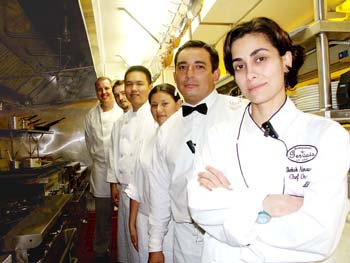 Photograph by Dina Scoppettone

Reheating History: Gervais' new staff, including (right) owner/chef Shekoh Ainsworth and (second from right) co-owner/pastry chef Mark Ainsworth, reinvigorate its European menu.

Surreal World

An oddly exquisite dining experience awaits at Saratoga's Gervais

By Aaron Robinson

YOU CAN, indeed, go home again--that is, if you're going to Gervais, the classic South Bay French restaurant. For more than 25 years, Gervais has held various courts as the place to go for expert French cuisine and homey surroundings. Gervais' new location in Saratoga keeps the homey surroundings, but the new chef/owner Shekoh Ainsworth has updated the menu to incorporate contemporary European elements.

If I renovated my grandparents' house into a restaurant, it would look a lot like Gervais. The living room and dining room are where they put the tables, and the back bedrooms are where they put the kitchen (the front of the house and the back of the house literally). The interior has been stripped down to stark spaciousness, with yellow walls that make the bright lights seem even brighter. A heated patio out front and a wood-burning fireplace in the dining room add needed touches of warmth.

Waitstaff at Gervais don't use pen and paper to take your order--instead, each employee is equipped with a Matrix-like earpiece--"What would you like for dinner, Mr. Anderson?"--a surreally out-of-place stage prop.

Our digitalized order flew through the ether and materialized speedily. First to appear, a dangerously inventive starter: quail breast pithiviers with black-truffle ice cream, tarragon essence and oil ($14). Any dish that combines sliced quail breast, brioche and foie gras in a puff pastry with a side of ice cream is unavoidably compelling in my book--I had to sample it just out of curiosity. Whether I enjoyed it because it was different, or because it just worked, is difficult to tell: The ice cream, like most things dressed with truffle, was pungently aromatic, and the pithiviers was hot, with gamey and sweet undertones. All parts of the mouth, nose and tongue were pleasantly stimulated.

Time had been spent detailing the presentations, especially the heart of romaine salad ($10), where every leaf seemed measured and stacked. The house Caesar dressing was more like a tangy lemon and caper vinaigrette, a refreshing alternative just as good as the traditional version.

We selected a bottle of the 2000 Mac Rostie Pinot Noir ($50) to pair with all the dishes. This was a fabulous carneros vintage with a delicate fruit aroma and assertive acidity that counterbalanced all of the sharp and earthy ingredients used in Ainsworth's menu. To mention one: an 8-ounce roasted veal chop ($25) served over Parmesan-strewn morel mushroom risotto with sweet and tangy caramelized shallots. It could have been the Matrix telling my brain that the veal chop was juicy and delicious, but even so, I'll take the blissful ignorance.

Ahi tuna often flops on a menu--if not incredibly fresh and cooked properly, the flavor fades and the texture hardens. Which means that only a few privileged individuals get to taste it in its perfection. That evening, I was privileged. The ahi dish ($25) that Ainsworth conjured up was "butter"--it truly sunk my teeth. Its accompaniment of tender lemon pepper gnocchi and bok choy resting in a savory ponzu broth simply enhanced this wonderfully done masterpiece.

Another intriguing footnote to Gervais' story is that pastry chef Mark Ainsworth (the pastry chef at the Ritz Carlton for five years) is not only the co-owner but also husband to the chef. The couple's compatibility can be seen in their menus. One of the two gorgeous creations selected from the dessert menu was the champagne-stewed Olsen farm cherries, white peaches, figs and apricots with hints of Tahitian vanilla, lavender honey and cinnamon, encompassing a foamy fromage blanc mousse with kirsch meringue ($7.50)--to die for. The trio of custards ($7.50) was perhaps the most memorable presentation: a shot glass full of pot de crème, a hazelnut crème caramel and a cornucopia of Tahitian vanilla crème brûlée with fresh berries, all beautifully decorated and served on a glass plate. Virtually perfect.
---
Restaurant Gervais
Address: 14560 Big Basin Way, Saratoga
Phone: 408.867.7017
Hours: Lunch 11:30am-2pm Thu-Sat; dinner 5:30-9pm Tue-Thu, Fri-Sat 5:30-10pm
Cuisine: Contemporary European
Price Range: Appetizers $8-$20, entrees $17-$29
---
---
Send a letter to the editor about this story to letters@metronews.com.
---
[ Silicon Valley | Metroactive Home | Archives ]