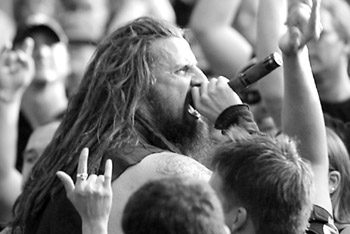 Photograph by George Sakkestad

Rob Zombie storms into the crowd.

Reign of Oz

An eccentric Ozzy Osbourne proved once again why he's the king of metal at Shoreline

By Sarah Quelland

PLAY THROUGH THE PAIN seemed to be the slogan of this year's OzzFest--and the louder the better. OzzFest hit Shoreline last Sunday (Aug. 25) and, dominated by rock vets still subscribing to the "If it's too loud, you're too old" theory of rock, the sound at the festival was cranked to deafening decibels.

In his role as leader of second-stage headliner Down, Pantera frontman Phil Anselmo rambled about pot and pussy in between the band's sludgy Southern metal songs. With Seether, Zakk Wylde's Black Label Society, Adema and P.O.D. on the main stage, it wasn't until Rob Zombie came out that the concert started to get interesting.

Ozzfest Photos: More scenes from the concert.

Coated with powdery Zombie dust, the band--dressed down for the daytime performance--entered to a simple stage set with giant black-and-white photos of classic monsters. Zombie's horror metal over disco beats went over well with the crowd as he played favorites like "Living Dead Girl," "Superbeast," "Feel So Numb" and "Never Gonna Stop," and unearthed "More Human Than Human" from his White Zombie days. Though his voice sounded coarse, the gruff frontman was energetic, prowling threateningly through the audience and causing a stir at every turn. He even brought one fan wearing a Zombie shirt down to watch from the front of the stage. Throughout his set, Zombie mercilessly tormented a couple sitting in the front row, calling sitting down "fucking horseshit." He became so outraged that he had the house cameraman hone in on the two for an entire song, effectively plastering their faces on the giant video screen overhead. As Riggs emptied his blood-filled guitar during "Dragula," and Zombie wrapped up the set, there was activity upon his exit that could have been a near scuffle between man and beast.
System of a Down set an entirely different mood deploying controlled hysteria from the moment it hit the stage with its erratic off-kilter rhythms and provocative political lyrics. Kicking off with "Forest," System took its fans by the hands and led them on a fascinating trip made even more hallucinogenic by the disturbing, bizarre and trippy images that flashed on the big screen. First appearing in ceremonial robes, frontman Serj Tankian would later reveal a black T-shirt with a skull that read, "Obey." Through compositions like "Prison Song," "Jet Pilot," "Toxicity," "Aerials," "Chop Suey!" and "Sugar," and by broadcasting messages like "You Are Learning Now," the Armenian collective seems to be on a mission to expand minds and point out the spiritual void it sees in American culture.
Still, as night fell and the moon rose, there was no questioning that Ozzy Osbourne was the man everyone came to see. Since The Osbournes exploded on MTV, Ozzy's fanbase has expanded yet again to include a generation so young its parents aren't old enough to be part of the first run of Ozzy fans. Looking sad, tired and a little out of it, Ozzy told the crowd that his wife, Sharon, was kicking cancer's ass but admitted, "I'm kind of fucked up about the whole thing." Later, he would explain, "My head right now is like a fucking haunted house." But despite being sick with worry, the eccentric Ozzy put on a tremendous show, hopping up and down like a frog, clapping his hands like a little kid and repeatedly telling the audience, "I love you all."
In his concerts, Ozzy often presents the best of both worlds by performing classic Black Sabbath ("War Pigs," "Iron Man," "Paranoid") and digging through his own trove of solo songs. This year, Ozzy turned back the clock, focusing on older material ("I Don't Know," "Mr. Crowley," "Suicide Solution," "Bark at the Moon," "Crazy Train") and mid-career singles ("Mama, I'm Coming Home," "I Don't Want to Change the World," "Road to Nowhere"). I was blown away when he sang "Goodbye to Romance," a favorite from my own youth. Standing in the water zone, I was caught in the weird ritual of being soaked with heavy blasts of water--I felt like a participant in a communal baptism being performed by the madman himself. What a thrill!
---
Send a letter to the editor about this story to letters@metronews.com.
---
[ Silicon Valley | Metroactive Home | Archives ]