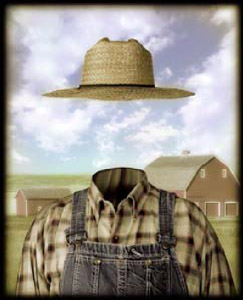 Digging Your Scene: 'The Drawer Boy' unearths life in rural Canada.





Farm Factor

Reality theater inspires a San José Rep play that reveals truths from its fiction

By Heather Zimmerman

REALITY-INSPIRED entertainment may be a commonplace concept now, but 30 years ago exploring the lives of actual folk proved an artistic experiment that made theater history.

In 1972, a group of young Canadian actors went to live with farmers in Ontario to study everyday farm life. In what would become a revolutionary event in Canadian theater, the actors created The Farm Show--a documentary-style theater project based on their experiences.

In 1995, Toronto-based actor and writer Michael Healey was inspired by this now-historic project to create The Drawer Boy, a play that has garnered every major Canadian award and is itself considered by many, including Time magazine, a new classic. San José Repertory Theatre opens its season this week with this dramatic comedy about theater, friendship and storytelling that unearths some life-changing truths for three people living in Canada's heartland.

The Drawer Boy takes its initial premise from The Farm Show: During the early '70s, a young actor named Miles, researching a theater project, goes to stay with two farmers and learn about life on a farm, when culture shock ensues. However, through Miles' messy hands-on experience, The Drawer Boy tells a coming-of-age story that works on several levels, says director John McCluggage.

"In this story, not only is Miles learning what it means to be a man, but it's more he's learning what it really means to be an actor, in that you have the power to communicate to your audience, but also a responsibility," McCluggage says.

But Miles' coming-of-age saga is secondary to the story of his research subjects--farmers Angus and Morgan--and the near-mythical tale that bonds the two longtime friends. Because of a brain injury Angus suffered during World War II that has destroyed his short-term memory; he must rely on Morgan to retell, again and again, the story of what happened to him.

"You realize these characters have been doing this ritual for 30 years, just the two of them on this farm, and there's a cyclical nature to the farming industry. There's also a cycle in the friendship," McCluggage says. "There's a lot of comedy with regards to this guy who can't remember who he's talking to, and yet there's something very moving in it--[it's] ultimately about the power of theater to create ritual."

When Miles overhears Angus' story and uses it in his play, which the farmers later see, the tactic adds another layer--and perhaps reveals one within--to the myth the two friends share. The actor acts as a catalyst for the bachelor farmers to re-examine how they live their lives. What is really important to them: the ritual, the myth or the truth?

In directing The Drawer Boy, McCluggage uses the play's roots in The Farm Show as something to build on but definitely not as a guiding force.

"The greatest strength is also the greatest challenge in that there's a wealth of material that you can research about what happened in The Farm Show," he explains. "But you can become locked into what they actually, really did, and then you're not so much creating as imitating. ... You free yourself from beyond what literally happened and get back to what's true about the story.

And, of course, what's "true" on the stage doesn't necessarily have to flow from fact. It seems what's most real about The Drawer Boy may have little to do with its historical origins and everything to do with its ideas about storytelling and theater.

McCluggage: "The thing that's the most compelling, I think, is that [the play] really explores the fact that what we do in theater is we tell true stories, whether or not they really happened. I don't know that King Lear existed, but it's a true story, isn't it?"
---
The Drawer Boy opens Sept. 6 and plays Saturday at 3 and 8pm, Sunday 2 and 7pm and Tuesday-Friday at 8pm through Sept. 24 at the San José Repertory Theatre, 101 Paseo de San Antonio, San Jose. Tickets are $20-$48. (408.367.7255)
---
---
Send a letter to the editor about this story to letters@metronews.com.
---
[ Silicon Valley | Metroactive Home | Archives ]