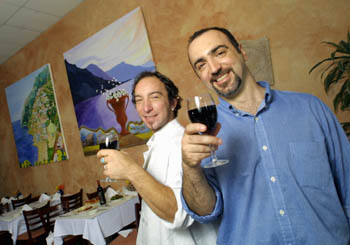 Fraternal at Fratello: Restaurant owners--and brothers--Carmine and Giulio Camporaso have taken the Meridian Avenue eatery to new heights.

Mellow Fratello

Under new ownership, this Willow Glen mainstay refines its Italian roots

By Joseph Izzo Jr.

Faced with an hour-long wait to renew my passport, I lost my patience. I was hungry and needed a bite to eat, so I left the passport office on Meridian Avenue and walked across the street to an Italian restaurant I knew: Fratello. I wasn't always impressed with everything I'd tasted in this strip mall enclave, but overall I knew it was reliable.

When I walked in, I knew immediately that something had changed. I was greeted by a young gentleman and led to a table covered in linen. He handed me the menu, and then brought bread and a bowl of garlic cloves in olive oil. I ordered a plate of Spaghetti alla Puttanesca ($11.95) and a glass of red wine. It was a delicious dish--intense, full of garlic and red pepper, a perfect rendering of this specialty created for endurance by the harlots of Naples.

I revisited weeks later with a couple friends who know Italian food and have continued to educate me on dishes like polenta and risotto. What I sensed that lunch visit turned out to be true. Fratello has been transformed. The new owner, Carmine Camporaso, hails from Naples and runs the dining room with his brother, who looks a little like Roberto Benigni. With these two buzzing from kitchen to table like honey bees, Fratello glows with a rosy hue of authenticity that piques the appetite, boasting the attributes of native Italian dining without affectation.

On the far wall hang two paintings by the third brother who lives in Los Angeles pursuing a career in art. One depicts the Amalfi Coast in bright primary colors. The other is a water scene that cools the room with shades of violet and lavender. I stared at them on both visits, contemplating the magical ingredients of atmosphere. At the new Fratello, I've felt warm and comfortable at times, as if at a table in the home of a loving, gregarious family. Mr. Camporaso and his brother are as much a part of the atmosphere as the paintings and the nicely spaced tables with the linen. They form a hands-on team, serving their customers in a style reminiscent of trattorias in Italian cities. With them on station popping corks, brewing espresso, serving desserts, this place hums with an excitement that made me smile. We had a lot of fun here.

Eager to give the menu a full sampling, we opened with two appetizers, the first a creamy polenta specialty ($8.95) with pieces of sausage, finished with a tomato sauce sweetened with carrots. Calamari Cilento ($7.95) broke stride from the popular fried variety, assembling instead poached squid in a salad of black olives, spinach, tomatoes, goat cheese, bell peppers, all tossed in a tangy vinaigrette.

We couldn't resist a taste of Fratello's Neapolitan-style pizza ($9.95) made without cheese on a thin golden crust brushed with a blood red tomato sauce, fresh garlic, oregano and anchovies. Unintruded by cheese and other fatty toppings, it burst with simple flavors.

Steaming from the pans came two pasta selections that further defined the authentic nature of this restaurant. Spaghetti alla Carbonara ($11.95)--literally, bacon and eggs with pasta--is a high-calorie dish that can exhaust the palate with its richness. Be advised. It is made with cream, egg, pancetta (Italian bacon) and Parmesan cheese and dispersed thoroughly over the tender noodles.

Our second pasta, Linguine Pescatore ($13.95), married a trio of shellfish (clams, mussels and prawns) in a bracing white wine sauce full of garlic and Italian herbs. It was a plentiful offering with tender pasta.

Secondi Piatti selections won unanimous approval at our table. Pollo alla Amalfitana ($15.95) was one of those unique dishes I remember having once in Italy along the coast, only not as good as the rendition we had here. A roasted half-chicken was split and stuffed with a mince of mushrooms, spinach, prawns and prosciutto, then streaked with a rich, but not overpowering gorgonzola sauce.

We enjoyed Salmone Primavera ($15.95) very much. The quickly fired salmon fillet retained all flavor and juice in the cooking process. It appeared tableside crowned with a bruschetta of sweet tomatoes and olives, feta cheese and whispers of Italian herbs. My guest aptly called it a "salmon salad" and that it was, refreshing and light, awash with flavor, but not overworked with any one ingredient.

We toasted the finish of our meal with espresso and glasses of Asti Spumante, reflecting, as we did, on the nature of dining and what constitutes good and bad, real and surreal, faux and fauna, and all the degrees in between. In the hands of Mr. Camporaso and his brother, Fratello transcends the ordinary dining experience. It's not cutting edge nor does it strive to be. This restaurant makes no pretense at being something it's not. There are concessions to the American palate, but overall, it's authentic. It's real.
---
Fratello
Address: 1712 Meridian Ave., San Jose
Phone: 408.269.3801
Price Range: $5.95-$15.95
Cuisine: Cucina Italiana
---
[ San Jose | Metroactive Central | Archives ]