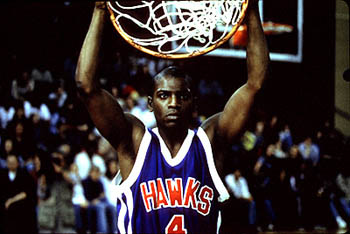 Rising to a Fall: Basketball star Odin (Mekhi Phifer) is brought low by a foul friend in 'O.'

Hard-Court 'Othello'

'O' retells Shakespeare with basketball setting

By Jim Aquino

SHELVED FOR YEARS due to both studio politics and an inane post-Columbine backlash against screen violence, director Tim Blake Nelson's O, a controversial, high school-set Othello update, isn't the sensationalistic mess it's been made out to be. But this rather dead-serious retelling is lacking in Shakespearean wit. One may wish for the occasional bits of visual humor that were among the highlights of the most recent modern-dress Shakespeare film, Michael Almereyda's Hamlet remake.

Screenwriter Brad Kaaya eliminates the Shakespearean prose and switches the play's setting from Renaissance-era Venice to a class-conscious prep school in an unspecified Southern state. The star of the school's hotshot basketball team is also the campus's only black student, Odin (Mekhi Phifer, doing the best he can with an underwritten role), equally beloved and hated by classmates and faculty. The school's dean (John Heard) never really elaborates on his discomfort with the romance between Odin and his daughter, Desi (Julia Stiles), but it's clear on his face that the color of Desi's boyfriend's skin bothers him.

Odin's best friend and teammate, Hugo (Josh Hartnett), the son of Duke (the ever-blustery Martin Sheen), the team coach, resents Odin for a different reason: Duke prefers Odin over his own son. This drives Hugo to orchestrate a series of acts intended to hurt Odin and destroy what he prizes most: his relationship with Desi.

Nelson's nonexploitative approach to the film's controversial scenes of sexual abuse and teen violence is commendable. An interracial rape scene--perhaps the source of much of the uproar--and a brutal massacre during the film's conclusion are as devastating and unglamorous as the murder sequences in One False Move and Boys Don't Cry. But O falls short in its unfocused depiction of tensions between white and black youth. Hoop Dreams had more to say about race in basketball, and James Toback's underappreciated Black and White was more adventurous in its view of white prep-school teen culture's complicated fascination with anything black. The only scenes in which O approaches Black and White's challenging take on race are the ones that involve Desi's virtually monosyllabic roommate Emily (Rain Phoenix), who is clearly disgusted by Odin and Desi's relationship yet craves the hip-hop CDs Odin gives to her every time he visits their dorm. Any student of color who spent time on a predominantly white campus can identify with these scenes, which show how sometimes white kids who are immersed in the music or culture of their classmates of color can also be the most racist folks around.

Harvey Weinstein, whose Miramax studio was originally supposed to release O, reportedly withheld the film to avoid tainting his ties to the Gore/Lieberman campaign, which launched a silly crackdown on post-Columbine violence in the media. There are episodes of Boston Public that are far more exploitative than O.
---
O (R; 91 min.), directed by Tim Blake Nelson, written by Brad Kaaya, photographed by Russell Lee Fine and starring Mekhi Phifer, Martin Sheen, Josh Hartnett and Julia Stiles, opens Friday at selected theaters valleywide.
---
[ Santa Cruz | Metroactive Central | Archives ]