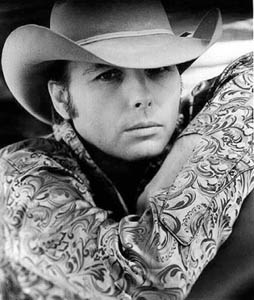 No Slowing Down
Cool country traditionalist Dwight Yoakam played nonstop at the Mountain Winery
By Sarah Quelland
Dwight Yoakam's lonely country songs capture the spirit of the wide-open prairies and dusty plains of the Western frontier. Though born in Kentucky, his distinctive style comes straight out of Bakersfield. Yoakam's fusion of honky-tonk, rockabilly and roots-rock and his mournful nasal twang owe more to early traditional country artists than to modern ones.
Over the years, Yoakam has explored the less-traveled terrain of his own musical territory, moving in a direction decidedly different than that of his Nashville contemporaries.
Last Tuesday (Aug. 28) at the Mountain Winery in Saratoga, Yoakam proved he knows how to show the "ladies" a good time. With his tan cowboy hat firmly planted on his head, he appeared wearing painted-on blue jeans that left little to the imagination and would have been downright indecent if his maroon Western-styled jacket had been just a few inches shorter--a tantalizing visual that didn't escape the notice of his enthusiastic female fans.
Still, even though he shook his butt and twisted quite a bit, there was something almost bashful about Yoakam's stage presence. He arrived with zero fanfare to launch into "What Do You know About Love?" and his fingers didn't even seem to leave the strings of his guitar before he followed up with his cover of Cheap Trick's "I Want You to Want Me." Like Willie Nelson the night before, Yoakam seemed inclined to let his music speak for itself.
It was 1986 when Yoakam emerged with the Top-10 hits "Honky-Tonk Man" and "Guitars, Cadillacs." With 15-years worth of material to draw from, Yoakam played about 25 songs during his 90-minute set. Intent on the music, it wasn't until the sixth song that he addressed the audience, stopping to introduce the plucky "Tears for Two," which will be included on the soundtrack to the upcoming South of Heaven, West of Hell, a film Yoakam directs and stars in. Later, he would give the audience a sneak peek of "What's Left of Me, " a number he co-wrote with Mick Jagger for the movie, which opens in December.
There's a quietness about Yoakam that makes him seem both cool and dangerous, and his obvious Elvis influence only enhances his mystique. At the Winery, Yoakam seemed almost somber. Though he brought the energy level up repeatedly with numbers like "Little Sister," "Little Ways" and "Fast As You," he tended to concentrate on more desolate material.
Songs like "Home for Sale," "Please, Please Baby" and "Nothing's Changed Here" expressed profound sadness. Perhaps Yoakam's most devastating song is the forlorn "A Thousand Miles From Nowhere," on which he bayed like a hungry lone wolf howling at the moon as he sang, "I got bruises on my memory/I got tear stains on my hands/And in the mirror there's a vision/Of what used to be a man."
Still, there's a strength in Yoakam's lyrics. On "Ain't That Lonely Yet," he boasted, "Once there was this spider in my bed/I got caught up in her web of love and lies/She spun her chains around my heart and soul/Never to let go/Oh, but I survived."
At Tuesday's show, Yoakam proved to be a man of few words. Though he burned through his material like a freight train on a race against the sun, his songs didn't suffer from the speedy pace. As the concert came to a close, he stepped offstage without so much as a how-do-you-do while his band played on and returned for a one-song encore of "Long White Cadillac" before disappearing into the night.
[ San Jose | Metroactive Central | Archives ]