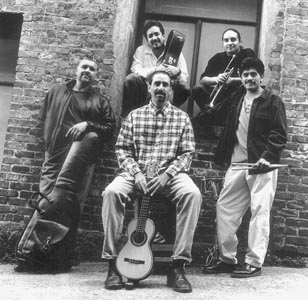 The Others' Way: Los Otros composed its entire first album during an intense two-week retreat.

Rhythm and 'Son'

Los Otros blends diverse talents and styles for a sound like no other

By Marianne Messina

WHAT DO YOU GET when you mix two former mariachi musicians, two folkloristas, two members of Dr. Loco's Rockin' Jalapeño Band and the son of a famous conguera? In the case of Los Otros, an amazing chemistry. Put together by Dr. Loco's lead guitarist, Chris Gonzalez Clarke, and Loco drummer Marrio Barrera, two years ago, the then newly formed Los Otros simply locked themselves away for two weeks and came up with a complete album's worth of songs.

Since then, Los Otros have played with Americana icons Jackson Browne and Bonnie Raitt as well as Chicano innovators Los Lobos. In fact, Los Lobos' Cesar Rosas produced Los Otros' CD, Radio Chòn, (the title track is about a pirate radio station) in which you can hear elements of American blues/folk/rock, Latino cumbia ("Carmelina"), Mexican son ("Son de Mi Barrio"), and traditional folk song ("Pajaro Cù").

The band's eclecticism reflects the varied input of its members. "Everybody had their kernels of ideas and they kind of work-shopped them," says Gina Hernandez, director of the band's label, Son Del Barrio (which also produces Quetzal). All the material was basically composed at Monterey Bay during a "sleep-deprivation-induced creative retreat," as Clarke calls it.

And the band is still expanding. With their performance at this week's Tapestry in Talent, Los Otros will be introducing two new band-members. They've got Emilio Valdez (nephew of playwright and director Luis Valdez) coming onboard to sing and play guitar, bringing his more soulful style to the mix. And drummer Joe Brigandi replaces new father Mario Barrera Pròspero, Clarke's longtime musical companion.

As Los Otros look at material for a new CD, (and perhaps look for another seaside resort to lock themselves up in), Clarke suggests that a new element is emerging: "something soulish."
---
Los Otros plays at Tapestry in Talent on Sunday, Sept. 3, at 1:15 p.m on the Fuel Stage. Free. (408.494.3590)
---
[ San Jose | Metroactive Central | Archives ]