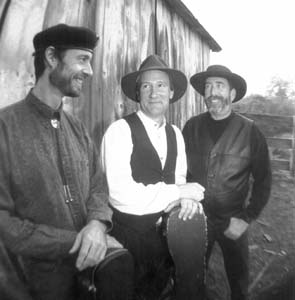 Songs of the South
Local acoustic trio Felonius Smith revives old-time country and blues
By Sarah Quelland
ABOUT AS DOWN-HOME as they come, acoustic blues combo Felonius Smith brings the spirit of the traditions of the early part of the 20th century into the new millennium. The locally based threepiece demonstrates a tremendous familiarity with that old-fashioned toe-tapping music culled from last century's acoustic Piedmont blues, country blues, Delta, ragtime, gospel and folk.
With his standout finger-picking style and slide guitar expertise, Jeff "Felonius Smith" makes his playing seem as easy as a lazy afternoon on the front porch of some old Smoky Mountain retreat. Mark Fenny brings to mind the music of timeless troubadours like Bob Dylan and Willie Nelson with his skillful harmonica work. Rounding out the lineup, guitarist Philip Wendover Johnston takes a warm, organic approach to his instrument that serves as the solid foundation to the band's well-worn sounds.
Like a walking archive, Felonius Smith unearths rare musical gems recorded by bluesmen that have inspired contemporary greats from Eric Clapton to Hot Tuna to the Rolling Stones. With a song catalog that includes the swampy "Bon Ton Roulet" the eerie "Hellhound on My Trail" and the roaring boogie number "Statesboro Blues," the band even retooled Dylan's "Leopard Skin Pillbox Hat" into an authentic 1920s Southern blues song. Naturally, the band's repertoire also features a bundle of songs with the word "blues" in the title; among them the rustic "Fishin' Blues," "Little Dog Blues" "Deep River Blues," "Hangman's Blues" and "Muscat Hill Blues."
The band has more than three albums to its credit, including Felonius Smith Combo, Captured Alive and Acoustic Blues. During live performances, Felonius Smith tends to engage its audiences with tidbits of history and insight into the life and times of the influential bluesmen of yesterday.
---
Felonius Smith plays at Tapestry in Talent on Monday, Sept. 4, at 4:45pm on the KARA/KLIV Stage. Free. (408.494.3590).
---
[ San Jose | Metroactive Central | Archives ]