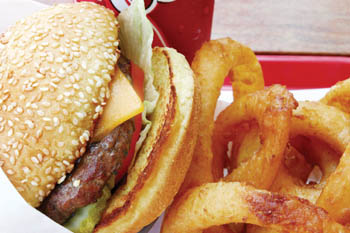 Photograph by Felipe Buitrago

Load of the Rings: Main Street Burgers has a different approach to the fast food concept.

Building A Better Burger

Main Street Burgers is on to something special

By Stett Holbrook

Food trends come and go, but the hamburger remains a mainstay of the American food landscape. Lots of bad press over the years has done little to diminish the burger's standing as the quintessential American food.

If you don't feel the need to think too deeply about what you're eating and how it was produced, there's a burger waiting for you on virtually any corner. But finding a burger made to higher standards is a lot harder.

Los Gatos' Main Street Burgers is on the right track. The restaurant, which is owned by the Willow Street Pizza folks, serves up an all-American image and colorized photos of wholesome Los Gatos street parades from years gone by. Seating in the restaurant's dining room is a little tight, but there are benches outside overlooking Town Plaza Park (just watch out for the meat-hungry yellow jackets). The restaurant offers fast food convenience, affordable prices and food made with ingredients that are higher quality and more healthful than what you'd find at the golden arches.

Calling itself "the natural choice," the new restaurant offers Harris Ranch natural Black Angus beef burgers, Rocky Jr. natural chicken breast sandwiches, wild salmon burgers and fries cooked in trans-fat-free oil. Main Street Burgers' menu says its burgers are antibiotic- and hormone-free (note: that doesn't guarantee the animals were never given these drugs, just that there were tested for both during processing, and none were found).

The flagship Main Street Burger ($5.99 with cheese) is everything you're looking for in a burger. The 1/3-pound grilled patty is plump and juicy and just this side of pink. I would have liked the sesame egg bun to be a little more toasted, but it remained intact as it squished down to meld with the meat, cheese and toppings just the way I like it.

There are scores of other burgers available, but I was impressed with Main Street's nonburger options as well. Vegetarians are well served with the handmade veggie burger or the meaty grilled portobello mushroom sandwich (both $6.49).

I liked the wild Alaskan salmon burger ($7.99), too. Main Street Burgers deserves credit for putting this on the menu. So much of the salmon on the market today is farmed, an environmentally destructive practice and one that has been proven to leave traces of PCBs in the meat. Plus, I think the wild stuff tastes better.

Main Street Burgers' grilled chicken sandwich ($7.99) offers guilt-free eating. The California chickens were raised without the use of any antibiotics or hormones. The juicy breast meat, roasted red bell peppers, Swiss cheese and garlic mayonnaise make for a good sandwich.

Trans fat, or partially hydrogenated oil, has become the latest villain in the food world and for good reason. Even in small amounts, trans fat can jack up your cholesterol, clog your arteries and cause Type 2 diabetes. French fries, specifically the oil they're fried in, are one of the main offenders. Main Street Burgers has taken the sting out of fast food's worse vices with its nonhydrogenated oil. The fries ($1.49 small, $1.99 large) are thin and crisp and come closest to tasting like McDonald's fries. That's meant as a compliment.

The burgers and sandwiches are generous but I went right for a vanilla milkshake ($3.24) after I finished my burger. It's rich and thick enough to eat with a spoon.

Main Street Burgers has identified a great, yet underserved niche: fast food convenience, low prices made with high quality, healthy ingredients. The restaurant proves that it's possible to have your burger and eat it, too.
---
Main Street Burgers
Address: 20 S. Santa Cruz Ave., Los Gatos.
Phone: 408.354.1881.
Hours: Daily 11am–10pm.
Price range: $5.49–$8.99.
---
---
Send a letter to the editor about this story to letters@metronews.com.
---
[ Silicon Valley | Metroactive Home | Archives ]