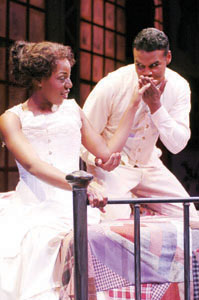 Bedfellows: Esther (Laiona Michelle) and her George (Bryan Hicks) get intimate in 'Intimate Apparel.'

Snug Fitting

TheatreWorks explores the cross-cultural worlds of 1905 New York in 'Intimate Apparel'

By Marianne Messina

IN THEATREWORKS' production of Lynn Nottage's Intimate Apparel, seamstress Esther Mills (Laiona Michelle) lives at the confluence of worlds, New York City, 1905, where the bump and brawl between cultures can make or crush dreams with equal whimsy. Each person in this character-driven play is tightly laced into a form-fitting social role, and Esther, as corset maker extraordinaire, moves among them like a bee pollinating each with beautiful things.

Esther is friend, confidante and clothing designer to the saucy Mayme (Tracey Conyer Lee), a professional whore, as well as to Mrs. Van Buren (charming Lisa Anne Morrison), an attractive, wealthy young wife ignored by her husband and confined by her society—"everywhere a forced conversation."

Esther brightens up the day of Romanian Jewish clothier, Mr. Marks (Jackson Davis). George Armstrong (Bryan Hicks), a Barbados laborer working on the Panama Canal, writes to Esther because he "just wanted someone to think about." And though Ester has access to all these worlds, we see the tight strictures on this single black woman as she negotiates her way among them.

In each environment, Esther can show only small bits of who she is—she can be a little playful with Mayme, a little sensuous with Mr. Marks, a little vulnerable with the white, wealthy Mrs. Van Buren. And Michelle plays the character superbly. Until she's drawn out by others, Michelle's Esther seems inscrutable, one of those dour, inaccessible personalities attributed to the stereotyped "spinster." And it's easy to see why, when Esther's landlady, Mrs. Dixon (Robin Braxton in a nice combination of naysayer and motherly friend), reminds Esther of her limited options as a single 35-year-old woman. Michelle is so miserly in doling out the bits of Esther's constricted personality that when she smiles, it feels like a reward, and when she cuts loose, it's as though she's untied the proverbial corset strings and taken a deep breath of air.

As the play moves through environments, shifting between brothel, boudoir and boarding house, the textural distinctions are surprisingly minimal. Eric E. Sinkkonen's scenic design is elegant with its rose hues, its smoky window-pane panels for quick scene changes and its powerful details, like the homey lamp-light sconces. But Sinkkonen chooses to suggest environmental distinctions rather than to create distinct ambience, thus missing a chance to give audiences a more immediate experience of the diverse worlds. For example, character spaces are iconically (and intimately) represented by beds. For Mrs. Van Buren, a large four-post brass bed is wheeled out. And the professional Mayme (Lee) gets a medium-sized bed with a towering "cathedral" headboard. The timid, tradition-bound Mr. Marks has a small unassuming single bed tucked off to the side. Esther, on the other hand, is shown at her sewing machine—tasty symbolism for the mind, but less visceral in impact.

Some of the most comical scenes happen when Esther visits Conyer Lee's funny and feisty Mayme. And the most touching (poetic even) occur between Esther and the clothier as together they admire a handmade fabric. "It looks like tiny little fairy hands made it," Esther says of a pattern in white lace. The script is chuckle friendly, if not uproarious. It doesn't go out of its way to preach against injustice, but it doesn't whitewash the language or the limitations of the times. Mayme dreams of finding a place where "a colored woman can go and put her feet up." Intimate Apparel is not bright, flashy or noisy, but it is lovely, poetic and fond.
---
Intimate Apparel, a TheatreWorks production, plays Tuesday at 7:30pm, Wednesday–Friday at 8pm, Saturday at 2 and 8pm and Sunday at 2 and 7pm through Sept. 18 at the Mountain View Center for the Performing Arts, 500 Castro St., Mountain View. Tickets are $20–$52. (650.903.6000)
---
---
Send a letter to the editor about this story to letters@metronews.com.
---
[ Silicon Valley | Metroactive Home | Archives ]