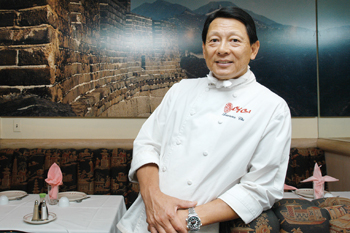 Photograph by Charlie Nucci

Chu In: Chef Lawrence Chu's namesake restaurant combines Chinese menu mainstays with fusion-influenced creations.

Chu's Still Got It

Blending tradition with experimentation, Chef Chu's re-energizes Chinese cuisine

By Mary Jane Reiter

THIRTY-FOUR years ago, Lawrence Chu opened the Los Altos Chinese restaurant that bears his name. Now 61, Chu still takes an active role in the day-to-day operations of his popular namesake, Chef Chu's. When he's not creating new dishes, he's training chefs, greeting customers or conducting cooking classes at the restaurant.

"Energy, enthusiasm and passion," says Chu. "I still got it."

Chu keeps his restaurant fresh by creating new dishes that pair local ingredients with Asian spices and cooking techniques. However, he doesn't abandon tradition. Chu enlivens traditional Chinese dishes with new approaches and presentations. But there are also several mainstays of Chinese cuisine on the menu such as Kung Pao prawns, chow mein and twice-cooked pork.

Nightly specials include live lobster, Manila clams, salmon or rack of lamb. Chu boasts that he buys more rack of lamb than any other Chinese restaurant in the area. If his new creations are a hit they become part of the main menu. That's how the steamed sea bass with green onions and ginger ($16.95) graduated to a regular item. It is often prepared as a whole fish, but Chu uses fillets, a filling meal for one or perfect for two or three to share. The fish is delicate and flaky, almost buttery. The ginger and green onion slivers impart rich, subtle flavors and a soy-infused sauce brings it all together.

If you have trouble making decisions like I do, the expansive menu will create some angst. Mandarin, Szechuan and Hunan dishes appear in appetizers, soups, noodles, vegetables and entrees in varying degrees of spiciness. Our server was patient and allowed us time to navigate the big menu. On our visit, our goal was to venture beyond the usual dishes of cashew chicken or Mongolian beef. Besides the sea bass, we ordered one of the nightly specials, braised basil chicken wings with roasted garlic and fresh chiles in a clay pot ($11.95). Wings, considered the best part of the chicken in China, are boned and deep fried, then slow cooked with the garlic and chilies. Thai basil and rice wine are added at the last minute, creating an aroma that whets your appetite as the server lifts the lid of the pot and a head of aromatic steam is released.

Because lamb is not often served at Chinese restaurants we opted to try it. Hunan-style lamb ($12.95) combines tender slices of meat stir-fried with fresh leeks, red chile peppers and garlic black-bean sauce. It's spicy without being too hot. We selected Szechuan-style string beans ($8.50) to accompany our entrees. Vegetable haters beware! This dish could convert you. Our non-veggie-eating friend called dibs on the leftovers. The chef's special fried rice ($6.95) rounded out our version of a Chinese banquet. The rice was lightly fried, not greasy, and mixed with generous amounts of bay shrimp, barbecue pork, green peas and onions.

I think Chef Chu's Chinese chicken salad is one of the best around ($8.50). Skinless chicken is shredded, fried and tossed with lettuce, carrots, scallions and cilantro. The sesame oil and hot mustard-based dressing is well-balanced and doesn't have the overpowering hit of vinegar that can dominate some versions of the salad. Crushed peanuts and rice noodles provide an extra crunch on top.

While most dishes shone, the Mandarin tidbits ($7.95) failed to generate much enthusiasm. The combination appetizer plate was too ordinary for our adventurous dining expedition. The tidbits included the usual batter-dipped, deep-fried prawns, slices of barbecued pork, egg rolls and Mandarin beef sticks. Beef sticks are sataylike strips of marinated beef, barbecued on skewers. The meat is flavorful with a slightly sweet taste, perhaps from what the restaurant calls its "special Beijing bean sauce." This was the best appetizer of the lot.

A Chinese proverb advises, "Preserve the old, but know the new." Chef Chu follows that motto, as his passion for tradition and innovation is clearly visible in his work.

"Eating is a fashion," he says.

After three decades in the business, Chef Chu remains right in style.
---
Chef Chu's
Address: 1067 N. San Antonio Rd. at El Camino, Los Altos
Phone: 650.948.2696
Lunch and dinner seven days a week
Hours: Lunch and dinner 11:30am-9:30pm Mon-Fri, noon-10pm Sat-Sun
Cuisine: Chinese, featuring dishes from several regions
Price Range: Dinner entrees $9.50-$16.95
---
---
Send a letter to the editor about this story to letters@metronews.com.
---
[ Silicon Valley | Metroactive Home | Archives ]