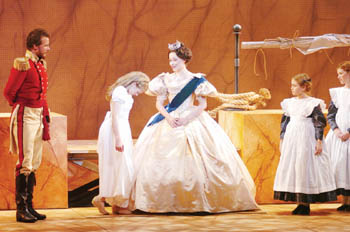 Royal Whirl: Captain Crewe (left, Will Chase) and Sara (Mackenzie Mauzy) are introduced to Queen Victoria (center, Lianne Marie Dobbs), while Lottie (Lizzi Jones) and Jane (Catherine Smith) watch.

Living Out Loud

TheatreWorks finds royalty in hidden places

By Marianne Messina

In TheatreWorks' new, musical retelling of A Little Princess, an English girl raised in Africa (transposed from the India of Frances Hodgson Burnett's original tale) is separated from her father and her spontaneous life to be sent to a proper British finishing school. Suddenly, the young Sara Crewe (played and sung beautifully by Mackenzie Mauzy) finds herself in a world of "lock-step, no one dares to stray," and to the score by Andrew Lippa (lyrics by Brian Crawley), she sings, "I want to live out loud." The girls at Miss Minchin's finishing school are always dressed well (lush mauve hoop skirts and other wonders by award-winning costumer Catherine Zuber) but always dressed exactly the same.

Right away, Sara earns the hostile attentions of Miss Minchin, and the story takes up the classic struggles: Mozart vs. Salieri; Andromeda vs. the Kraken. Meanwhile, production elements in this Little Princess call to mind Clarissa Pinkola Estés' famous book on self-acceptance Women Who Run With the Wolves. When Miss Minchin's sister (and teacher at the school), Miss Amelia (Molly Bell), says of Sara, "She is the girl we wished ourselves to be once," Estés might say that this Western princess icon is the very lock-step, mass-production doll the Minchins of the world are taught to hate themselves by.

Irony aside, TheatreWorks' lavish, grand-scale production (just check out Zuber's gold costumes in the Timbuktu dream sequence or the beaded pearl fringe on the sleeves and bodice of Queen Victoria's gown) repeatedly holds up Estés' idea that every cultural ideal—be it poise, grace or innocence—has its limitations against the beauty in a natural flow of life (and, Estés would add, death). The lean, blonde and delicately featured Mauzy is the Western princess icon. She remains poised and statuesque in the most emotional moments. On the other hand, the members of the African ensemble have shapes that are both thin and thick, tall and squat, voluptuous and firm. These characters allow their bodies to be fully expressive. Choreographer Andy Blankenbuehler has given them very earth-based, root chakra, women-who-run-with-wolves, fire-in-the-loins dance moves that are maybe less about African dance than about full acceptance of the body's natural life-affirming impulses. As spirits or dream figures, they dance among the Londoners, and their dark skin tones swathed in varied, patterned costumes make a nice counterpoint to pale girls, dressed uniformly in white, dancing waltzes. Estés would congratulate Blankenbuehler (and director Susan H. Schulman) for recognizing diverse forms of expression and beauty. While this is incidentally a play about the interrupted love of a father and daughter, all the real hold-your-breath moments come in the scenes between Miss Minchin, brilliantly played by Kimberly King, and Sara. Even in her humbled condition, Sara's steadfast grace makes Miss Minchin feel ridiculous. "We're all a joke to her." When Minchin sings the song "Had I Been Lucky" (calling Sara a "freak of luck"), King's Minchin is far from the uptight paragon of sour grapes; nor does King stop at showing the wounded woman behind the cruel one. Almost subversively, King lets us see the glorious woman behind the self-inflicted torturer, a potential charmer who simply won't let go of an impossible icon. Yes, Lippa's music, the high quality singing voices, the large production numbers, Crawley's book, all produce an assuring, feel-good arc, but in the undertones this production may leave you wondering what princesses we might still be stifling for the sake of unrealistic ideals.
---
A Little Princess, a TheatreWorks presentation, plays Tuesday at 7:30pm, Wednesday­Friday at 8pm, Saturday at 2 and 8pm (no matinee Sept. 11), Sunday at 2pm (Sept. 5 and 19) or 7pm (Sept. 12) at the Mountain View Center for the Performing Arts, 500 Castro St., Mountain View. Tickets are $20­$50. (650.903.6000)
---
---
Send a letter to the editor about this story to letters@metronews.com.
---
[ Silicon Valley | Metroactive Home | Archives ]