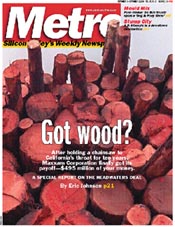 For the Week of
September 3-9, 1998

Cover: Virgin Sacrifice
Environmentalists say the greenest part of the recently passed Headwaters deal is the cash paid out to Pacific Lumber and Charles Hurwitz.




News: Smoke Scream
After 17 centuries of bad ink, practitioners of the Wicca faith--also known as witches--are annoyed at a Camel cigarette ad that they believe mis-stereotypes them.

Public Eye: Deciding the fate of the so-called living wage.

Carnaval Atmosphere: Different drummers and cultures converge at peaceful Afribbean Festival.






The Fine Art of Turning Inside Out
'Tis the season for Metro's guide to summer indulgences, with outdoor concerts, theater and our best picks for relaxing daytrips. There's also day-by-day calendar of summer events that you'll want to bookmark for the long and luxurious days ahead.



So Real They're Virtual: Celebrities can live on in ads ad infinitum thanks to the latest digital technology.



Mould Mix: Post-Hüsker Dü Bob Mould spins a Dog and Pony Show.
Having a Party: Elvis started a riot when he discovered rockabilly sensation Wanda Jackson.
Audiofile: Reviews of the latest CDs by The Corrs, Vinyl Devotion, Saint Etienne and Stuart Davis.



Youth Will Be Loud: Iara Lee's Modulations charts the rise of the global music underground.
Chic Vacancies: 54 chronicles the lifestyles of disco's dumb and beautiful.
Mythic Romance: Bigas Luna's The Chambermaid takes a reverse-angle view of popular Titanic story.



Repast Perfect: In A.P. Stump's, the big city gains another shining beacon to guide gourmets to downtown San Jose.



Walking Wounded: Cartoonist Phoebe Gloeckner examines her troubled family life with a doctor's surgical eye.



Please don't forget to write! Metro welcomes letters. Like any great work of art, they should be originals -- not copies of letters sent elsewhere. Include address and daytime phone (for verification purposes only). Letters may be edited for length and clarity or to correct factual inaccuracies known to us. Postal: Metro Letters, 550 S. First. St., San Jose, CA 95111. Fax: 408/298-0602. . Emailers, please include name, city of residence and phone number. Letters printed will list email address unless otherwise specified. Letters to the editor are not currently published in the online version of this paper.