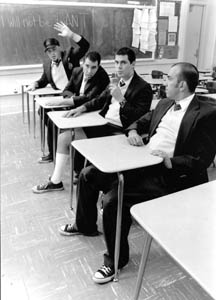 Class Action Suits.

Future Farmers

Alien Ant Farm makes a fANTastic recovery

By Sarah Quelland

AFTER A DISASTROUS bus crash in Spain that killed their driver, injured the band and left frontman Dryden Mitchell with severe spinal damage that required major surgery and months of recovery, Alien Ant Farm has made a miraculous return. On May 22, 2003, a year to the day after the wreck happened in 2002, the band wrapped the final mixes of truANT (El Tonal/DreamWorks Records)--the followup to the multiplatinum ANThology--with Brendan O'Brien. The record, produced by Robert and Dean DeLeo of Stone Temple Pilots fame, hit stores on Aug. 19. The Riverside, Calif., quartet has been on a touring blitz supporting it and, in a bold publicity stunt, the group disrupted the BET Awards to film the video for first single "These Days."

Despite natural expectations to the contrary, the members of Alien Ant Farm have survived with their reckless wit intact. Their extreme brush with death doesn't really come into play on this album. The song "Hope" is significant because Mitchell was working on it the instant the crash happened. Thematically however, it's about marriage and infidelity. In fact, most of the songs on truANT study relationships of some sort.

"What the hell were you thinking?" Mitchell repeats on "Sarah Wynn," a song about a childhood friend who develops a heroin habit. On "Drifting Apart," he addresses the dissolution of common ground between two lovers, and on "Glow," he gleefully celebrates the prospect of moving on.

"Quiet" shines light on the struggle of a man in love with a girl who "don't like life with a rock & roll singer" and Mitchell appeals, "You can take all the time you need/ I'd hold my breath but I have to breathe." Similarly, "1000 Days" grapples with homesickness caused by life on the road. Mitchell relates, "Eyes they burn from stinging travel and missing you is hard to handle/ Stayed away a thousand days and things have changed like a decade."

Musically, guitarist Terry Corso, bassist Tye Zamora and drummer Mike Cosgrove throw metal, punk, reggae, Latin, jazz and pop in a blender and hit purée. "Tia Lupé" has a strong Cuban influence, "Never Meant" resonates with reggae and jazz, and "S.S. Recognize" (an AAF song that dates back to 1996) bobs on stormy punk-funk Primus waves. There's more to AAF than its hit cover of Michael Jackson's "Smooth Criminal" and this record proves it. The group fearlessly smashes genres together, advancing the adventurous rock sound it developed on ANThology. The truancy concept carries through the artwork, with lyrics handwritten on lined notebook paper, corrected and graded like homework. The timing of this album's release is smart, with school just getting back in session.

HOT TOPIC: Foster's Music in the Park concludes this Thursday (Sept. 4) with headliner Greg Kihn performing at Plaza de Cesar Chavez in downtown San Jose. Following his set, head over to the corner of South First and San Fernando streets where Krenshaw and Automatic Animal play the final Music After Dark event of the season. ... Waves Smokehouse hosts a two-day Reggae Bash Sept. 5-6 with Dub FX, Reece, Dub Congress and Habanero. ... The Saddle Rack celebrates its birthday this Saturday (Sept. 6) at its new Fremont location. The country hall rolls drink prices back to 1976, the year it first opened, and plans to give away presents and offer folks a chance to win a 2004 Ford F-150. ... Channel 104.9 hosts an invite-only up-close session with 3 Doors Down at the Expression Center for New Media in Emeryville next Saturday (Sept. 13). Listen to win.

PLAN AHEAD: Lords of the Manor, Osmium and Left to Die, Sept. 5 at the Blank Club; the Allman Brothers Band, Sept. 4 at the Mountain Winery in Saratoga; Black Rebel Motorcycle Club and the Warlocks, Sept. 4 at the Fillmore in San Francisco; Nickel Creek and Kathleen Edwards, Sept. 4 at the Palace of Fine Arts in San Francisco; Divided, Strata, Unjust, Superchannel and Floorbound, Sept. 5 at the Pound in San Francisco; Beneath the Surface CD-release with Murder Machine, Mean Recess, Differential, Baysik and A Filament Parson, Sept. 6 at the Pound; 5606, the Muckruckers, Dexter Danger and Audio Karate, Sept. 6 at the Club in Pacifica; Mega Babe, Point 3 and Delta Activity, Sept. 8 at Waves; Sloe, Lee Hookers and Fancy Hair Dragon, Sept. 8 at Thee Parkside in San Francisco.
---
Send a letter to the editor about this story to letters@metronews.com.
---
[ Silicon Valley | Metroactive Home | Archives ]