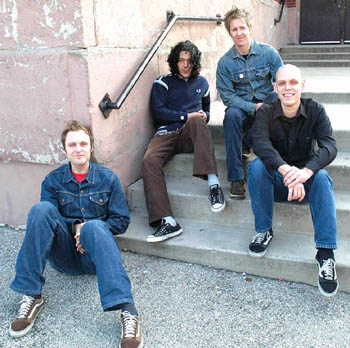 Photograph by Heidi Brill

Emo Craft: Jealous Sound members have played in Knapsack, Jawbox, Shudder to Think and Sunday's Best.

Jealous Again

All those magazine articles and touring with the Foo Fighters don't translate into success for buzz band the Jealous Sound

By Nate Seltenrich

THE JEALOUS SOUND, a Los Angeles-based foursome with roots in the punk and indie scene, is rapidly approaching the same vulnerable level of popularity that led self-proclaimed punk purists to label Green Day as posers, Blink 182 as kiddie pop stars and AFI as major label suck-ups. Although it's rare to catch a glimpse of a group in the middle of the transition from underground to public eye, that's just where the Jealous Sound is now.

The group's sound is pure melodic rock, and frontman Blair Shehan sports a shiny bald head rather than a mohawk, but the band members' individual histories in the punk circuit may draw particular attention as their mainstream notoriety ascends. Shehan was a founding member of Knapsack, bassist John McGinnis comes by way of Neither Trumpets Nor Drums, guitarist Pedro Benito played in Sunday's Best and drummer Adam Wade hit skins in both Jawbox and Shudder to Think.

Including these influences and other emotionally charged indie/punk bands like the Promise Ring to which they could be compared, only one--Jimmy Eat World--has ascended to the rank that beckons the Jealous Sound. But eventually there comes a time for all musicians to shed the shackles of their upbringing. And the Jealous Sound's time is now. It is a punk band in limbo, on the verge of a breakout, tempting both enviable fate and disheartening controversy.

The Jealous Sound released its first full-length album, Kill Them With Kindness, in June 2003. It has since been featured in Spin, Alternative Press and CMJ Monthly, among others. The band has toured with the Foo Fighters and will soon begin working on a music video for the song "The Fold Out," the second single off the new album. Yet all four members played for years in groups that received half as much buzz as the Jealous Sound already has.

"Our tour with the Foo Fighters was an anomaly," says McGinnis on the phone from New Jersey. "Those venues were insanely huge."

It's easy to believe that none of this was anticipated back when Kill Them With Kindness was still in the working stage. The band's goal for the record, according to McGinnis, was to make it sonically interesting without trying to be different.

"We don't want to be complex," he says. "Basically we play around with whatever sounds good." It's the simplicity and honesty of the band's sound that is so appealing--well, that combined with rich harmonies, distinctive electronic tidbits and a satisfyingly thick tone. Emotional yet intelligent lyrics do less to set apart their style, but Shehan's atmospheric voice makes up for this.

Perhaps foreshadowing a mainstream future, the Jealous Sound appears to already be entangled in the wiles of the recording industry. Kill Them With Kindness was delayed two years after the band signed to Mojo Records in 2001 only to see the label lose its distribution deal and be bought out by Jive Records. Eighteen months later, the band resigned to Better Looking Records, which had released their first, self-titled EP in 2000--a recording that has sold over 11,000 copies even though it was initially conceived as a demo.

With the drama behind them, the Jealous Sound is moving units of its new album, headlining an almost nonstop cross-country tour and bringing its music to an ever-growing audience. It's almost inevitable--the talented, standout punk band finds itself gaining popularity beyond the closely knit scene in which it is grounded.

As the four men of the Jealous Sound continue to encroach upon unfamiliar territory, the precedent of the punk mind-set will forever be a part of them.

"It's sort of hard to get out of how you were raised, how you were brought up," says McGinnis. They may never forget their past, but it's likely they won't long be dwelling in it.
---
The Jealous Sound, Armor for Sleep, Park and Audrye Sessions perform Friday (Sept. 5) at 7pm at the Los Gatos Outhouse, 4 New York Ave., Los Gatos. Tickets are $6 at the door. (408.395.5553)
---
---
Send a letter to the editor about this story to letters@metronews.com.
---
[ Silicon Valley | Metroactive Home | Archives ]