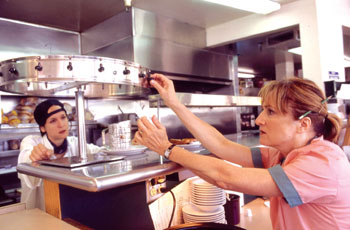 Photograph by David Allen

Short-Order Prisoners: A cook (Cristina Anselmo) and a waitress (Sharon Lockwood) struggle to keep up with their orders in 'Nickel and Dimed.'

Low Wage, High Art

Barbara Ehrenreich's scathing look at work in America, 'Nickel and Dimed,' is adapted for the stage by TheatreWorks and Brava Theater

By Richard von Busack

JUST IN TIME for the backlash to the backlash comes the play version of Barbara Ehrenreich's book Nickel and Dimed: On (Not) Getting by in America. The bestseller was a matter of some controversy. It proved to be a hot-button item in North Carolina, for instance, where Ehrenreich's study of minimum-wage work was assigned as a text in a University of North Carolina classroom. Students uttered a statement deeming it "intellectual pornography."

While that's certainly my favorite kind of porn, Ehrenreich's decidedly unsexy book could be described better as "subjective sociology." The author, a professor in disguise, spent two years as a waitress in Florida, a maid in Maine and a Wal-Mart "associate" in Minneapolis.

Hard work never killed anybody. (At first, anyway.) Ehrenreich's particular beef is not with work but with ordeal by middle management, with the constant monitoring, searching of purses and humiliating and not really effective mandatory urine tests. "It rankles--at some deep personal, physical level," she writes, "to know that the many engaging qualities I believe I have to offer--friendliness, reliability, willingness to learn--can all be trumped by my pee."

Nickel and Dimed, which runs Sept. 3-28 in Mountain View, is a TheatreWorks co-production that's moving on to Theater Brava in San Francisco, Oct. 8-Nov. 7. San Francisco playwright Joan Holden did the adaptation under assignment from Bartlett Sher of Seattle's Intiman Theater; the musical adaptation ran at the Mark Taper Forum in L.A. and at Providence, R.I.'s Trinity Rep.

"I'd heard Barbara on the radio at NPR," Holden notes, "and was struck by her comment 'My life is subsidized by the people whose labor I live upon.' So I'd heard of the book, but it was not my dream of a book to adapt. Ideally, the adapted book is something more like Jane Austen or Nicholas Nickleby--something that gives you scenes to develop. This adaptation seemed more like an editing than a writing job.

"I condensed characters and relocated certain scenes. There's a moment in the book she describes as 'the perfect storm,' when they're a cook and a waitress short at the restaurant in Florida. That took place in the dining room, but I staged it in the kitchen. Her book describes chaos and farce, but it has the serious underside. She's barely exaggerated what it's like to work in a rush, at the pace that millions of people work at during a day."

You might not be able to sell a book on sociology. However, if it had elements of the 'chocolate factory' episode from I Love Lucy ... "I think the book is really successful because the book-buying public can see themselves in Barbara," Holden says. "The reader thinks, 'She's a person like me. She makes mistakes and messes up, just like I would on a new job.' That's a big secret of Barbara's success. People read the book, and they don't feel like they're being guilt-tripped or preached at. Barbara gives us a middle-class guide."

Holden interviewed Ehrenreich for the play, to try to flesh her out as a character. "I called her all the time for a while," Holden recalls.

"I would need to know something right now, and she answered it. We spent a weekend together, provided by Trinity Rep, where the show was done earlier. She's not an egocentric writer, so I had to go outside the book, talk to her about her earlier life and what certain experiences did to her.

"Another substory in the play is about her relationship that fell apart while she was on the road. She didn't mention that in the book. Something else she hints at is how important her family background was, how she was from a working-people background, even though the father single-handedly lifted them out. I think that by working minimum-wage jobs, she was trying to prove herself worthy of her ancestors."

Ehrenreich did not ask for or receive control of the script, but she granted artistic license. "She calls it a fictionalization; I call it a dramatization. Of course, she sits there next to me when the play is running and says, 'I never said that.'"

Mime Matters

Holden began as a playwright with the San Francisco Mime Troupe from 1967 to 2000. "I was married to an actor named Arthur Holden and trying to be a journalist. The Mime Troupe was looking for a playwright, and Arthur said, 'Oh, my wife can write.'"

Holden adapted a play by the post-commedia del arte writer Carlo Goldoni (1707-93), shaping one of his plays as a Vietnam protest. She's persisted in the vein since.

"The favorite play I've done might be Seeing Double, a Palestinian/Israeli play about the land for peace program, written in the form of a mistaken identity farce," she says. "That's a shorthand way of saying comedy is my weapon of choice."

I told Holden it was rare to see movies about minimum-wage life in which the characters don't have guns in their hands. "Or bottles," Holden adds.

"The white working class has been abolished from the theater, except in Sam Shepard dramas about lumpen outsiders. Maybe few people decide to become playwrights when they come out of college with a $100,000 ball and chain [of student loans]. Or maybe it's that mantra they teach you about writing about what you know."

Lines in Ehrenreich's book seem perfect for the stage, such as her pronouncement "Something is wrong, very wrong, when a single person in good health ... can barely support herself by the sweat of her brow. You don't need a degree in economics to see that wages are too low and rents are too high."

But at the end of the book, Ehrenreich crunches numbers. If I were adapting the play, I think the first problem would be thinking about a way around dragging a chalk-board onstage.

"The model of what we're doing is Brecht," Holden explains. "Who goes away from a play and remembers numbers? You could cram the play full of facts and figures, but they don't work very well. In a play, you want to be imaginatively engaged, not to make it as dull as a book of stats. I hoped we've turned an entertaining book into an entertainment."
---
Nickel and Dimed, a TheatreWorks/Brava Theater co-production, runs Sept. 3-28 at the Mountain View Center for the Performing Arts, Castro and Mercy streets, Mountain View, with previews: Sept. 3-5 and opening night Sept. 6. Performances are Tuesday at 7:30pm, Wednesday-Saturday at 8pm and Sunday at 2pm. Tickets are $20-$48; 650.903.6000 or theatreworks.org. The play runs Oct. 8-Nov. 9 at the Brava Theater Center in San Francisco.
---
---
Send a letter to the editor about this story to letters@metronews.com.
---
[ Silicon Valley | Metroactive Home | Archives ]