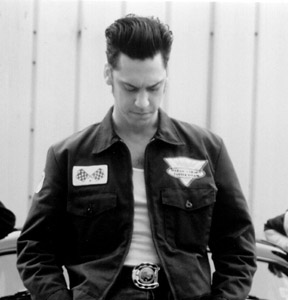 Don't mess with Texas' Jesse Dayton.

Hit Kicker

Traditional country guitar slinger Jesse Dayton is a Lone Star on the rise

By Sarah Quelland

JESSE DAYTON brought a little taste of Texas to town last Saturday (Aug. 31), playing San Jose's PLANT 51 with the BASTARD SONS OF JOHNNY CASH. This proud Texas son (he was reared in blue-collar Beaumont) boasts a keen traditional style that has earned him the respect of legends like Willie Nelson, Johnny Cash and the late Waylon Jennings. Dayton ain't pop country, he ain't rockabilly, he ain't cowpunk and he ain't alt-country. Not really. And despite living in Texas' capital city, he promised the crowd no trendy Austin music--a vow he kept.

Dayton's something of an anomaly. This talented young guitar slinger is well versed in the outlaw country philosophies of Waylon and Willie and the boys, and his style hearkens back to classic country with neither pretense nor apology. Dayton's Texas dance-hall stompers are as convincing as his buckle-polishing ballads. His clear, strong voice rings with authenticity, and his distinctive music is nothing if not real. Respected by country's elite, Dayton pulled in celebrity guests like the DIXIE CHICKS and JIM LAUDERDALE for his most recent record, Hey Nashvegas! But I'll be damned if he played even one song off that album on Saturday.

"We threw our set list away before we even got to California," the good-natured Dayton told the crowded club with a grin.

With sexy Elvis moves and greaser hair, Dayton puts a little rock & roll soul in his country music, and his songs are better than at least half of what's played on country radio today. He writes his own material and can absolutely shred on guitar when the mood of the song calls for it. Dayton and his band (which features CHARLIE SANDERS, JR. on upright and electric bass, ERIC TUCKER on drums and KEVIN OWENS on pedal steel guitar) kicked off the night with Raising Cain's "Train of Dreams" and "Kissing Abilene Goodbye." Dayton played a couple tunes from his Tall Texas Tales album, including "Arkansas Chrome"--a song about duct tape written when Dayton was on tour with the SUPERSUCKERS--and "Old Faithful" on which Dayton seems to channel the spirit of Elvis himself.

Calling it a song for all the free thinkers out there, Dayton announced, "This song's not really a song; it's more of a plea," before launching into a rowdy "Go Get Stoned (And Listen to George Jones)."

"You guys like that outlaw shit, eh?" he asked the Plant 51 crowd in his slow Texas drawl. "That's great. Me too."

In addition to original material, Dayton also threw a few covers into his set. "It's a long story how we got tricked into doing this song," he told the crowd before playing a twanged-up version of the Cars' "Just What I Needed." He livened up the joint even further with covers of Johnny Cash's "Folsom Prison Blues" and Willie Nelson's "Bloody Mary Morning" and "Me and Paul," before closing the night with a hot number that held the challenge "I'm a bigger Texan than you."

Co-headlining this tour with the Bastard Sons of Johnny Cash, Dayton took the stage first and blew the California country band away. Dayton is a hard act to follow. He could easily open for George Strait, Alan Jackson, Brooks and Dunn, Garth Brooks or any of country music's leading arena top names and leave the audience wanting more. I could have listened to him all night.

HOT TOPIC: All good things must come to an end. Metro's popular free Music in the Park concert series concludes this Thursday (Sept. 5), 5-8:15pm, at PLAZA DE CESAR CHAVEZ with MYSTIQUE and PETE ESCOVEDO. Keep the party going with the BONESHAKERS, who'll be playing rattling blues on Post Street between Market and First streets as part of the Music After Dark series. Music After Dark continues through Sept. 26.

PLAN AHEAD: FASTER PUSSYCAT, Sept. 5 at the POUND in San Francisco; UNWRITTEN LAW, HOME GROWN and RIDDLIN' KIDS, Sept. 5 at the CATALYST in Santa Cruz; Leo NOCENTELLI, Sept. 5 at Plant 51; THIEVES CROSS and KULTUR SHOCK, Sept. 6 at Plant 51; ESTRADASPHERE and ROCKER T with JAH WISER, Sept. 7 at Plant 51; DREDG, DEADSY and TAPROOT, Sept. 12 at SLIM'S in San Francisco; INSOLENCE, Sept. 13 at the ICON NIGHTCLUB in Palo Alto; the DONNAS.
---
Send a letter to the editor about this story to letters@metronews.com.
---
[ Silicon Valley | Metroactive Home | Archives ]