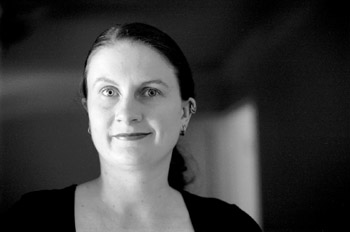 Photograph by Paul Myers

Better Than Money: Erin Ferree has been able to trade graphic design work for beachfront lodging in Hawaii.

Trade Ya

The cash-free, tax-free culture of barter thrives online in hard times

By Loren Stein

WHEN THE economy hit the wall and her phone stopped ringing, graphic designer Erin Ferree had another card up her sleeve. She advertised her services online and offered to trade them in exchange for a variety of other services or items she needs these days--everything from marketing tools and business leads to printing her wedding invitations, from a fitness-club membership or exercise equipment to help repairing a driveway and installing a refrigerator. She also said she'd be willing to consider other types of barter she hadn't even thought of yet.

The responses poured in, and Ferree turned her attention to negotiating the trades and the terms. With six years of work experience under her belt, the 25-year-old San Mateo logo, print graphics and web designer knows how to wheel and deal with the best of them. One enticing offer on the table is to trade a complete business design for beachfront lodging in Oahu for her upcoming honeymoon.

"Given the amount of work that will go into the design and the value of the property, this is a really fair trade," says Ferree.

Although it's the first time she's been compelled to post a trade offering her services, online bartering has been good to Ferree. The benefits, she says, go both ways. Even though times are tough, she can build her portfolio, win loyal clients and get back tangibles that she needs as much as cold, hard cash. On the other hand, new customers--many of whom have been freshly laid off or are changing fields--may not have the money to spend on a logo or graphics to help their new business appear more professional, she says.

"Trading makes my designs available to clients who may not have a lot of capital right now," Ferree says. While clients may only be able to shell out, say, $200 for a logo, they might be able to barter for the work's full value. "They might not think that $600 or even $1,000 worth of massages is as big of a hit as paying that much cash up front," she adds.

Cashless Register

While the cash economy fizzles, the bartering business is booming. Check out the Bay Area site of San Francisco-based Craigslist.org, the popular online bulletin board, where trading and swapping for goods and services is a hot pursuit, with hundreds of postings listed each day. Some are silly or outrageous, some are serious and thoughtful, but all the participants are experimenting with a new--or rediscovered--form of interpersonal commerce that has taken flight with the advent of the Internet.

Barter postings on Craigslist have skyrocketed 110 percent in the last year, with some 5,500 postings each month, says Jim Buckmaster, Craigslist's president and CEO. The steep climb in bartering has outpaced the rise in postings for general sale items, he notes. "The numbers speak for themselves; people are getting something out of this," he says.

The bartering craze underlies the fact that these days many people have more free time than disposable income, says Buckmaster. "People have extra time and skills and talents that are being underutilized, and they want to get some value for that," he explains.

There's isn't a ready market for every type of service that a person may be qualified to offer, he adds. "They may not be able to get an employer to hire them [for a specific service], but someone else might be willing to trade for it."

And there are added incentives, Buckmaster says. "With the stymied job market, people are looking to be creative, hoping to have a bit of an adventure. With bartering, you can make a new friend or have a romance--which isn't as likely to happen when you enter into a generic business transaction. There's a much different risk-reward profile."

Mukluk Luck

"Car mechanic will barter," states a recent online ad, "for a medium-sized long-tailed nonblack tux, or kitchen chairs, or a digital camera, or a cassette of 'the source' by Osamu Kitojima, or a bubble-blowing machine, or size-9 hiking shoes, big silly slippers, or mukluks, or a big mirror, or a 12-volt tire inflater, or a settlers game, or a bantam pocket Spanish dictionary, or an electric egg beater, camping sleeping mats, or massages, or a scrabble game in German, or 50 feet of phone wire, or pizza, or money, or groceries, or an oven mitt, or pot, or books or videos in German or Spanish, or maybe something else."

This ad may be a bit more freewheeling than most, but barter postings are nothing if not eclectic. A civil attorney wants to trade legal services for artwork, airline miles or a truck. A soon-to-be licensed psychotherapist hopes to swap therapy for massage. A professional web designer needs a nontraditional wedding dress. A personal trainer will barter gym work, gardening or bicycle repair, or a xylophone, a fireproof lockbox or a digital shortwave radio, for the help of a seamstress. How about Swedish massage for German conversation? (Only women need apply.) Perhaps high-speed web hosting for, well, whatever? Psychic/energy work for child care or a tattoo? The varieties of trades are virtually endless.

"Someone might have a garage full of tools and a head full of skills they're not using because the economy is so bad," says Bob (who prefers to remain anonymous). "The longer the economy stagnates, the better the bartering is. People that are idle still need things."

Bob, 42, lives in the East Bay and works as a vehicle messenger in San Francisco. He regularly trades over the Internet (as well as sells cars purchased from charity auctions); his roommate, for one, lives rent-free in his home in exchange for landscaping work.

"If I'm thinking of buying a vehicle, washer, rug or kid's toy, I'll post it, and if they have the extra two hours to do what need to be done, it's worth it for them and me," he says. "I usually throw into any ad I post interesting or bizarre trades, and I've gotten some unusual and amazing deals that way."

Bartering, of course, is an ancient form of commerce that dates back many thousands of years, long before money was invented. The blacksmith traded with the dairy farmer; the basket weaver bartered with the jewelry maker. In economic terms, bartering matches "the double coincidence of wants," says Dr. Andrew Whinston, business professor at the University of Texas at Austin and director of the Center for Research in Electronic Commerce. But bartering can also be impractical because of limits imposed by distance or geography. Money solved those problems.

"Money greases the system," Whinston explains. "It doesn't require people to trade with each other who are in close proximity or without having the exact match."

The Internet has brought the bartering economy back full circle, say experts, by enlarging the group of people who can exchange good or services and by letting people find each other easily. "The Internet is critical to the resurgence in bartering," says Whinston. "It's like a second economy, a warp in history."

(There are numerous Internet sites targeting business-to-business bartering, but few of any of them have examples of transactions between firms whose names most consumers recognize. Moreover, most business bartering involves some exchange of money, Whinston adds.)

Geography, however, still plays a crucial role in individual bartering, although it's possible to swap with people in other locales, sight unseen, if there's enough mutual trust. Interestingly, Craigslist, for one, has 13 different city sites, but it currently offers swapping or bartering only on its original Bay Area site. (The site allows uses to target five specific regions within the Bay Area.) Yet there's no reason to think that online bartering wouldn't take off in other cities as much as it does here.

"I see more and more people trading in a variety of ways," says Gary Foreman, publisher of the Dollar Stretcher website and newsletters (where the motto is "Living better for less") near Tampa, Fla. "The Internet has fostered an attitude of being unbound; we can try something new, something different." Adds Foreman: "I think [bartering] is a fabulous idea. Everybody wins. You're not filling a landfill; you're not spending money. There's a community spirit: I'll help you raise your barn, if you help me with mine. I'm a firm believer in people helping people."

The Taxman Misseth Out

The people who are not being helped by online bartering are those responsible for collecting taxes. According to the IRS, barterers must include in their income the fair-market value of property or services received in the trade.

"There's isn't supposed to be anything under the table," says the IRS's Mrs. Frederick (who would not give her first name), knowing full well that bartering is going on all the time without being reported. In fact, that's one of the distinct advantages, and guilty pleasures, of bartering, which functions much like an underground economy without sales taxes or income taxes. (The drawback, however, is if someone gets defrauded or cheated, there's no agency to go to for redress.)

One San Francisco graphics and web designer who barters online is so concerned about being nabbed by the taxman that he asks that his name not be used at all. "Bartering has been a really great thing for me, but my accountant says I'm somewhat foolish to do it," he tells me.

Some examples of his approximately 100 trades over 10 years: designing a website for weeks at a time-share; computer consulting and training for legal services; web-graphics training for cases of wine. For one trade, he got his car fixed; for another, he got a kayak. "Anytime I can do business without money, it's better," he says. "I like the historical precedent; it appeals to me on a philosophical level."
---
Send a letter to the editor about this story to letters@metronews.com.
---
[ Silicon Valley | Metroactive Home | Archives ]