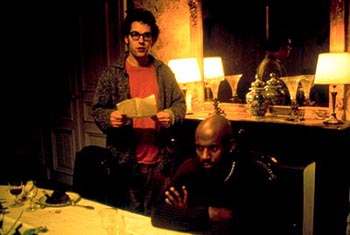 A Man's Home Is His Chateau: Paul Rudd (left) and Romany Malco inherit a French home in 'The Château.'

Hokey 'Château'

Two American nimrods inherit a castle: a laugh or two ensues

By Richard von Busack

OFTEN, YOU'LL SEE the word "labored" used to describe a comedy. There must be an opposite word to describe films like The Château. "Unlabored," perhaps? Looks as if had been slapped together over the course of a three-day weekend? The Château is a shot-on-digital thing about two American know-nothings who go to Toury, France, to inherit a decrepit old château left to them by a rich uncle they never knew they had. Graham (Paul Rudd) is a neurotic, unambitious New Agey student from Kansas. His adopted brother, Allen (who likes to be called Rex and is played by Romany Malco), is a suburban-raised black kid who affects gangsta manners. Neither one speaks much French, and when they arrive, the cultures clash.

It turns out that the domestic staff of the château is still in place, and these servants are hoping that the new masters are rich Americans. Isabelle (played by the pretty, sad-faced Sylvie Testud) is the maid, who speaks enough English to help the two young men get by. Both Yanks are attracted to her, though neither can discover who exactly is the father of her young child.

The high point of the film is Testud and Malco dueting on the song "Je ne veux pas dejeuner" while standing on a bridge with that exquisite French winter light behind them. Mostly, however, the movie brays, and the photography represents a low mark for shot-on-digital features. And there's no relief either in the form of Denholm Elliot look-alike Didier Flamand or the usually funny Donal Logue (of TV's Grounded for Life) as an L.A. blowhard who arrives to buy the property.

Director/writer Jesse Peretz, an ex-member of the band the Lemonheads and son of Marty Peretz, publisher of The New Republic, previously directed First Love, Last Rights. We had a flulike weeklong bout of that film in this area--memorable for the scene where Natalie G. Wagner tells her boyfriend Giovannie Ribisi, "I like your class; I like your ass." The press notes mention that First Love, Last Rights "was shown at 1997's Rotterdam Film Festival, where it won the FIPRESCI Award for "its challenge to the dominant American narrative." Now, if FIPRESCI (FIPRESCI, for those who think young) starts offering an award for films that most rigorously follow the dominant American narrative, The Château will be a finalist. The model for this kind of loose film--two Americans inheriting an old château and becoming rivals over a girl (vide Bob and Bing in The Road to France)--is no menace to the "dominant American narrative." Neither is the drunk scene where Graham mime-baits a group of French people, calling them fags and frogs and bitches. Is there's some kind of anti-French defamation league you can join? The films anti-Gallicism is more galling because the local movie bookers apparently passed on the recent new print of Julien Duvivier's Pépé Le Moko, a dreamy French romance, in favor of this noisy, insignificant comedy.
---
The ChÂteau (R; 92 min.), directed and written by Jesse Peretz, photographed by Tom Richmond and starring Paul Rudd, Romany Malco and Sylvie Testud, opens Friday at the Towne Theater in San Jose.
---
---
Send a letter to the editor about this story to letters@metronews.com.
---
[ Silicon Valley | Metroactive Home | Archives ]