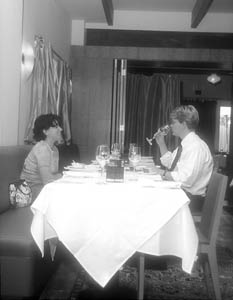 Tease for Two: Manresa pairs a fancy interior with high-design foodie fare.

Photograph Troy Bayles





In the Realm of the Senses

The restless culinary intellect of David Kinch takes a conceptual leap at the glamorous new Manresa

By Christina Waters

A CULINARY DREAM venue, Manresa is the latest venture by Sent Sovi partners David Kinch and Aimee Hébert. Years in the planning, the well-heeled project wears half its price tag in a wrap-around cooking arena designed to support Kinch's stunningly high-concept plates and the exceptional desserts by Irit Ishai.

The kitchen may be part cockpit, part laboratory, but the rest of Manresa's interior oozes understated opulence. Oriental carpets, crushed silk-window treatment and satiny woodwork pamper the eyes. A '60s moderne tile fireplace matches the caramel-colored upholstery. And, of course, there's a deck.

Black-clad waitstaff immediately helped us into a spacious central table and began what was to be an ongoing voice-over of menu explication. The menu's spare narrative is scant preparation for Manresa's odyssey to come. So intricate is the food that it would be folly to relax one's focus for a minute. But in case you do, smart staffers are happy to describe each dish in detail.

The menu works like this: on the left are 16 or so dishes, ranging from seviches and carpaccios to tartares, roasted meats and braised seafoods; on the right, half a dozen evening desserts. You order your choice of three to five courses ($54-$75)--any dish in any order--paired if desired with "appropriate wines" (an extra $36-$56). Wines remain a mystery until they arrive--"We drive, you ride," our dinner dominatrix promised.

My companions last week were game, so we mixed up the choices in order to see how the Manresa experience works. Jack and Simone decided to order wines by the glass from a Euro-intensive list that stresses Spain and France. Jack went for a glass of voluptuous Enate Tinto 2000 (cab/merlot blend, $10), Simone a full-throated chardonnay from Oregon's Eyrie Vineyards 1998 ($12). David and I decided to trust in the sommelier's choices for each course.

And such courses. Sea bass with brandade, diver-scallop carpaccio and Catalan-style shellfish with romesco immediately called to mind one of chef Kinch's culinary inspirations, Spanish conceptualist Ferran Adria. Adria, inventor of the infamous flavored "foam" emulsions, is devoted to flavor and texture dialectic. At Manresa, Kinch deconstructs the metaphysics of sweet and savory, a la Adria, pushing flavor contrasts into a higher experiential category.

An example: our first amuse was a tiny shot glass of savory, tangerine-laced strawberry gazpacho. (It worked.)

Another involved martini glasses of alabaster scallop cocooned in potato Hollandaise atop a morsel of sweet clam. The apex of Kinch's sleight-of-hand arrived in the form of an egg in its shell for each. Our waiter encouraged us to plunge miniature spoons all the way down to the bottom and pull warm liquid yolk upward through strata of salt crystals, chives and a froth of maple cream (yes, maple). Each layer unfurled in a brilliant sequence of vibrant flavors, finished by a synthesis of all of them. Each gemlike teaser went nicely with a very crisp Prosecco that formed the first of my three wines.

Occasionally sampling some superb olive and nut bread, we started on our first round, served on a dazzling array of glass, aluminum and porcelain squares and ovals--pretty plates to match the superb tableware. Here are some highlights of a meal so highly designed that it ultimately produced taste bud meltdown.

Simone's plate of yellow, pink and red tomatoes arrived with a chilled tomato and basil soup and twin cubes of corn croquette. Each bite released a hot liquid center of corn reduction. Jack's marinated yellowtail was paired gorgeously with spicy cucumber salad--nouveau sunomono--and curls of house-made sesame wafers.

My scallop carpaccio was amazing, especially with a Riesling as a partner. Barely warm diver scallops, plaited thickly with capers, lemon and anchovy, were topped with a vinegary eggplant salad and a fluff of radish sprouts. Sexy contrasts once again. A bowl of the appealing fresh corn reduction--utterly creamy yet made without butter or cream--accompanied. David's salad of Maine lobster, jamon serrano and shrimp was adorned with thumbnail tomatoes, infant beets and more of the liberally applied sea salt.

Kinch treats salt as a stand-alone element rather than a mere flavor enhancer. In a single bite, I inhaled a tiny beggar's purse of osetra caviar and crème fraîche crowned by a slice of lime ($22). Rich salty caviar, opulent crème, tart lime--the synergistic effect of such contrasts borders on the Tantric.

Jack was undone by a dish of two coarsely chopped tartares--exceptional beef and flawless ahi. The variations on crimson made a beautiful plate, especially entwined in a thicket of slender filet beans. David's braised pork on fingerling potatoes was elevated by unearthly tender duck foie gras, a succulent match for braised chanterelles and Moscatel vinegar.

My "main" course of classic duck confit--accompanied by a wonderful red Rhône--was topped with warm Corinth grapes, a few roasted fingerlings and braised chard. It was so good I regretted filling up on the previous courses.

When a haughty caramel soufflé, fresh from the oven, was presented along with a scoop of caramel balsamic ice cream, David needed no coaxing. He broke open the plush center and dropped the ice cream into its molten heart. Whether or not David wanted us to, we all shared.

Another seasonal creation involved perfect summer berries scooped upon an island of intense lemon curd, topped with a lemongrass granita. One lemon haunted the other, yet with slight and intriguing dissonances. A warm round of decadently rich "financier" cake--butter, eggs, sugar, absolutely--played off the purple haze of the tart/ripe berries.

And yet, Manresa wasn't quite finished with us. Along with cups of espresso, we sampled impossibly small cones of curved chocolate filled with passionfruit cream that gave way to an interior of chocolate cream. A trio of house sweets arrived on silvery planks of spun aluminum--little madeleines, tiny marzipan kisses and chocolate and nut clusters all worthy of a chapter in Proust.

The kitchen's eclectic expertise and conceptual daring, there's no denying it, can also undercut the idea of a simple dining experience, one that aims for a more relaxed outcome. Manresa is the land of the chic and home of the culinarily brave, a glamorous venue intended for those who take food seriously. If you're looking for a mere meal, you might feel more comfortable elsewhere. But then you'd be missing a chance to find out what ideas taste like.
---
Manresa
Address: 320 Village Lane, Los Gatos
Phone: 408.354.4330
Hours: Dinner Tuesday-Sunday
Cuisine: Cucina del cogito
Price Range: Tasting menu-prix fixe, $88 (plus wines)
Reservations: Essential
---
---
Send a letter to the editor about this story to letters@metronews.com.
---
[ Silicon Valley | Metroactive Home | Archives ]