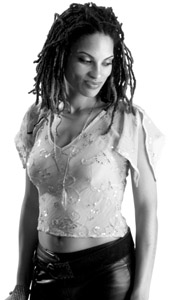 Power to the People: Goapele is the latest in a long line of Bay Area soul singers.





Soul to Soul

Oakland's Goapele sings of love and revolution

By Mosi Reeves

SOME R&B SINGERS get their start in front of church choirs; others hone their talents during open-mic showcases. Twenty-five-year-old Goapele Mohlabane's training ground was performing at various political rallies and events around the Bay Area. "I was singing at rallies and community events when I was 15," notes Goapele, a South African and Jewish woman whose name means "go forward" in Sitswana, a South African dialect. Appearing on stage with her brother Theo "Namane" Mohlabane, a DJ and member of hip-hop production crew Local 1200, she would improvise tracks, like laying down a vocal of Bill Withers' "Ain't No Sunshine" over Noreaga's "Oh No" beat.

Elsewhere, she would perform at Local 1200's many parties, at La Peña Cultural Center in Berkeley or at crunked-up clubs like Storyville, Kelly's Mission Rock, the Justice League or Black Box Theater. By cultivating a close-knit relationship with Oakland's thriving live-music scene, Goapele has created a personal style that meshes soul, jazz, hip-hop and blues, all filtered through a silky, smoldering voice. She sings of love but is also resolutely aware of the sociopolitical issues affecting her community.

"Much of my music isn't love songs," she clarifies. "'Red, White, and Blues' isn't a love song, it's an antiwar song and deals with the Sept. 11 situation. 'It Takes More' deals with the reality of some young men growing up in West Oakland. 'Childhood Drama,' although it sounds like a love song, is actually more about how some of us don't have our fathers in our lives, and what that's like to fill those empty places."

Nevertheless, her debut album, Closer, opens with an emotional proclamation, "I'm getting high / Closer to my dream," that she repeats over and over again, ecstatically, while Amp Live from Zion-I's slow, simmering beats swoons and sways in the background. Then there's "Romantic," which finds her praising her lover with the words "You're so fucking romantic / I can't stand it / When I look in your eyes" over a grinding funk track by Blue Note jam band Soulive that's reminiscent of Sly and the Family Stone.

"For me, of course, I like to write love songs because I like to be connected to my heart and that's what's on my mind a lot," she continues. "I think the vibe of soul music is so beautiful, it brings out more emotional lyrics for most of us."

But Closer centers around Goapele's unique vocal abilities, which allow her to interpret tracks as varied as "Things Don't Exist," a complex jazz ballad, and "Ease Your Mind," a summery hip-hop cut featuring a verse from Pep Love.

Closer first appeared last summer as a compendium of songs Goapele sold to her fans at shows. She's since returned to the studio to rework a number of its tracks, including "Salvation," and record a handful of new ones like the electro-funk of "Got It" and "The Daze," a pairing with Zion-I and Hieroglyphics' Casual. The new version, Even Closer, is being re-released by Skyblaze Recordings, a new label created by Goapele and DJ Namane.

She used to perform with just Namane backing her up. Nowadays, Goapele has her own band to accompany her. "Performing with a band, I can feed off their energy, their solos, or the way they interpret the music," she says. Although she still appears at community events, you're more likely these days to find her at various clubs around the city like the Ibiza Hotel, where she performed a set last Friday. She's toured with Spearhead, appearing with the group on Late Night With David Letterman, and made several sojourns to New York City, where much of Even Closer was recorded. And with the album release looming, Goapele's ready to join "neosoul" artists like Jill Scott and India.Arie on the national landscape.

"I've been classified under that," she protests. "If you want to call me 'neosoul,' that's fine. I just say it fits in the 'soul' category until I really find a title or I don't need a title anymore."
---
Goapele's 'Even Closer' is available at finer record stores near you.
---
---
Send a letter to the editor about this story to letters@metronews.com.
---
[ Silicon Valley | Metroactive Home | Archives ]