AN EXPENSIVE cab ride links San Francisco to the hotel ghetto in Sunnyvale--$150, give or take a few bucks. When he testified before the Santa Clara County Grand Jury several months after that warm evening in August of 1993, Desoto cabbie Daniel Escobar recalled his fare in some detail.
Escobar, then in his late 30s, had picked up a young Asian woman at a Jack-in-the-Box in the city's Richmond District, just before midnight on Thursday, Aug. 19. He recalled her as being "a little bit chubby, you know ... a little bit thick."
She wanted a ride to "Silicon Valley," she told him, where she was going to meet "a close friend of the family ... someone who was like an uncle to her." She flashed about $200 in cash at Escobar, indicating that she could pay for the ride.
Along the way, the young woman spun quite a yarn. She told Escobar that she was from Korea, that she had flown into San Francisco that very afternoon, that her parents were dead, that she didn't get along with her siblings. She told him that one of her girl friends in the Richmond had recently stolen everything of hers and had wiped her clean. "Stuff like that," Escobar testified. Somewhere along the way she identified herself as "Cindy."
Once they got to Sunnyvale, Escobar recalled, they got lost. Cindy had given him the name of the "Radisson Hotel." They couldn't find it. A frustrated Escobar pulled over so she could call her friend.
There had been a misunderstanding. It was the Marriott "Residence Inn," on Lake Way, across the Bayshore Freeway from Great America.
At about 1:40 on Friday morning, Escobar finally found the location. The "family friend," Han Suk Yoon, was waiting outside in the parking lot. Cindy and he spoke to each other in Korean.
Yoon seemed to be "very willing" to pay the $150 fare, Escobar testified, but there was a brief squabble between Yoon and Cindy over the tip. Yoon eventually handed the cabbie five or ten more bucks--he couldn't remember exactly.
Escobar says he could tell by the way they interacted that Yoon and Cindy "definitely knew each other." The two headed back to Yoon's suite, as Escobar remembered, "very, you know ... just side-by-side."
It was now getting close to 2 in the morning. Escobar pulled out of the parking lot and sped back to the city. The bars had just closed and there was more money to be made.
Yoon opened the door to his second-floor suite for Cindy. Little did he realize that he had just picked up the tab for his own murder.
HAN SUK YOON was sturdily built: five-foot-four, 160 pounds. Forty-nine years old, he was married with a wife and two children in South Korea. A 1971 graduate of Seoul National University with a degree in mechanical engineering, he had been named national director of Korean operations for Santa Clara­ based Applied Materials Inc. in 1989.
A respected member of the company's global management team, Yoon had arrived in Sunnyvale for a series of meetings at Applied Materials on Aug. 19.
Late that afternoon Yoon checked into his suite at the Residence Inn, replete with a full-service kitchenette. He went out to dinner with some business acquaintances, then made a phone call to Cindy Kang's apartment on Geary Street in San Francisco.
Kang wasn't in, but her roommate took a message. Sometime after 11pm, Kang returned the call. They made arrangements to meet that evening. Yoon said that he would wait up for her. Kang called a cab.
HUI KYUNG "CINDY" KANG, whom Yoon had met on an earlier visit to California, had just turned 21 and had moved into the Geary Street apartment eight days earlier, with two other Korean-American women, both in their early 20s.
Born in Korea, Kang had come to the United States with her family when she was 2 years old. The Kangs settled first in Hayward, where they operated a liquor store, and then moved to the more upscale community of Castro Valley, where they expanded the family business into video rentals. People in the community described them as industrious and hard-working, "a good family."
With her parents putting in long hours at their liquor store, Kang would find herself at home alone a lot during her childhood, "bored stiff," as she put it. She grew rebellious in her early teens, drinking, drugging, experimenting with sex. Often putting down a bottle of cognac in an evening, alcohol became her "drug of choice," though she occasionally used pot, acid and coke as well. She was not, in her own words, "a good little Korean girl."
Although she graduated from a private Catholic high school in 1990, she soon found herself in trouble with the law. She was busted for a couple of check-kiting scams, but her parents bailed her out each time. She moved to Florida for a year or so, then to Honolulu for three months, before returning to California in the spring of 1993.
She stayed with her folks for a while in Castro Valley, then moved out--"I couldn't stand it there"--when she became a fixture on the Korean and Japanese nightclub scene in San Francisco, often in the company of foreign businessmen. Many of the young women she hung out with during those days served as call girls or escorts; some, apparently, were working a scam in which they would steal the credit cards of foreign businessmen, who were too afraid, or embarrassed, to report the thefts.
Kang first met Yoon in June of 1993 at a bar in the city's Japan Town. A "call girl" friend of hers had introduced her to Yoon, who she claims tried to get her to spend the night with him at a nearby hotel.
What the exact nature of her relationship was with Yoon remains unclear. What is certain is that they contacted each other almost immediately following Yoon's arrival in California in August of 1993. Kang was familiar enough with Yoon that she felt comfortable calling his Korean office in Seoul, posing as a member of his family. Indeed, she had placed a call to his office on the evening of Aug. 19, trying to find his phone number in Sunnyvale.
Yoon was not the only person Kang was calling on that evening. A few hours before she left San Francisco for Yoon's hotel, Kang was visited by two Korean men at her Geary Street apartment. She asked her roommate Sang Hee Lee, a bartender at the Duriba Club, to leave the room while she discussed "money matters" with the men. After 10 minutes, Kang and the two men left the apartment.
Kang returned a couple hours later. The men were no longer with her, but she had cash in her hands. She gave $70 to her other roommate, Won Lee, for rent. Kang told her that the money was "from [the] men." It was at that time that Sang Hee Lee told Kang about her call from Yoon.
YOON AND KANG spent about six hours together at the Residence Inn during the early morning of Friday, Aug. 20, before Yoon headed off at 8am to an all-day series of meetings with heavy hitters from Applied Materials. Yoon gave Kang a $100 bill for food and drinks, and told her he would be back late in the evening.
Kang apparently spent a good portion--if not all--of Friday afternoon in the suite, making phone calls, watching television, smoking Marlboro cigarettes.
At about 7:30 or so in the evening, Kang called the Rusty Scupper restaurant in Sunnyvale for some takeout. She ordered some "buffalo chicken" wings and Cajun fried shrimp with extra blue cheese on the side. She ordered two drinks at first, then called back to change it to one drink, then back to two again. There was something odd about that, workers at the Scupper thought. She identified herself as "Yoon" over the phone.
Jerry Johnson, who took the first call at Rusty Scupper and made the delivery, arrived at the Residence Inn suite at 8:15. He would later remember that Kang was wearing a white T-shirt and and a pair of baggie tan shorts when he arrived, that the room was tidy, and that there was no one else in the suite. Kang signed Yoon's name to the bill, leaving Johnson a $7 tip.
At the time, Yoon was dining with four associates from Applied Materials' East Asian division at the Hong Fu Restaurant in Cupertino. They enjoyed a series of Mandarin-style dishes, a glass of beer or two, then called it an evening around 9pm. Yoon drove back to the Residence Inn in his rented 1993 white Buick Century, arriving in the parking lot at roughly 9:30.
ACCORDING TO PHONE records, a call was placed from Yoon's suite to his family home in Korea at 10:40pm. Apparently Kang's call to Yoon's office earlier in the evening had aroused some suspicions in Seoul.
What transpired during that phone call is uncertain, but shortly thereafter, the occupant in the suite below Yoon's complained about a ruckus upstairs.
Kang called the Residence Inn's desk clerk to apologize about the noise from their room. She told the desk clerk that she and "the man she was with" had gotten into "an argument," that he "was drunk and locked her out of the room," so that she was pounding on the door. "That's where the noise was coming from," she explained.
Kang said that everything was now fine, that there wouldn't be any more noise, that they were calmed down and would be quiet.
The desk clerk informed her that a security officer would be sent to the suite if there were any more complaints.
Less than an hour later--at 11:40 or so--the night auditor at the hotel received a second call from the occupant in the room below Yoon's. A security officer named Sandy Cravath was sent out to respond. She knocked on Yoon's door.
From inside, a woman responded, saying, "Everything's okay." Cravath recalled that she then heard a "grunting sound" with sexual overtones (she suspected from a male), some jumping up and down, and the woman saying, "Oh, baby, baby, stop," as if the couple inside "were horsing around or something."
Cravath knocked on the door for nearly a minute, got no response, and assumed that everything was all right. After informing the occupant below that if he had any more trouble to call the front desk, she returned to the lobby and reported her encounter to the night auditor. He immediately called Yoon's room and was assured by Kang that there would be no more complaints. There weren't. Yoon's room was quiet for the rest of the night.
PERHAPS AN HOUR or so after the second complaint, Kang quietly left the Residence Inn. Using Yoon's rented Buick, she drove up to San Francisco, where she was first seen at about 2am in a karaoke club, the Do-Re-Mi, in Japan Town.
Kang had been a regular there the past few weeks and knew the 21-year-old bartender, Steven Hong, with whom Kang left a slip of paper. "A woman" would be in to pick it up, she told him.
Hong said that Kang appeared "not as smiling and just kind of, you know, weird ... a little sad" during her brief visit to the club. Nobody came by to pick up the slip of paper. Hong threw it away.
Kang apparently went back to her apartment on Geary during the middle of the night, hurriedly gathering some of her belongings. She didn't leave any note.
Kang had two of Han Suk Yoon's credit cards with her in San Francisco, Lucky Gold and Visa, both drawn on Korean banks. Since most Americans couldn't identify the gender of Yoon's Korean name, she had little trouble using them.
Kang went on a spending binge in the city Saturday afternoon. She charged $4,755 on Yoon's credit at Ballys, Macy's and Bibbo at Union Square, purchasing fine jewelry, clothing, expensive leather belts and purses. She spent $746.93 alone at Arthur Beren Shoes.
That night she checked into the upscale Miyako Hotel in Japan Town. The Miyako was nearly full, and all they had left was a suite at $250 a night. Kang took it, registering under Yoon's name with one of his credit cards.
The clerk at the hotel, Clarence Earl Jackson, would later testify that Kang was "unusually friendly" when she checked in, and a short time afterwards, Kang called Jackson at the desk to see if he would go out for a drink with her when he got off.
Jackson told her that since he was going out anyway, she was welcome to join him. They met outside the hotel at 11pm.
JACKSON AND KANG, dressed in a pair of brand-new black stretch-leggings and a white blouse, took a taxi to the Castro district, where they spent time at a couple of bars. At one point in the evening, Kang pulled down her blouse to reveal a tattoo on her left breast of the word "ZuZu," which she told Jackson was her nickname.
Kang also showed Jackson a tattoo on her right buttocks, "Made in Korea." Jackson would later testify to "being a bit shocked that she would show [that]."
Jackson was surprised by a few more things that evening. Kang had told him that she had just flown into San Francisco for one night--that she was from "out of town" and later on that she was from New York--but when they got to the first bar in the Castro, she immediately recognized someone she knew. They embraced each other, said hello, and Kang kissed him on the cheek. It bothered Jackson at first, but then he "just blew it off."
Jackson also noticed "some markings" on Kang's wrist, clearly defined bruises that looked "like someone had held [her] a little too tightly." Kang told him that she had "had a fight with her sister."
Jackson thought the explanation was "kind of strange," but Kang made a joke of it, and Jackson dismissed it. Kang bought another round of drinks.
Kang's story about herself changed ever-so-slightly over the evening. At one point she stated that her father lived in San Francisco and that he had video stores in the area. It finally struck Jackson that she might not be an "out-of-towner" at all.
As the evening progressed, Jackson and Kang added two more men to their entourage, and they all decided to head back to Kang's hotel room at the Miyako. They tried to take even more people in their taxi, but the cabbie refused.
Back at the hotel, Jackson was a little concerned about leaving Kang alone with two strangers, but was gradually assuaged when he realized "that they were more interested in each other." He left at four in the morning. Kang and he had no sexual contact, he would later testify. "Sex never, ever crossed my mind."
The following day, when Jackson returned to work, he called up Kang's account on the hotel computer. He was nervous about having been in a guest's room, which was against the Miyako's policy. He "freaked" when he saw the bill.
Kang had run up a tab of over $200 from the "mini bar" in her suite; every bottle of booze was gone. A co-worker told him that Kang had left without signing for anything. She had taken a limousine to the San Francisco airport sometime Sunday morning.
KANG FLEW OUT of SFO, stopping off in Denver, where she made several phone calls and purchased a meal and then a book on one of Yoon's credit cards, before landing in Philadelphia on Sunday evening. That night she made a telephone call back to San Francisco.
On her 21st birthday earlier that month, Kang had met a young Foothill College student named Ho Chong, a DJ at Club Jatre, yet another karaoke bar that Kang frequented in the city. She offered him a ticket to visit her on the East Coast. He declined.
Over the following three days, Kang went on another spending spree from Philadelphia to New York City, racking up nearly $10,000 on Yoon's two credit cards.
She had a manicure and facial in New York City, spent $2,289 on jewelry at Bakol Gold, and hired herself a male escort through a limousine service, tipping him approximately $500.
By Thursday, she had reached the limit on Yoon's credit, having spent nearly $20,000 in little more than five days.
BACK IN SUNNYVALE at the Residence Inn, Han Suk Yoon had not been seen over the weekend. A woman had called the hotel desk, once on Saturday and five times Sunday, requesting that staff not disturb or clean the room, as there were "important papers" left inside.
On Monday, Aug. 23, one of Yoon's colleagues at Applied Materials realized that Yoon had not returned to Korea as scheduled, nor had he checked out of his hotel suite. The management of the Residence Inn called the Sunnyvale Department of Public Safety, requesting a "security check" on Yoon's room.
Officer Rob Scott opened the door to the suite and immediately found Yoon's body, covered in blood, sprawled across the carpeted bedroom floor. He was wearing only a T-shirt and jockey shorts, and appeared to have sustained multiple stab wounds to the back and chest.
Veteran homicide detective Larry Muse was called in to head up the investigation. In a rapid period of time, Muse and his colleagues were able to piece together the last few hours of Yoon's life. They found a bloody fingerprint on a telephone that turned out to be Kang's. They checked phone records that led them to Kang's apartment in San Francisco and to the Rusty Scupper.
Gradually, they constructed the following scenario: the five-foot-six, 140-pound Kang had first attacked Yoon while he lay on the bed, but the initial assault did not kill him. Defense wounds on his hands, arms and thighs indicated that he put up a struggle, elevating himself from the side of the mattress before collapsing on the floor, at the foot of the bed.
Kang had stabbed and slashed Yoon more than 40 times. At least three of the wounds had penetrated Yoon's chest cavity, injuring his lungs and heart; any one of them could have been fatal.
Investigators came to believe that it was during the middle of Kang's assault on Yoon that security officer Cravath had knocked on Yoon's door and Kang had dismissed her with "Oh baby, baby, stop."
They also believe that Kang covered up a pool of her victim's blood on the bed with a bathroom towel, watched television and smoked a cigarette before washing off Yoon's blood in the shower. A remote control for the TV was found on top of the towel.
Kang then stacked a half-dozen bloody kitchen knives next to the bathtub, including the one most likely used in the attack, a 7.7-inch Washington Forge cook's knife. She also left a crumpled pair of her light-blue blood-and-semen-stained panties on the bathroom floor, just next to the toilet. Both blood and semen, it was later determined, matched Yoon's.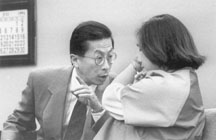 Power of Attorney: Garrick Lew confers with Cindy Kang at a court appearance in May 1994, after her out-of-state "nanny" identity crumbled. Lew was replaced by Public Defender Nora Klippen.
BECAUSE YOON'S CREDIT cards were drawn on a Korean bank, investigators were unable to intercept Kang's purchases until they had been recorded in Seoul. They were always a day or two behind. Once she had tapped out Yoon's credit and tossed the cards, her trail went cold. She had, in her own words, "disappeared."
Kang quickly adopted a new name, "Mya Khang," and a new history. She took a job working on a sailboat in Dobbs Ferry, N.Y., then a job as a nanny.
She met a young investment broker on a commuter train out of New York City shortly after the murder, and they became lovers. She told him nothing about her past, that is, about her real past. Instead, she concocted a story about having graduated from the University of Hawaii with a degree in child psychology and was preparing to go to graduate school.
In late September, she took another job as a nanny near her boyfriend's home in the posh township of Bedford, N.Y., about 40 miles north of New York City.
Kang left her first job in Bedford--as she had her previous two positions, for that matter--under a cloud of suspicion. After working for the family for a little more than four months, they suspected Kang of stealing $600 from a friend of theirs. On Feb. 5, they called the Bedford police to report the theft.
Two days later, Kang took on another job as a nanny, at the home of Peter and Carol Kurth. During her interview for the job, Kang had told the Kurths a similar tale to the one she told her boyfriend: that she was 24, a graduate of the University of Hawaii, a gourmet cook, and planning to go to graduate school in psychology.
Extremely cautious as a result of bad experiences with nannies in the past, Carol Kurth was determined to check out all of Kang's references, including her academic credentials. While Kang was able to fudge her employment references (she got her boyfriend's sister to answer one of Kurth's calls, and may have even answered one herself), the University of Hawaii said that they had never heard of "Mya Khang."
When Kurth confronted Kang about the discrepancy in her story, Kang coolly suggested that it might have been a matter of misspelling her last name.
Kurth made more calls to Hawaii. None of Kang's story panned out. Kurth then called the Bedford police to see if Kang's Social Security number and driver's license were legitimate; she was told that such an inquiry would constitute a civil rights infringement. A disgusted Kurth told the officer to pursue it anyway and to let her know if there was a problem.
The following morning, the Kurths received a call at work from the Bedford police. "Everything's fine," they were told--but they needed to "get home immediately."
THE BEDFORD POLICE had closed in on Kang quickly. Detective Jeffrey Dickan, following up on the initial theft report and Kurth's phone call, scanned national police computer files and quickly realized that the description of the woman wanted in the Sunnyvale murder fit the description of "Mya Khang." Even their names were similar.
Papers that Kang had left at her previous nanny's job led them to her boyfriend. Convinced that they had a murder suspect in their jurisdiction, the Bedford detectives contacted Detective Muse, who headed the case in Sunnyvale, and the FBI's regional office in White Plains, N.Y. One of the telltale signs identifying Kang was the "ZuZu" tattoo on her breast.
While Kang's boyfriend spoke to her on the telephone at the Kurths' residence to keep her occupied, the Bedford police and FBI agents arrested her without incident.
The FBI agent who coordinated the arrest, Mary Galligan, took Kang into a nearby room, asking to see her tattoos. Kang complied.
Kang, according to Galligan, immediately began talking about her friends in San Francisco who would "rip off" Korean businessmen. They would bring them to their hotel rooms, promise them sexual favors, get them drunk, then "rob their credit cards before they had sex with them."
Galligan asked Kang if she knew the name Han Suk Yoon. "Yes," she acknowledged, that was the name she had been signing to credit cards. She conceded that she had brought Yoon to a hotel room and robbed him, but there had been no struggle, she contended, and no sexual relationship.
The last time that she saw him, Kang asserted, Yoon was fine-- though she couldn't explain how she had obtained his credit cards.
GIVEN THE SERIOUSNESS of the charges in California, local law enforcement officials immediately initiated extradition proceedings against Kang. The case was handed over to Santa Clara County Deputy District Attorney Lane Liroff, an experienced prosecutor who has handled a number of high-profile cases and who often serves as a legal analyst on television.
Kang's arrest generated a good deal of publicity in the South Bay. The San Jose Mercury News ran a series of stories on the case, focusing on Kang's brief career as a New York nanny and misidentifying Kang as "the daughter of a San Francisco minister."
For the Korean-American community in the Bay Area--and throughout much of the country, for that matter--the murder of Yoon and the arrest of Kang became an immediate cause célèbre. Kang's photo and banner headlines about the case appeared regularly on the front pages of Korean-American newspapers. There were also a steady stream of reports on Korean-American television.
"We don't have many murders like this in our community," a reporter for The Korea Times told me during one of the preliminary court hearings in Sunnyvale, at which a large coterie of Korean-American media appeared. "This is our O.J. Simpson story."
The Kang saga quickly developed some unique twists of its own. At one of her early court appearances, it had become clear the Kang had put on a noticeable amount of weight. The rumor spread that she had been impregnated by her New York boyfriend. On Sept. 14, 1994, she gave birth to a son, who now lives with her parents in the East Bay.
Unlike the Simpson case, however, the legal proceedings against Kang ground nearly to a halt. It was months before she settled on a public defender, Nona Klippen, and it wasn't until September of 1994--more than a year after the murder and some eight months after her extradition--that Liroff obtained a grand jury indictment against Kang for first-degree murder and robbery.
Her trial date was postponed for months, then for more than a year-- seemingly indefinitely. Once more, Cindy Kang had disappeared.
IT WAS THIS past June--nearly three years after the murder--that I received a tip from a friend of mine in Santa Clara County legal circles that "a deal" had been struck in the case of The People of California vs. Hui Kyung Kang.
I immediately called prosecutor Liroff, who confirmed that Kang had been sentenced to 16 years to life, after pleading guilty to a reduced count of second-degree murder and a single accompanying charge of robbery.
No word of the settlement had been reported by any of the local media. The case that had once been a cause célèbre had turned into a cause invisible.
The following day, I obtained a copy of Kang's probation report from the Santa Clara County Superior Court clerk. It is a fascinating document.
In her statement to the probation officer, which Kang made well after she had obtained legal counsel, Kang acknowledged killing Yoon. What she had done "was wrong," she said, and "she wished that she could take it back."
She claimed that she "stabbed the victim in self-defense. ... [Yoon] forced her to have sex with him. He beat her, yelled at her, and then held her down and raped and sodomized her."
Kang asserted that she had been sexually molested between the ages of 5 and 17 by someone close to her family, that she had once attempted to commit suicide as a 13-year-old, and that she had begun drinking at the age of 9.
It was during Yoon's assault on her, she contended, that she had a "flashback" to her childhood sexual attacks and killed Yoon in a fit of rage. She said her memory of the murder is "very hazy" and that she recalled little of the details.
Kang also claimed that she had had an accomplice in the murder, a friend of hers named "Kim," who, she alleged, had introduced her to Yoon, had visited her during the evening of the murder at the Residence Inn (hence the change in the number of drinks that were ordered), and later helped her clean the room following the murder.
According to Kang, it was Kim who called the hotel the following two days and directed housekeeping to stay away from the room.
Finally, Kang asserted that when she is released from prison, "she might try to contact the victim's family to express remorse."
Joan Hamilton, the deputy probation officer evaluating Kang's case, did not buy into Kang's story. Not at all.
Given that Yoon was wearing shorts and a T-shirt during his murder, she doubted that Kang had acted in "self-defense" during an attempted sodomy. "The viciousness with which he was stabbed suggests extreme rage on the part of the defendant and/or a valiant fight on the part of the victim, who did not die quickly or easily."
Hamilton further asserted that Kang "gave the distinct impression that she was acting insofar as being troubled by mental illness."
"[S]he claimed she had a halting speech pattern due to medication, but frequently she appeared to 'forget' the pattern, and spoke in a very rapid, clear fashion. When discussing the actual act of murder, the defendant acted as if her personality changed, and used a childlike voice to protest what [her childhood molester] had done to her."
All of Kang's actions following the murder, Hamilton reasoned, "indicate a callous/nonemotional demeanor towards her actions, and the victim."
Hamilton recommended maximum sentences on both counts, expressing concern about the "apparent viciousness of the attack upon the victim, especially when it is time to consider her release in free society." The judge concurred.
IN THE MONTH between Kang's sentencing and her being relocated to a California state prison, I was determined to interview her myself at the Elmwood Women's Detention Center on the outskirts of Milpitas.
On a hot summer afternoon in late June I showed up at Elmwood unannounced. An extremely courteous desk clerk at the detention center, along with one of his superiors, decided to accommodate my request for an interview.
Kang slowly, a bit hesitantly, entered her side of the high-security interview room, a plate-glass window separating us. Dressed in a red jail jumpsuit with a substantial steel chain wrapped around her waist, she appeared pale with patches of acne, her stringy, shoulder-length hair disheveled.
"I'm having a bad hair day," she joked as she sat down and picked up the phone to begin our conversation. Her head swayed slightly as she attempted a smile, tugging at her hair. She settled in. Her mahogany eyes focused in on mine. "What took you so long?" she asked.
Her question caught me slightly off-guard.
"Why did you wait until it was over?" she asked again.
I explained that her attorney had forbade any interviews and that jail officials had made it extremely difficult to see her until after her sentencing. She nodded her head.
We made small talk. She wanted to know about the publication I was writing the article for. She let me know that she had discarded the name "Cindy" and from now on intended to use the name "Mya." She was polite, friendly, and more articulate, more down-to-earth, than I expected.
I HAD MADE a strategic decision to ask Kang general, non-confrontational questions early on, in order not to offend her to the point where she cut the interview short. I would ask her direct questions about Yoon and the murder only at the end of the interview.
She told me that she was "relieved" that the legal proceedings pending against her were finally over, that she had "accepted her sentence" and was "prepared to serve her time."
"I was hesitant to accept the deal at first," she said. "I didn't want to. But it could have been worse. I view it as a win for me getting this deal."
At one point the district attorney had considered bringing "special circumstance" charges against Kang, which could have led to the death penalty. "I went ballistic when I heard that," she said. "I was screaming and crying. It made me realize how real it was, how serious."
Did she really not realize the gravity of the crime until then, I wondered--that is, until it had direct consequences for her?
"I was in a haze," she declared softly. "I blocked it out."
Did she feel sorry?
Kang turned extremely emotional. "Not one day goes by when I don't cry for the man. That's the least I could give him, right?"
We talked a little bit about her son, about her dream to one day go camping with him when she's released from prison. It hurt her, she said, that her ex-boyfriend in New York wanted nothing to do with him. "Someday, when they're both ready, I hope he can accept [their son] into his life."
Then I brought up the probation report. "How did you get that?" she asked, her face twisted with concern. "I was told that no one could ever see it."
I explained to her that it was a public document for the 30-day period following her sentencing. Suddenly our conversation grew tense. She claimed that she had not seen the report, that she did not know what was in it (though later, it seemed to me as if she did).
When I brought up the childhood molestation referenced in the document, she calmly said that she didn't want to talk about it. Nor would she talk about any of the events immediately around the murder. Her face contorted whenever I brought those issues up.
Kang did, however, reiterate her contention that a woman named "Kim"--a childhood friend of hers--had "cajoled" her into committing the murder, that Kim had indeed been at Yoon's hotel room both immediately prior and after the murder, and that she was "now doing Kim's time."
I told her that her probation officer, Joan Hamilton, didn't believe her--particularly about Kim and the attempted sexual assault. Kang turned adamant. "She had no right to make such judgments. She has no idea what I'm feeling. What I told her was the truth. How can she say I have no remorse?
"I have a lot of remorse. Before I go to bed every night I pray for his family. I worry about them, about my own family. This will be with me my whole life."
Kang said she had been "clean and sober" for two years, that her body was now "cleansed" and that she was going through some "rape counseling" with someone from the public defender's office.
After unsuccessfully trying to get more details of the murder, I asked her if she had anything else she wanted to say. "I want kids to know how bad it is. They're doing bad things to their mothers' hearts. Tell them to grow up. To get a new attitude. Ten years from now they'll wind up just like me."
NOT ONCE DURING the interview did Kang feign any sort of mental illness. To the contrary, she seemed alert and extremely intelligent. At one point she looked at my notes through the plate-glass window and corrected my spelling of her new name. There was no drifting, no changing of her voice.
She did tell me that she was on medication--Lithium for a bi-polar disorder, along with Paxil and Triazadone--and only at the end of the interview, after more than 90 minutes of emotion-laden questioning, did she tell me that she needed some water, that she wasn't feeling well enough to continue.
As she got up from her seat, she asked if I could leave her a copy of the probation report. She gave me a faint wave and said good-bye.
There had been only one odd moment during the interview when I thought Kang's behavior had been out-of-line. I had long wondered about the meaning of "ZuZu," the tattoo on her upper left breast that had helped the FBI identify her in New York.
When I asked her about it, she very proudly pulled her red jumpsuit down a few inches to reveal the tattoo. In fact, she showed it to me twice. "It's the Hawaiian word for 'bad boy,' " she glowed. "I got it when I was living there, when I used to party all the time. That's me. I was the 'bad boy.' "
FOLLOWING MY MEETING with Kang, I sought interviews with the two attorneys involved in the case, public defender Nona Klippen and Deputy DA Lane Liroff.
When I first contacted Klippen in 1994 while covering the story for the Sunnyvale Sun, she refused to comment on the case on two occasions. She also failed to return a pair of phone messages I left on her voice mail at the public defenders' office earlier this month.
Liroff, on the other hand, had a good deal to say about the case. He was a bit apprehensive that Kang may have somehow persuaded me to her side, that she had put me "under her spell."
I told him that I found her very credible, courteous, intelligent--nothing like the figure portrayed in the probation report--particularly since I had dropped in on her unannounced and that she had had no time to "prepare" for the interview.
"You have to remember she's very good at that," he responded.
"Good at what?" I asked.
"At fooling people."
Liroff then presented to me the case he never got to make in court. He referenced Kang's elaborate spending sprees in San Francisco, Philadelphia and New York, noting that she had gone out for "a night on the town" less than 24 hours after the murder.
"It's important to remember that there were so many critical junctures when Cindy could have revealed her defense--there was a knock on the door during the middle of the murder when she made that sexual innuendo--and she just didn't do it," Liroff stressed. "When the going got tough, Cindy went shopping."
I asked him about "Kim." Liroff indicated that investigators from his office had interviewed "Kim," that, indeed, she was a real person and a long-time friend of Kang's. While Liroff stated that Kim may have been at Yoon's hotel the day of the murder, there was "absolutely no corroborating evidence" linking her to the crime. "Cindy was just trying to put it off on someone else. She was trying to shirk her own responsibility."
Why then, I asked, did he negotiate a deal?
"We settled this case because we were not completely satisfied we could make a first-degree murder charge. They made an offer to consider a 'second,' and we were satisfied with it."
Liroff indicated that Klippen and he had gone to coffee one day for about 30 minutes or so. "She made a presentation that I thought was about right, but I wanted to check it out with my people. I called her back and said, 'You got a deal.'
"There just wasn't enough evidence of premeditation and deliberation [for a first-degree conviction]. There's nothing concrete to suggest she thought about it in advance ... either to kill him or rob him.
"I have to focus on one thing: what I can really prove. I can't afford to tilt at windmills. I have to be able to prove it beyond a reasonable doubt."
Liroff also expressed concern that a "jury or juror" might have been convinced by Kang that her act was one of manslaughter or even self-defense. "She lied and fooled so many people along the way--think about the cabbie, the guys she was with at the bar that night, the boyfriend in New York, the different people she worked for as a nanny. ... Who knows how a jury would have responded to her? She's good at lying. Very good."
I told Liroff that Kang had considered the second-degree settlement as "a win."
"It's a Pyrrhic victory at best," he said. "Given the way that the courts are currently handling such cases--and are likely to handle them in the future--it'll be 15 to 25 years before she ever gets out, if that."
BEFORE SITTING down to write this article, I re-read an account by Carol Kurth of her two-day ordeal with Kang living in her household, caring for her children. Kurth described Kang as a "breath of fresh air ... someone who spoke articulate English. All in all, she came off as a very good, decent, honest, open person."
The depth of Kang's deceit as recorded in that document is remarkable--from her university record, to lies about her family and her sense of morality (at one point, she had told Kurth that she didn't "believe in premarital sex"). Her capacity for deception apparently knew no bounds.
In fact, Kang had told lies to virtually everyone she had encountered since that fateful evening of Aug. 20, 1993. In going over my notes from my interview with her, I realized that she had lied to me, too--about her boyfriend in New York, about certain members of her family, about portions of her life leading up to the murder, probably about the probation report. She had a habit of tripping over the details.
All of those details, I realized, come together to form a violent and intricate puzzle, at the center of which remains a black hole of uncertainty. We will never know what was going through the mind of Mya/Cindy/Hui Kyung Kang as she first reached for a knife and thrust it into Han Suk Yoon's body. We'll never know the accumulated tragedies and abuses and pathologies over 21 years that led her to that sanguinary, homicidal rage.
At best we can guess, speculate, wonder. Why did Kang call back the Rusty Scupper three times to change her drink order? Was she already worrying about an alibi for the murder she was planning to commit, or was there someone else in the room? What was the nature of Yoon's telephone call to his wife in Korea? Did Kang respond to that phone conversation as a spurned mistress? Or did Kang truly experience a "flashback" of childhood sexual abuse during an attempted sodomy by Yoon?
A short time before she was to be transferred to the Valley State Prison for Women in Chowchilla, I sent a brief letter to Kang at her Elmwood cell block. I explained to her that the guards at Elmwood would not allow me to leave her a copy of her probation report the day I had visited her and that she would need to get a copy from her attorney.
"I'm very appreciative that you took time to talk with me and would like to speak with you further," I wrote. "If you would like to call me collect for some follow-up questions, please feel free to do so."
I gave her my phone number. She has yet to call me back, though I suspect that she has more to say.
---
Names of some individuals have been changed to protect their identities.
---
[ Metro | Metroactive Central | Archives ]