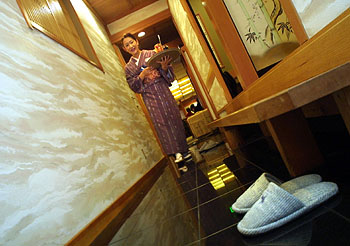 Photograph by George Sakkestad

Hai Times: Impeccable ambience and service are hallmarks of Palo Alto's Fuki Sushi.

Vintage Sushi

For over two decades this superb Japanese restaurant has served sushi to Nobel laureates and other grateful foodies

By Christina Waters

A MULTICULTURAL intellectual elite loves to meet at this landmark labyrinth of dining rooms. Small wonder, since Fuki Sushi is easily the best-appointed Japanese eatery in the area. The oldest too, though the stone entry hall, sleek blonde-wood sushi bar and secluded network of celadon-hued tatami rooms look as contemporary as the day they were decorated. Audrey is a sushi diva who knows her way around a well-made agadashi dofu. So she made the perfect companion for my latest visit to Fuki Sushi, where visitors from Japan feel as instantly at home as do groups of Stanford grad students. Our impeccable, kimono-clad waitress brought out a beautiful vial of nutty-sweet hot sake--by Otokoyama ($9), one of many premiums on the menu--and Audrey and I made a toast to my having completed my Ph.D. just that week.

"I wonder if they have Nobel prizes on the menu," Audrey quipped, making a note to order a batch of appetizers from the almost irresistible list of possibilities. Arriving quickly on a fleet of beautifully glazed dishes of different shapes and colors were crisp, succulent gyoza ($5), a tender portion of rosy octopus in a vibrant, vinegary dipping sauce ($6), luscious pressed spinach with sesame paste ($4), a giant whole shrimp ($8), followed by an iron cauldron of that sensuous comfort food, udon noodles topped with perfect tempura vegetables in a rich bonito broth ($9). The soothing rock garden outside my window completely masked El Camino Real traffic. We felt transported to a secluded, but sophisticated country inn, enjoying the immaculate flavors of chewy tako, the lovely crisp potstickers, and the sesame-infused fresh spinach. The giant prawn was overcooked and since neither of us "do" ebi heads, much of its dramatic effect was lost on us. A sparkling sweet-vinegary sunomono topped a layer of seaweed accompanying the slices of octopus--one of my favorite appetizers and done to perfection by Fuki Sushi. Audrey also loved her "comfort food" appetizer of broiled shiitake mushrooms with sliced lemons and crushed daikon ($7).

Then came a polished wooden plank with our gorgeous sushi orders, including a stunning house special Dragon Roll ($12)--a sinuous coil of sticky rice and nori packed with tempura ebi, avocado and tobiko with barbecued unagi draped on top. Crunchy, salty, succulent and sweet--this creation sliced into huge round morsels was large enough to be an entire main course for the two of us. Audrey grinned. Now I know what to order the next time I come to Fuki Sushi. Two pale yellow slices of pickled burdock root crunched with each bite--sensational flavor. And after a palate cleanser of pickled ginger, I reached for an impeccable tiny tekka maki sushi filled with maguro and peppery shiso leaf ($3.85). This is one of my personal all-time favorite sushi creations--and Audrey quickly became a lifetime fan. Fuki Sushi's chefs like to lace these tiny beauties with an extra hit of wasabi and soon our sinuses were clear as the air over the Sierras. Meanwhile, I positioned my chopsticks over the steaming cauldron of udon, and was amazed at the miraculous texture of the plump noodles, almost transparent, yet so soft. A bite of tempura carrot, growing moist and heavy with the flavorful broth, proved that Fuki Sushi also knows its way around this lightest of all frying techniques. Audrey was intent on saving a bit of room for our "dessert" course of tobiko nigiri sushi, its electric -orange crunchiness topped with the ultimate in plushness--a tiny, golden quail egg ($5). Outstanding, especially the sensation of rich, egginess drenching the flying fish roe and sticky rice underneath. Even though we agreed to split a bowl of the house green tea ice cream ($3) just to shut down our palates, the tobiko with quail egg remained the true finish to one of the most spectacularly satisfying Japanese dinners I've had in a decade. Fuki Sushi deserves its outstanding reputation.
---
Fuki Sushi
Address: 4119 El Camino Real, Palo Alto
Phone: 650.494.9383
Hours: Lunch 11:30am--2pm Mon--Fri; dinner: 5pm--10pm Mon--Sat; till 9:30 Sun
Web: www.fukisushi.com
Cuisine: Classic Japanese and sushi bar
Private tatami rooms
---
[ Santa Cruz | Metroactive Central | Archives ]