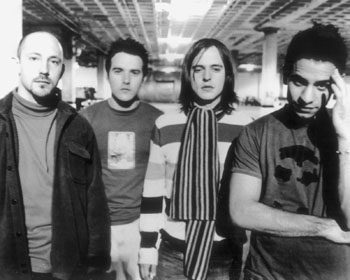 Watcha and Waiting: Zurdok is one of many Latin-rock bands on this year's Watcha Tour roster.

Bilingual Initiative

Latin rock Watcha Tour stretches to include hip-hop star Kool Keith

By David Espinoza

LEAVE IT to the critically acclaimed, commercially ignored world of Latin rock, or rock en español, to reverse the roles so often played by mainstream American pop culture and include a token ingles-speaking artist on a predominantly español-speaking tour.

Some might take underground hip-hop star Kool Keith's presence in this year's installment of the Watcha Tour to be nothing more than cross-marketing, but a quick reading between the lines shows it's really about the love for good music regardless of what language it's sung in.

Nonetheless, it is significant to note that Keith is another U.S.-based artist who has joined ranks with some of Latin America's top acts (think Fishbone, David Byrne and Beck).

The irony of Latin rock's modest success (the fact that the Watcha Tour is now on its third run says lots) is that in years past, tours focusing on the genre could be expected to deliver the very cream of the crop (Café Tacuba, Molotov, Aterciopelados, Maldita Vecindad, Los Fabulosos Cadillacs) mixed in with up-and-coming acts.

On one hand, the absence now of such big names has left an open space for new acts to fill. On the other hand, the heavy hitters of Latin rock can headline their own shows now and can no longer be found on multiact tours--they've been there and done that.

(Pop music scientists refer to this as the "Palooza" syndrome, where, after a couple of years, organizers of the Lollapalooza festivals ran out of underground acts with substantial cult followings to feature on the main stage.)

This year's Watcha still features familiar faces like Molotov (Mexico's machisto answer to the Red Hot Chili Peppers), Argentina's Bersuit Vergarabat and Chile's La Ley (which has also been touring on its own), but much of the show consists of new names.

With the multimillion-dollar American rock-radio industry still hesitant about Spanish rock bands (even the ones that sing in English, like Plastilina Mosh, remain ignored), it's no wonder that Watcha features some very pop-oriented acts, from Columbia's Juanes to Mexico's Zurdok. (It should be noted that dance-music radio, from house to hip-hop, became bilingual long ago.)

Despire quite a few U.S.-based artists (Chicano/Latino crews with Spanish names), the strongest representation still comes from Argentina and Mexico, with the Americans ranking about as well as American soccer teams when matched against other countries.

Take Texas' Vallejo, a glossy alt-rock sextet that offers very little in terms of redefining rock music on Latino terms, which most would argue is the most important thing Latin rock has to offer. As George Carlin once said, "It's not enough to know which notes to play, you need to know why they need to be played."

Argentina's Bersuit Vergarabat instinctively knows this, that's why the band pushes the boundaries of indigenous sounds, mixing salsa, cumbia and merengue with punk and metal--whatever it takes to get the point across.

The good news about the Watcha Tour is that there really isn't any other festival this year that features a more diverse array of music, from the greasy funk and blistering metal-rap to bass-heavy house and punked-out rancheros. It's what the Watcha Tour has been and will continue to be about: a wide spectrum of music, under the guise of one language--make that two languages now.
---
The Watcha Tour takes places Saturday (Sept. 9) at 6pm at the San Jose State University Event Center. Tickets are $27.75.
---
[ San Jose | Metroactive Central | Archives ]