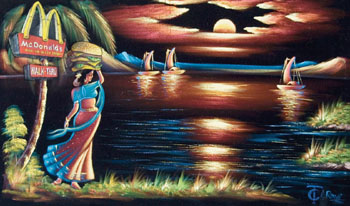 Sunset Provision: Calvin Turnball's 'McVelvet' adds juice to velvet-painting genre.

Bought And Sold

Art gets an extreme makeover at WORKS show

By Michael S. Gant

THERE ARE a lot of reasons to get hooked on eBay: at last, that one-of-a-kind Fatty Arbuckle Pez dispenser can be yours; back issues of Sub-Mariner unlimited. With the thrill of competitive bidding combined with sheer acquisitiveness, the website turns shopping into gambling.

San Francisco artist Michael Rosenthal puts forth a better reason for burning the midnight bandwidth. Rosenthal's "eBay Art Project," now at WORKS/San Jose, uses the Internet flea market as a resource for a clever networking exhibit. Rosenthal bought nondescript, nonattributable (to avoid the long arm of the copyright police) artworks on eBay, then sent them to more than a score of artists and gave them carte blanche to paint over, paint out, manipulate and otherwise alter the pieces. The results are displayed next to reproductions of the originals.

"I was perusing the national art magazines a few years ago," Rosenthal explains, "and learned that some of the galleries were selling on eBay. I started looking at the art on the site, especially the art that was selling for a penny up to five bucks." Rosenthal decided that a lot of what he saw—mainly visual Muzak or assembly-line motel art from China and Vietnam—could provide a jumping off point for artists who appreciate the ironic possibilities of kitsch. Most of what Rosenthal ended up with was truly disposable commodity art: "I bid on 100 paintings and lost only three," he recalls.

The bulk of the purchased works are knock-off Impressionist images, with a few pseudo-Surrealist and abstract canvases thrown in for art-historical interest. Dickson Schneider takes a cartoonish copy of Munch's The Scream and adds some jolly Teletubbies. In another appropriation, Schneider has painted a menacing devil dog in the foreground of a bucolic Alpine scene. Suddenly, that burbling brook doesn't look so inviting.

Annie Wong turns a woodland cottage into a fairy-tale gingerbread house with a pair of giant pudgy children destroying any sense of normal scale. Calvin Turnball, taking aim at the easiest target of all, has painted a flying saucer beaming up a bewildered cow above the roof of a faux-Thomas Kinkade canvas. The result is witty if way too obvious: anything you could do to a Kinkade would be an improvement. In one of the funnier efforts, Turnwall's McVelvet "globalizes" a South Seas painting on velvet by topping a curving palm tree with the arches logo and giving a fetching island girl a Big Mac headdress.

Veering away from painting, Suzanne Huskey constructs a 3-D soft sculpture from a closeup image of a fried egg. Marta Thoma has transferred a landscape onto a half-size stiffened dress. Most radical of all, the art collective known as NDFTBY took three paintings and buried one, burned one and dumped one in San Francisco Bay—and videotaped the merciful rituals.

To complete the circle, Rosenthal says that all the altered art will be sold on eBay, and the resulting prices of "original" and "meta-original" compared, as a lesson in the slippery slope of assigning monetary value to art.

Also on display at the gallery is Rosenthal's "The Mona Lisa Postcard Project," which brings Dada to the masses by distributing postcard repros of Da Vinci's famous painting. People scribbled, scratched, collaged and otherwise decorated that enigmatic smile and returned the results to Rosenthal, who says that he printed 1,000 cards and got 350 back. The postcards are displayed in a grid. Many of the "defacements" are funny—a giant cyclopean eye in one, Paris Hilton's face in another—but too many people simply copied Duchamp's original brilliant gesture of drawing a mustache and a goatee on La Giocanda.
---
The eBay Art Project and The Mona Lisa Postcard Project show through Sept. 17 at WORKS, San José, 30 N. Third St., San Jose. Michael Rosenthal speaks Sept. 15 at 7pm. The art can be seen and bid on (at www.nupinkgallery.com). (408.295.8378)
---
---
Send a letter to the editor about this story to letters@metronews.com.
---
[ Silicon Valley | Metroactive Home | Archives ]