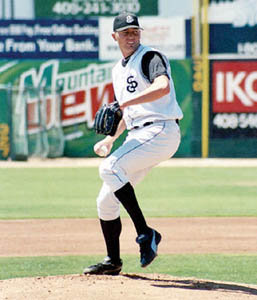 Photograph by Dave Nelson

Fielder's Choice: San Jose Giants pitcher Jesse Floyd.

Giants' Steps

By Yoshi Kato

IT HAS BEEN a topsy-turvy year for fans of high-profile professional baseball teams locally. The upstart Oakland Athletics have risen from worst to first and head into the final weeks of the season in twin battles for either the top spot in the American League West or the wild-card slot. In San Francisco, plans have gone from the Giants having the oldest starting outfield in the history of Major League Baseball (MLB) to nearly one-third of the starting-day roster players having been waived or traded by the end of August, with an eye already to the 2006 season and beyond.

But life has been more certain down on the farm, as fans of the San Jose Giants have been smiling since June, when the High-A minor-league affiliate of the Giants by the Bay clinched the first half of California League season and became assured of hosting games one and two of the best-of-five North Division Finals (NDF).

The California League team with the best second-half record will go up against the wild card for the entire season in a best of three Play-Off Mini Series. The winner of that contest will come to San Jose Municipal Stadium to face off against the Giants on Sept. 10-11 for NDF games one and two. Tickets for individual games as well as a package set for all six playoff games are currently on sale. The California League Finals take place Sept. 17-19. (See www.sjgiants.com for details.)

One of the charms of minor-league play is the between-innings interactive contests and activities that go beyond animated races, three-cap monte or big-screen trivia games. All the regular season Municipal Stadium activities, including the Sonoma Chicken Coop dance-off, the children's race around the bases and the Logitech Ice hockey shoot out, will take place during San Jose Giants post-season play.

Additionally, a fireworks show will follow Saturday's game. Unlike similar spectacles at SBC Park or McAfee Coliseum, the pyrotechnic action is close enough that one can really hear the blasts and even smell the gunpowder. A remembrance for the victims of 9/11 will take place at Sunday's game. Both evenings will feature famed cheerleader Krazy George.

"We've had a phenomenal year playing at home, so I know the team is comfortable here," says Joe Ritzo, San Jose Giants' director of public relations. "And having the fans come out certainly helps."
---
Send a letter to the editor about this story to letters@metronews.com.
---
[ Silicon Valley | Metroactive Home | Archives ]