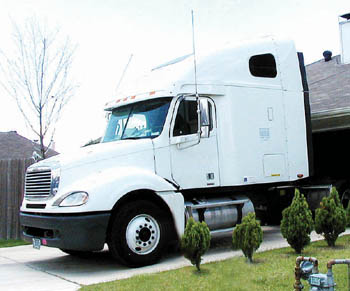 Rev

Keep On Truckin'

Technically, I can only drive trucks with two axles, and I certainly can't haul hazardous materials, but I'm still mighty proud

By Novella Carpenter

IT IS NO SECRET that I admire truckers. I interviewed one for this column once, I generally trust their driving abilities, and really, when it comes down to it, truckers are probably the only people who absolutely need to use the highway system. Plus they get to wear those hats without irony. You can imagine my glee, then, when I recently entered the ranks and became a trucker myself.

That's right, people: Class B with air-brakes certification. It's not permission to drive an 18-wheeler; technically, I can only drive trucks with two axles, and I certainly can't haul hazardous materials, but I'm still mighty proud. The whole experience made me realize how complicated it is (and should be) to secure a commercial driver's license.

It all starts with a physical exam, which I did at one of those medical clinics that specialize in physicals and drug tests. A 20-year-old "nurse" led me around the clinic's backrooms, making me pee in a cup (not for drugs but for signs of disease), look at an eye chart and take a hearing test that involved her whispering to my turned back, "Can you hear me?" Then the doc came in, and I wonder if this had been his plan during the hard days of medical school. I obliged him with a few deep knee bends and charge of my arm for blood-pressure readings. I passed with flying colors!

Step two is the written test. The DMV puts out a wonderful publication called The Commercial Driver's License Handbook that could knock any insomniac out within two minutes. There were numbers to remember: 102 inches is the maximum width of a vehicle; it takes 170 feet to come to a full stop at 55 miles an hour.

There were facts to recall: slow before entering a curve, don't drive during heavy fog and remember to drain the spit valve. And there was a hazards list that includes the pesky ice cream truck, which attracts children and shoppers, who are too distracted by window-shopping to think about their personal safety.

By the end of my written-test study days, my manual did get a "DMV Sucks" scrawled on the back with black ink accompanied by a doodled skull and crossbones enhanced with lightening bolts. I somehow crammed all the necessary info into my brain and vomited it out on paper.

The final obstacle was the actual driving test. This poses a problem because you need a big rig taken to the testing place, yet you either (a) don't have a truck or (b) don't have a qualified driver who can drive you there. This is a good reason to go to truck school. I was lucky, though, because I have a Mack truck and my buddy Bill C. was willing to drive with me to the test and wait around to see if I passed or failed.

I would like to go on record that the driving test was more difficult than any other test I have ever taken—including the GRE. I flunked the first time. A few weeks later I was more prepared—I hoped. My proctor was a woman with dyed black hair, white roots showing, who was wearing a shop smock. She was a toughie. As I did the vehicle inspection—touching every part of the truck to show that it was functional, not about to break and not leaking fluids—she scribbled notes. She asked cryptic questions like, "How did you know the windshield wipers are satisfactory?"

She and I drove around for an hour and a half, obeying commands like "Make a left hand turn, pull over to the side of the road and park as if you were on a hill." I was sweating it, trying to shift the 10-speed manual as smoothly as possible. The skills test was like a truck rodeo with a series of cones laid out in a parking lot. I drove in a straight line and braked. Then I made a right turn and mowed over the cone. Oops, three points. Then I parallel-parked the beast. Finally, I backed around an alley. The proctor crossed her arms and said, "Good job." It was one of the best days of my life.
---
Send a letter to the editor about this story to letters@metronews.com.
---
[ Silicon Valley | Metroactive Home | Archives ]