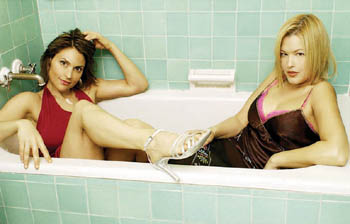 Photograph by Kevin Abosh

Queens Of The Tile: Emily Wagner and Judy Dixon cozy up in a tub for Andrew Wagner's crypto-documentary 'The Talent Given Us.'

The Big Kvetch

'The Talent Given Us' is a Wagnerian drama about a transcontinental family struggle

By Richard von Busack

THERE IS an obscure John Prine song called "The Bottomless Lake" about a family that takes a wrong turn and ends up plummeting into the depths of the water, car and all. The search-and-rescue team is delayed, Prine sings, "Because no one missed them that much." The Talent Given Us recalls that tune. Director/cinematographer/chief cook and bottle washer Andrew Wagner's film was raved about at Sundance (what does Redford put in the water up there?).

An improvised crypto-documentary, the film shows the crisis of the real-life New York City-based Wagner family. Father Allen, a former successful stockbroker and Korean War vet, is now in poor health following a stroke. He takes pills for incontinence and has lost some motor control of his jaw and tongue. He can be semi-intelligible even when he's not holding his mouth together by clenching a lollipop stick or a piece of a drinking straw. Since Allen impulsively bought a minivan, Allen's wife, Judy, nudges him into driving to L.A. to see their son, a striving screenwriter (Andrew Wagner himself, of course).

The family copes as they drive across the plains, with no deli in sight for 3,000 miles. With them comes long-suffering older daughter Maggie and kinky, overtherapized daughter Emily. Emily's life is an open book—the kind of open book that might be too vapid to read on a beach. Emily Wagner is a real-life TV star, featured for 12 years on ER as the paramedic Doris; she wears T-shirts with her name airbrushed on them, in case people have forgotten. She's getting into S&M and likes to talk about how liberating it is to pretend to be a dining table for her lover. On the way west, they pick up Emily's friend Judy, called "Bumby" (Judy Dixon). A moment of intimacy between Allen and Bumby reflects Allen's past as an unfaithful husband.

The model for The Talent Given Us is Henry Jaglom's crisis-of-a-family filmmaking—in fact, Maggie Wagner is slated for Jaglom's next movie. Still, director Wagner lets it all hang out in ways even Jaglom would balk at. When Andrew gets his parents to sexually proposition each other for the minicamera, it bodes badly for the cinema that will occur when the Me Generation goes geriatric. I'm a lifelong enemy of false dignity. Still, when the mom is squeezed into a modified punk outfit and urged to belly dance, it signifies the wisdom of old age nullified in a land where, as Adam Gopnik put it, elders are "dressed like toddlers, imploding with rage."

The idea is not bad in itself—a docudrama version of The Daytrippers—but as served up, The Talent Given Us reeks pervading falseness. While everyone believes that their parents and siblings are some of the funniest people on earth, filming them means shaping lives for the camera, giving them some distance and respect. Seeking some abstract truth of all families, Wagner contrives everything we see. The magic-hour hug at the oceanside that wraps up The Talent Given Us proves this as canned and as cooked as any Hollywood production.
---
The Talent Given Us (Unrated; 97 min.), a film by Andrew Wagner, opens Friday at selected theaters.
---
---
Send a letter to the editor about this story to letters@metronews.com.
---
[ Silicon Valley | Metroactive Home | Archives ]