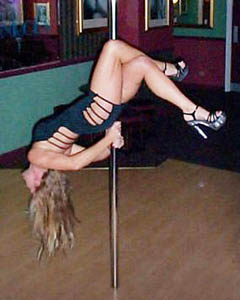 Biter

Seducercized

Bumping and grinding toward the body of your dreams

By Sarah Quelland

SEVEN YEARS of commuting to a desk job have not been kind to Biter's body. This fact was verified by a visit to the new Sedusa Studios, which offers fitness classes that teach the art of sensual movement and exotic dancing to women.

Situated in a discreet location somewhere at the edge of Campbell, the elegant studio is warm and inviting. Dark wood floors, sprawling mirrors, breezy burgundy curtains, silvery hand-painted animal-print columns and five shiny brass poles are dimly lit to create a mood of relaxation and intimacy.

Before the introductory class, owner Carol Whitsett, a pretty and petite professional dietitian and sports nutritionist with a bright personality who looks to be made of pure muscle, offers Biter a tour of the studio. In addition to the floor space itself, there's a small room lined with platform stiletto heels and tasteful lingerie sets. Whitsett invites Biter to try on a pair of the shoes, and Biter dubiously obliges, stepping cautiously into a pair of impossibly tall black patent leather heels. At Whitsett's urging, Biter teeters over to a mirror to take a peek. Ooh la la! Biter loves the visual effect of being 5 inches taller and instantly feels slimmer and more shapely. Whitsett smiles and says that's exactly the point. What's more, in addition to enhancing the definition of the curves in a woman's leg, the shoes teach balance, which is useful on the dance floor. Biter wonders aloud how much shoes like this cost, and Whitsett tells her she sells them almost at cost. Nearly all the shoes run a very reasonable $40.

After stepping down from the shoes and suddenly feeling very short, Biter admires the pink pole set up in the hallway and asks Whitsett if she coordinates home installations. Ladies, take note, the answer is yes, and the price is about $275 (with a $50 installation fee). Plus, when the pole's not in use, for modesty's sake, it can be removed, and the hook connection to the ceiling can double as a plant hanger.

When the rest of the small class arrives, we all grab blue workout mats and head to the floor for some stretching. All of us can't help but be intrigued by the prospect of trying out the poles, but this being an introductory class, we barely get our hands on them. That comes later. Instead, we do a challenging series of strength-building exercises masked as sensual movements. The moves are slow, deliberate and sometimes exaggerated, working to isolate small muscle groups in the abdomen, chest, buttocks and legs.

Following her instructor's lead, Biter attempts something called a Flirt with little success. Biter desperately tries to be a Rising Goddess with similar results. Biter struggles to imagine that her body is dipped in honey to make every motion take forr-evvv-errrrr as her instructor suggests. But Biter finds that her body does not want to cooperate with these slow, sensual movements and that holding these positions for extended periods of time requires significant amounts of effort and control. Biter develops a whole new appreciation for exotic dancers.

After doing a slinky walk across the floor, Sedusa's instructor directs everyone to find a pole or a wall. Upon reaching said pole or wall (Biter managed her way to a pole), the exercise was to slide down gracefully as if sitting on an invisible chair and raise our heels up off the floor, really working those calf and thigh muscles. At the end of the class, as sort of a cool down, we crawled across the floor like models in a Duran Duran video.

Our instructor looked like something out of Flashdance. Biter, on the other hand—well, let's just say Biter learned that the art of the striptease ain't as easy as it looks. Still, provocative and practical, Sedusa Studios' class proved to be the most appealing fitness class Biter's ever had.

Sedusa Studios offers a variety of classes that run $300 for six weeks and $200 for four weeks and is also available for private group sessions. Movie nights and guest lectures are also in the works. For discretion and privacy, the address is not publicized. Visit www.sedusastudios.com or call Carol at 408.867.2224 for more information.
---
Send a letter to the editor about this story to letters@metronews.com.
---
[ Silicon Valley | Metroactive Home | Archives ]