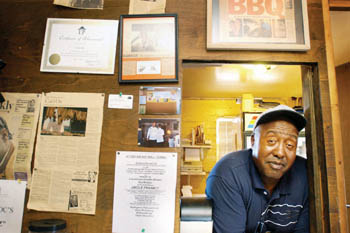 Photograph by Charlie Nucci

Wall of Fame: Frank Bell's barbecue has caused many a meat lover to cry uncle—and he has the paperwork to prove it.

'Cue It Up

At Uncle Frank's House of Barbeque, meat is the reason

By Stett Holbrook

THE BAY Area is blessed with many food riches, but barbecue isn't one of them. The really good cue joints are few and far between. There's Flint's in Oakland. Bo's in Lafayette. Roderick's way out in Pleasanton and Memphis Millie's in San Francisco. And at the top of the heap in my mind is Uncle Frank's House of Barbeque in East Palo Alto.

You know you're in for good food at Uncle Frank's just by looking at the place. The restaurant is housed in a squat, white, bunkerlike brick building in an industrial part of EPA. Out back, behind a chain-link fence, Uncle Frank's mighty mobile smoker stands next to a pile of wood ready to fuel the fire. And then there's the smell. Uncle Frank, a.k.a. Frank Bell, uses a combination of walnut, oak, peach and almond to smoke his meat. The aroma wafting from his black smoker must drive everyone within a quarter-mile mad.

Inside the swinging screen door, Uncle Frank's is a straightforward barbecue joint. A jukebox stands near the door and a half-dozen tables are scattered around the dining room. A smaller room adjacent has windows covered with chicken wire.

Bell is from Louisiana and learned to cook from his grandmother. All the food he prepares is based on family recipes. For me, brisket is the ultimate test of a pitmaster's skills—it can be as tough as a catcher's mitt if not handled right. Bell smokes his ($9 half-order, $14 full order) for an astounding 30 hours, yielding a juicy, tender cut of meat that's sliced into thin ribbons with a tangy, caramelized crust and a pink interior that bears a deep smoke ring, evidence of the meat's time in the smoker. Outside of Black's BBQ, a barbecue Mecca in Lockhart, Texas, it's the best I've had.

Pork ribs ($8.50 half-order, $14 full order) are the other star at Uncle Frank's. The fat ribs spend about 18 hours in the smoke. Outside, they're a crusty mahogany color but juice-on-the-chin tender inside. The barely pink meat is suffused with big smoky flavor and had me scouring the bones to get the last bits.

Good barbecue should stand on its own without drowning in sauce. Uncle Frank's barbecue needs no adornment, but the restaurant's barbecue sauce is a wonder. Bell has found a balance between thick and thin and sweet and spicy to create a deep, rich sauce that makes his smoked meats taste even better.

Chicken ($7.50 half-order, $12 full order) is moist and smoky but not in the same league as the brisket and ribs. From the fried food side of the menu, you shouldn't miss the catfish ($7.50 with fries). The fish wears a thick mantle of cornmeal batter, but it's light and crispy and lacks any trace of oil. The fish itself is snowy-white and fresh.

If you order one of Uncle Frank's full-meal specials, you'd better be hungry or be prepared to take some of your meal home. Brisket, ribs, beef links, chicken or a combination of two arrives mounded on a small plate, with your choice of side dishes served on separate plates. Best are the collard greens, coleslaw and baked beans. The beans have a unique, buttery-but-not-too-sweet flavor enlivened by a little thyme. Or is it sage? The brick-sized slice of corn bread, another side dish choice, is cakelike and spongy. I had one bite and left the rest sitting on the table.

If you've made it this far, you're probably ready for a toothpick and a nap. But that would be a mistake. You've got to try the sweet-potato pie ($2.50). The thick slice of pie is dense and rich and tastes like pumpkin pie, only better. Coming in a close second is the buttery peach cobbler ($3.75). It's a saucy dessert filled with plump fruit and deep brown-sugar flavors. It verges on too sweet, but it's hard to stop eating, even with a belly full of world-class barbecue.
---
Uncle Frank's House Of Barbeque
Address: 2417 Pulgas Ave., East Palo Alto
Phone: 650.321.6369
Hours: 11am-8pm Mon-Thu; 11am-9pm Fri-Sat
Cuisine: Barbecue
Price range: $7-$15.95
---
---
Send a letter to the editor about this story to letters@metronews.com.
---
[ Silicon Valley | Metroactive Home | Archives ]