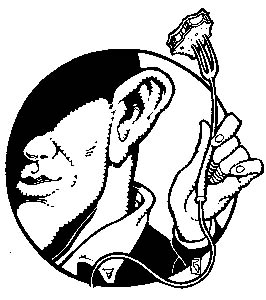 Live Feed

So Long, Sloppy Joe

By Stett Holbrook

IN WHAT may be one of the few positive achievements in his presidency, George Bush signed a child-nutrition bill in June that will, among other things, create seed money to help start farm-to-cafeteria projects in U.S. schools.

As American children grow fatter and fatter, farm-to-cafeteria programs replace the nutritionally inferior, pre-packaged, frozen and reheated fare typically served in public schools with fruits and vegetables grown by local farmers. Not only do the programs provide students with fresh, healthful produce, they give often-struggling local farms a much-needed market for their crops. The programs also serve up money for nutrition education, school gardens and equipment.

Some Bay Area schools like those in Berkeley and Hayward have already begun farm-to-cafeteria projects, but so far there are no such programs in Silicon Valley.

According to Anupama Joshi, California Farm-to-Schools program manager for the Center For Food And Justice at Occidental College, the programs cost food-service departments fewer than 10 cents more per pupil than traditional food-service program. And because more students actually eat school lunches when the options are greater than Tater Tots and grilled cheese sandwiches, schools can increase profits and government reimbursement, she says.

"[Schools] realize in the end it's actually beneficial to them," she says.

Now that the farm-to-schools legislation has passed, it's up to Congress to fund it. Call, write or fax your local senator or congressman and ask them to fund Section 122 ("Access to Local Foods and School Gardens") of the Child Nutrition and WIC Reauthorization Act. And let local schools boards know you'd like to see locally grown food replace sloppy joes and Pizza Hut in the cafeteria.

Yasu Me

While chef Brett Yasukawa is fourth-generation Japanese-American and grew up in San Jose's Japantown, you won't find standards of Japanese cuisine like sushi, teriyaki and tempura on the menu at Yasu, his tiny but elegant 6-week-old Japantown restaurant. Yasukawa, whose résumé includes stints at Wolfgang Puck's Chinois in Las Vegas and Nobu in Las Vegas and New York, calls his food "contemporary Japanese cuisine" and offers dishes like grilled tri-tip and corn in curry sauce, chicken and shiitake mushrooms in red wine and crispy salmon skin and tomato ceviche salad.

Fish Tales

Although I'd rather be eating a crispy fish taco, I have to eat a bit of crow instead. In my Aug. 18 column, I lamented the lack of good fish-taco establishments in Silicon Valley. Rubio's makes a good fish taco, but I said that the San Diego-based restaurant doesn't have locations in the South Bay. Not true, several readers told me. Rubio's has locations in Valley Fair Mall and the Oakridge Mall off Blossom Hill Road.

Meanwhile, I've heard from a few readers about other good fish-taco joints, including Andale's in Los Gatos and Una Mas!, which has a number of locations in Silicon Valley. San Jose resident Theresa Albers praises the food at Una Mas! but also the restaurant's community spirit. At the restaurant's Campbell location, they recently donated 15 percent of the day's sales to help the Congregational Church of Campbell raise funds to feed the hungry.
---

5 Places to Love

Summer's End

LABOR DAY is bittersweet. Officially, it marks the end of summer. School has started, the days are getting shorter and cold weather is a few months away. But Labor Day also means fall weather is on the way, a glorious time of year in the South Bay. The end of summer is also the time when the fruit and vegetables at local farmers markets are at their absolute peak. Tomatoes, stone fruit, leafy basil, berries, chile peppers, corn, everything the now-waning summer sun has produced is piled high at local outdoor markets. Savor the season that was with a taste of summer's swan song. Here's a list of five farmers markets.

Los Gatos Sunday, 8am-noon. Town Park Plaza, Montebello Way at Broadway.

Palo Alto Saturday, 8am-noon. Parking lot G, between Gilman Street and Hamilton Avenue.

Downtown San Jose Friday, 10am-2pm. San Pedro Square.

Blossom Hill, San Jose Sunday, 10am-2pm. Princeton Plaza Mall, Kooser Road and Meridian Avenue.

Sunnyvale Saturday, 9am-1pm. S. Murphy Avenue between Washington and Evelyn avenues.
---
Send a letter to the editor about this story to letters@metronews.com.
---
[ Silicon Valley | Metroactive Home | Archives ]