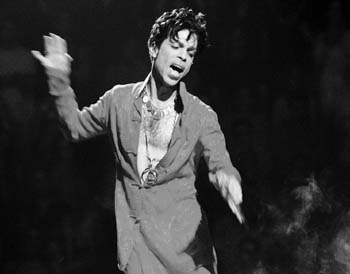 Electric Slide: Prince was on the path toward alienation until 'Musicology' brought him back.

Party Up

Does the triumphant return of Prince say more about him or his audience?

By Jeff Chang

IS IT too early to declare 2004 Prince's year? He opened the Grammys in fine form and then turned in an even more buzz-worthy performance upon being inducted into the Rock and Roll Hall of Fame in March. The following month, he dropped a new album, Musicology, to strong critical acclaim. The album is still in the Top 10, on its way toward double-platinum, despite, natch, controversy (some complained when free CDs given away at concerts were tallied in the sales total).

A special edition double-DVD of Purple Rain was released two weeks ago on the 20th anniversary of the movie's release. And in a summer of concert busts and festival unhappenings, his Musicology tour—which concludes Sept. 10-11 in San Jose—has been an unqualified success. He reportedly raked in $4 million for a three-show stand at Madison Square Garden.

Perhaps more tellingly, the airwaves are alive once more with the sound of Prince. Not just the I-Love-the-'80s stations pumping oldies in anticipation of the hottest show of the year, but the entire bandwidth. And they're not all His Purple-Hearted either—you'll hear DFA's retronuwave on the left of the dial, Andre 3000's crossover shakes in the middle and Britney's bonfire of vanities on the right. Compare Timbaland's work on Alicia Keys' last album to Prince's forgotten 1985 track "Tamborine" [sic]. Spin Dirty Mind and listen again to the Neptunes' angular funk figures and Pharrell's falsettos. They're all Prince's rainbow children.

The relevant question is: What took the 46-year-old prodigal so long to realize this and come home? A year ago, Alex Hahn's biography Possessed: The Rise and Fall of Prince concluded the artist had alienated even many of his most devoted fans with his Jehovah's Witness faith and artistic self-indulgence.

"Being a Prince fan is a thankless task," wrote Dan Gennoe in Dotmusic earlier this year. "Second, perhaps, only to waiting for the return of Jesus himself, waiting for the greatest pop innovator of a generation to remember how to write a decent song is a true test of faith and devotion."

In February, Prince offered his long-suffering fans holy water by announcing plans for the Musicology tour, but in true fashion, he wouldn't give up anything without taking something back. He told fans it would be the last time they would be able hear many of his classic tunes, that it was time "to make room for new music." In deference to his marital bliss and his spirituality, he was reportedly dialing back his trademark salaciousness. No "Erotic City," "Head," "Pussy Control" or "Come." Fans, confronted with perhaps a final chance to see him perform "Let's Work," "DMSR" and "Kiss," unleashed their pent-up demand. The people want, need, plead for the old Prince, and perhaps no one knows that better than the new-new Prince.

Seems like he's OK with that for now. The run-up to this year's revival began two years ago with his three-CD One Nite Alone ... Live! Set, which featured '80s hits like "When U Were Mine" and "Do Me Baby." He built on that demand with a DVD, Live at the Aladdin Las Vegas. His video for the Musicology single—a low-edit, simulated club performance—was not just a throwback to his crossover in the early days of MTV, it mapped out Prince's entire back-to-the-classics strategy. He leads a live, Harlem-style jam, circa the 1930s. As the satin-spats-and-tap-dancing Saturday-night crowd gets down inside the club, the B-boys get left at the door with the black bouncer, victims of the dress code. It's a scene that tells a lot about where Prince has been.

Much has been made of Prince's perplexing '90s reaction to his major-label contract: a glyph for a name, a facial scrawl reading "Slave," a spouse named Mayte, a Sly Stoneish relationship with the media. After Sign 'O' The Times, the consensus goes, he had some moments: the Glyph album, a side or so of Emancipation, some sides here and there. Otherwise, Prince's artistic slide and his contractual tangles were inextricably intertwined. If the album sucked, and most of them supposedly did, it was all contractual sabotage. The truth is that there's a revelatory box set of his '90s work waiting to be done.

Michaelangelo Matos has an alternative theory worth considering. In his fine, book-length dissection of Sign 'O' The Times, he notes that the album came out the same year as Public Enemy's "Rebel Without a Pause," Schoolly D's "Saturday Night" and Eazy E's "Boyz-N-the Hood." These rap records, he writes, "projected images that would eventually make mincemeat of Prince's androgynous-and-proud public figure."

Worse, they made him sound hopelessly dated, out of touch. In his early-'90s work, Prince struggles with hip-hop's ascendancy. "Gett Off," an answer record of sorts, was a mess. You can hear it in the inconsequential turntable scratches, the awesomely bad-meaning-bad rapping, the featherweight sound. This was no longer, to borrow funk historian Rickey Vincent's phrase, "naked funk." It was, to borrow New York Times writer Kelefa Sanneh's word, "anorexic," increasingly difficult to look at. House of Pain and Da Lench Mob jacked "Gett Off"'s siren scream for their own hits and kept moving.

Sometime around turning 40, perhaps while listening to Chuck D or Jam Master Jay—notably the only two hip-hoppers he cites in the "Musicology" single—he must have figured out the problem. As Tom Moon noted in the Philadelphia Inquirer, he "appointed himself a Wynton Marsalis-style conservator of all that's 'true' about funk." He spent more time working with the "true funk soldiers"—Larry Graham, Maceo Parker, his drummer John Blackwell. He had become the old guy wondering why he missed the feeling music gave him back in the day. Yet, instead of debilitating, the insight must have been clarifying.

His last vocal album, 2001's The Rainbow Children, was a musical parable about good, evil and spirituality, clearly influenced by his Jehovah's Witness faith. Released after Sept. 11, its approach to theocracy and women's rights seemed very Sept. 10. But for different reasons, the album may be remembered as another turning point in Prince's storied career. The Rainbow Children was an astonishing musical accomplishment drawing together a century of black music into the long promised brand new funk; in that sense, it was as compelling as its contrarian defenders—including Sanneh and New York Magazine's Ethan Brown—assert.

The epic title-track alone alluded to Funkadelic's "Maggot Brain," Horace Silver-styled soul jazz and Santana's cover of Miles Davis' "In a Silent Way." There are lush African drums, layered textures and stunning changes. It's the most listenable, least Prince-sounding album, to borrow a well-worn cliché, since Sign 'O' The Times.

Musicology—which owes everything to the breakthrough of Rainbow Children—is the most Prince-sounding album since, well, you know. The funk is tight, disciplined (literally, the academic metaphor is apt) and apparently effortless, which is paradoxically the gold standard by which we judge our most enduring artists. "Life O the Party" distills every dance jam he's done since "Housequake." "On the Couch" brings together hip-hop, globalization, cable TV and head in just two lines: "Love Jones is on the TV again, baby/ Ooh, and I wanna go down South." It makes D'Angelo's "Untitled" seem like "Long Distance Runaround."

And small pleasures are still pleasures. "A Million Days" and its prettier twin "Reflection" are perfectly sculpted pop, but neither will make you lose the wheel in rush-hour traffic the way "17 Days" did. The show-stopping "If Eye Was the Man in Ur Life" probably won't ignite brilliant careers like Me'Shell Ndegeocello's the way "If I Was Your Girlfriend" did.

For some, Prince's competence signifies mastery, for others his lack of sweat is distressing. The difference lies in the way we need music. Often the music we love the most is the kind that girds us during the most destabilizing moments of our lives. The great artists work from the same moments we do, but they tap that universal well of feeling, they connect their personal condition to the collective in a transcendent instant.

But while we want to release and move forward in our lives, we want to freeze our pop icons in our unsettled pasts. Our transformation is their trap. Where was Prince all these years? Maybe he was trying to emancipate himself from us. He's made his peace with his weighty history. On the morning after, Sept. 12, will we?
---
Prince performs Sept. 10-11 at the HP Pavilion, 525 W. Santa Clara St., San Jose. Tickets are $49.50-$75 and available through Ticketmaster. The show starts at 8pm.
---
---
Send a letter to the editor about this story to letters@metronews.com.
---
[ Silicon Valley | Metroactive Home | Archives ]