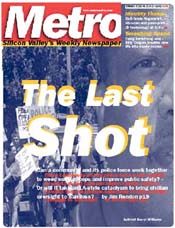 For the Week of
September 9-15, 1999
Cover: Civilian Oversight
A strange series of events catapulted Darryl Williams to the helm of the Citizens Tribunal, and now he can't stop until justice is served.
News: High-Tech I.D.'s
Researchers at SJSU's biometrics lab say their Defense Department-funded fingerprint, iris scan and palmprint ID systems are here. And do not be afraid.
Willow Glen: Longs Drug Store to move into bank building on Avenue.

Los Gatos: Mountain residents get break with stickers for Highway 17.

Campbell: Parks and Rec debates skate park relocation.
'Zine Scene: Teens bash tech and raise ire of Palo Alto school with 'Black Sheep' zine.

Public Eye: Do you recall this masked woman? Judge swims among the sharks. Downtown UA to close--many never knew it opened.






Culture Blend: Los Otros have forged a sound rooted in Latino culture with a modern-day vision.
Cornell's Moody Blues: Ex-Soundgarden star Chris Cornell mixes grunge and hobbit rock on solo release.
Aural Fixation: Day on the Green returns; Family Values follows; and lots of CD releases.



Multitrack Minds: With their scores for the new movies 'Stigmata' and 'Laid Back Plans,' Billy Corgan and Craig Armstrong reinvent the soundtrack album.
Anointed by Fed Ex: Pulp novelist and screenwriter John Ridley hates Hollywood but likes Steve Martin's satirical 'Bowfinger.'
Taxi Driver: Angry fundamentalists perplex a worldly cabbie in 'My Son the Fanatic.'
Divided City: 'West Beirut' highlights annual Arab Film Festival.
Belgrade Blast: 'Cabaret Balkan' looks at Belgrade life after the war and before the bombing.



Religious Motives: Jane Rogers takes faith seriously in her new novel, 'Mr. Wroe's Virgins.'



A Home For Heritage: San Jose celebrates the opening of the Mexican Heritage Plaza this weekend.



Micro-Climate: At Gordon Biersch, the food gets equal billing with great beer.
A La Carte: Palo Alto's popular Beppo opens up a new Sicilian party palace in Campbell.



Please don't forget to write! Metro welcomes letters. Like any great work of art, they should be originals -- not copies of letters sent elsewhere. Include address and daytime phone (for verification purposes only). Letters may be edited for length and clarity or to correct factual inaccuracies known to us. Postal: Metro Letters, 550 S. First. St., San Jose, CA 95111. Fax: 408/298-0602. . Emailers, please include name, city of residence and phone number. Letters printed will list email address unless otherwise specified. Letters to the editor are not currently published in the online version of this paper.