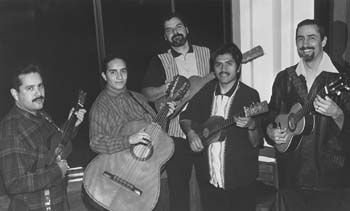 Los Otros
Not just another band from San Jose
By David Espinoza
At a glance, the six guys who make up Los Otros look like the types of musicians who might be found playing at a quincenera. Dressed in guayaveras (a standard for any Chicano musician) and holding traditional Mexican and Cuban stringed instruments like the requinto jarocho, vihuela and tres guitarra, they could easily be mistaken for another cover band, with the songs "Si Lito Lindo" and "Volver Volver" down pat.
But the Bay Area-based Los Otros transcend the average jarocho band; their songs span a rich history of Mexican-American music, from the accordion-driven style of Tex-Mex to the bluesy urban folk-art side of East Los Angeles. What's more, the tunes on debut album, Radio Chon (produced by Los Lobos' Cesar Rosas), are entirely original material and represent another milestone in the resurgence of Chicano-flavored music of the '90s.
Like their contemporaries such as Quetzal, Ozomatli and Lysa Flores, Los Otros have forged a sound rooted in Latino culture with a modern-day vision. Songs that would traditionally be sung in Spanish are sung in English and vice versa. "They're a very eclectic band. Mario [drums] is puro Mexicano and has had a few hits in Miami, Russell [requinto jarocho] is the jarocho guru, and Chris is straight rock," says manager Poncho Rodriguez.
"Fortune changed for me in 1926, nineteen hundred and twenty-six, I worked the fields of Penjamo," sings lead singer and guitarist Chris Gonzalez-Clarke. Partially taken from the Mexican dicho "Tan lejos de Dios, tan cerca de los Estados Unidos" ("So far from God, so close to the United States"), the song "So Far From God" tells the story of Gonzalez-Clarke's grandfather, who traveled to the U.S. after the Mexican Revolution.
At a recent show in San Jose, Gonzalez-Clarke explained how his grandfather would recite the story about riding the train up through El Paso, Texas, and spending his first winter in Chicago, where he saw snow for the first time.
"He came when he was about 18 just looking for work; to this day he still thinks he's going back, and he's 96," Gonzalez-Clarke says with a laugh. "It's an incredibly moving story how [my grandfather] left a whole life behind to pick up another one in this country."
If the importance of familia plays a part in Los Otros' lyrics, it is also apparent in their musicianship. Twenty-three-year-old B.J. Lucero, the youngest member, got his first gigs playing with his father's bands in New Mexico. When Lucero Sr. has short a musician, Lucero Jr. would have to pick up the slack and learn whatever instrument was needed.
By the time Lucero Jr. left New Mexico to attend Stanford University, he knew how to play the piano, guitar, accordion, trumpet and guitarron. "When I got to Stanford, I brought my vihuela and trumpet 'cause I knew I wanted to get a mariachi going," Lucero says with a smile. Recently, the Stanford mariachi released a five-year anniversary CD.
Starting off about two years ago as a couple of friends jamming in the garage and playing parties, Los Otros formed out of the desire to write original songs. Powered by a rhythm section comprising veterano musicians and fronted by Gonzalez-Clarke and Russell Rodriguez on vocals, the band quickly began gigging around the state. "We were starting to look at the blending of vision as opposed to lyrics," comments manager Rodriguez.
Indeed, while other Chicano bands have tended to be heavy-handed in rhetoric, Los Otros focus on danceable yet innovative grooves, demonstrating a special talent for working acoustic instruments into an amplified setting. Despite the fact that most of theband members are mature musicians, their music has no trouble connecting with people of all ages. To date, Los Otros have toured with Los Lobos and youngsters Quetzal, and received lots of support from the likes of Jackson Browne.
Up on stage in San Jose, the band moves to the accordion-heavy tune "Suenos de color," a laid-back mix of reggae, Latin jazz and a wee bit of cumbia. Behind the drum kit, Mario Berrera belts out, "Cuanto cuestan los suenos de color," as the rest of the band echoes, "Cuando cuestan."
As the show draws to an end, the guys put down all electrified equipment and play a straight-up folklorico song. Friends and new fans gather around to get an autographed cope of the new CD. Though some may not know it yet, Los Otros are not just another band from San Jose.
---
Los Otros perform with Quetzal on Saturday (Sept. 11) at 9pm at Fuel, 44 S. Almaden Ave., San Jose. Tickets are $8. (408/295-7374.
---
[ San Jose | Metroactive Central | Archives ]