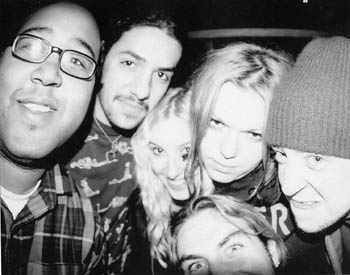 Lords of the Manor is wicked fun.

Midnight Madness

Lords of the Manor played a short set of new songs at the Blank Club

By Sarah Quelland

ALWAYS LEAVE THEM WANTING MORE. That's what Lords of the Manor did last Friday (Sept. 5) at the Blank Club. The dark and orchestral metal band kicked off, appropriately, at the stroke of midnight with "Join the Feast," for a short but effective set full of growling vocals, scarring screams, whipping hair and lashing tongues. Though the band recently released its album, Blood of Time, it didn't play so much as one song off that CD. In fact, when some guy in the audience called out, "Play some shit off the album!" Lords' frontman Jot Dickerson responded, "This is our next album," and pointed to the band's merch table. "If you wanna listen to the album, it's over there."

The six-piece Lords deals in a fierce, fearless dynamic and bears the distinction of having a strong female presence in guitarist Julie Matthews and keyboardist Jessica Zumwalt, both of whom sing backup as well. The metal collective's songs come across as empowering rather than destructive and their new material seems to be cultivating a slightly more accessible sound.

"This song was written for you guys," Dickerson announced as he launched into "American Prophet," which declares, "If you want it you can have it / We can rule the world / Come with me, and you will see that we can rule the world." Similarly, on "Liars Lullaby," he commands, "When the world gets you down / Just reach up and touch your crown." Other new songs include "Seize the Day," "All or Nothing" and "No Bloodshed."

Still, the band's short set, just over 30 minutes, was a surprise. The crowd seemed a little stunned when it realized the show was over. A little "Ode to the Weak," "The Wheel of Corruption Turns" or "Below the Breathless Black," a few of the fan favorites found on Blood of Time, would have done well to extend the set.

NEW CHEF IN TOWN: Inspired by the rider contracts of bands that have played the club over the past 15 years, Matt Sowell has created a new menu for the Edge in Palo Alto. Some of the names may sound familiar, but the chef says he threw out all the old recipes and started fresh. He wanted to find a balance between simplicity and originality and incorporate the concept of the rider contract into his dishes. For instance, after seeing Pixie Stix on a rider for Steven Adler, Sowell says he wanted to create something "sweet but addicting." That dish became a filet mignon with a candied base of black raspberry liqueur sake.

Sowell is extremely passionate about the culinary arts. He's particularly proud of pairing the new dishes not with wine, but with cocktails. His voice takes on a dreamy tone when he describes how the flavors of the Counting Crows Chicken Potstickers meld perfectly with the Kickstart My Heart (Red Bull and Jagermeister). "It tends to be alchemy," he says. He's also blown away by the way the Peace Frog (a Ketel One Sour Apple Martini) brings out the flavors of the Salmon Tostada Salad (marinated grilled salmon, erotic fruit salsa, black beans, barbecue sauce and sour cream with a spring mix on pink tortillas). "Food is erotic. Food is an aphrodisiac," he explains. "Along with music."

He wanted the menu to keep the provocative tone set earlier by items such as the Tommy Lee (a big hot dog on a small bun). The Ozzy Osbourne (a full-rack of house-smoked slow-cooked baby back ribs) is described as "smoked backstage" and the American Pie (a slice of apple pie) is tagged "a slice of hot juicy pie."

ROCK & ROLL RUMMAGE: Starting this Saturday (Sept. 13), the Blank Club plans to host a rock & roll rummage sale every second Saturday of the month. This Saturday, vendors will be inside selling vintage records, clothing, toys and various bric-a-brac. The bar will be open and DJs provide the music. Anyone interested in clearing out their crates or closets can contact Joey or Cory at 408.29.BLANK. Unlike early-bird yard and garage sales, this rummage sale starts at a more reasonable 11am and rolls up at 5pm.

UNSIGNED HEROES: Another South Bay Unsigned event hits this Tuesday (Sept. 16) at the VooDoo Lounge in San Jose with Called to Ruin, SECURITY, Trip Device and bATES. There show is 21+, there's no cover and doors open at 9pm.
---
Send a letter to the editor about this story to letters@metronews.com.
---
[ Silicon Valley | Metroactive Home | Archives ]