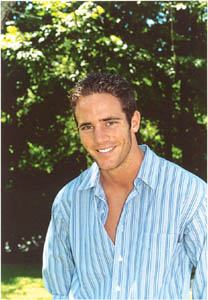 Biter

Local Boy Makes Hot

Straight out of Saratoga, he may be sexy but he isn't self-absorbed

By Traci Vogel

FOR MOST OF us, acquiring a reputation as an everyday guy--or girl--isn't so much a goal as it is a given. But when you're as good-looking as Timothy Heinrich, it behooves you to make an effort toward just such a label. Lest people, you know, resent you. If America learned one lesson from the TV show Are You Hot? it was this: modesty is hot; arrogance is not.

Tim Heinrich almost graced the stage for Are You Hot? "I was a 'Hot Zone 4' alternate," he says, "and I was actually happy to never make it on. That show was just humiliating, and not even to the point of being interesting." Heinrich possesses the kind of good looks that make people at the downtown San Jose Starbucks where we've met gape a little over the lids of their coffee cups. Six feet tall, with brown hair and green eyes, the 24-year-old Saratoga native has starred as a demonstrator in several exercise infomercials, including one for Perfect Abs (although at Starbucks his abs are, unfortunately for this Biter writer, modestly covered). He was also the body double for Eric Bana in The Hulk.

Now, Heinrich has decided to put his sexiness up to the test, albeit in a decidedly less ignominious venue than Are You Hot? He is currently the first-place contestant in ABC's All My Children's Search for the Sexiest Man in America. The winner of this contest, which ends Sept. 12, secures a temporary role on the daytime soap All My Children, as a fictional model for a fictional men's cosmetics line called Fusion. Heinrich hopes, if he wins, to parlay the role into a more permanent gig.

"The thing I like about this contest," Heinrich is saying, "is that they're actually working us into the story line of the show. The ABC people have been good about portraying us as real people and not humiliating us." On the abc.com website, where voting occurs, Heinrich's profile quotes him as saying things like, "The great kiss is something that starts off kind of delicate and slow, soft on the lips," and, "Trust is a big thing for me in relationships." Which certainly makes him seem more real than "Doug," the bedheaded fellow whose profile features him burbling, "Sexy is ... on a stormy afternoon there's nothing like just cuddling in bed," and, "The sexiest thing a woman could wear is a tan."

Heinrich finds watching most reality contest shows excruciating, but he admits to checking the abc.com voting results daily, either via the web or through friends. A friend told him about the All My Children contest several months ago, and he quickly put together the 30-second video application in which he was forced to explain what might make him the sexiest man in America. He made an effort not to sound cocky. "I set it up by saying there's a lot of physically attractive people out there," he explains, "but being yourself, being comfortable with who you are and not just what you look like, is what's really attractive."

Trying to get behind the modesty, Biter tries a trick question: If Heinrich were in the judge's seat, what would he be looking for in Sexiest Man?

"Well, physical appearance, obviously, would have something to do with it," Heinrich concedes. "But mostly I'd be looking for someone who's not trying so hard. No off-the-wall, look-at-me type stuff. I find that unattractive."

Like the TV said: modesty is hot.
---
You can vote for our humble hometown hero on the abc.com website--click on the button for "All My Children's Sexiest Man in America." Voting ends Sept. 12.
---
---
Send a letter to the editor about this story to letters@metronews.com.
---
[ Silicon Valley | Metroactive Home | Archives ]