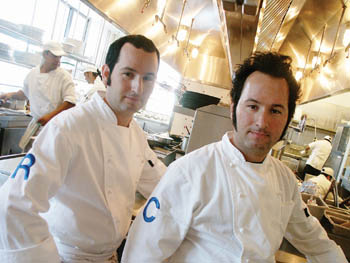 Photograph by Dina Scoppettone

Double Vision: Twin chefs Russel (left) and Curtis Valdez, alongside fellow restaurateur Hugh Parker (not pictured), count on Seven adding up to hip dining drama.

Lucky Number

The Alameda jumps to some sexy flavors and technopop sounds served up in sleek surroundings

By Christina Waters

THAT SEVEN Restaurant and Lounge's press so eye-catchingly touts the twin brother chefs at its helm ("Identical Twins Open Bay Area Restaurant") can be taken as proof of its L.A.-style flash. Curtis and Russel Valdez have pooled their considerable culinary skills to fill the high concept new dining and drinking venue a few blocks from the arena.

A Milan industrial chic interior lays it on thick with frosted-glass, brick mosaic, chrome kitchen, retro aqua-tile inlays, oversized padded booths--hell, there's even a revolving front door. No carpeting, and the islands of black tables and chairs tend toward corporate lunchroom, but the soft throb of technopop in the background and the casually elegant bar area have already made Seven a hit.

The menu brought even more good news as Ann and I grabbed a booth and considered the possibilities. A youngish, hip crowd warmed to the witty cocktails on Seven's long list--Ann decided to sample the French 75 ($7), a flute of champagne, gin, fresh lime juice and sugar, but bypassed the Road to Glory, made of Absolut Citron and Red Bull. Probably for the best.

I was happy with a big-shouldered pour of Seghesio Zinfandel '00 ($8.25), a robust choice with openers of red beet and, haricot vert salad ($10) and a sumptuous plate piled high with fresh Dungeness crab and baby mâche lettuce ($12). Pricey, perhaps, but these bold appetizers showed off the kitchen's attention to flavor detail.

The crab was topped by a thin pastry crisp and slathered in a remarkable vinaigrette of browned butter, thyme and shallots. My salad of crisp romaine came dotted with diamond-shaped slices of red and yellow beets in gooey buttermilk dressing that tasted too much like mayonnaise. A foundation of ultrathin green beans was delicious, and it all sopped up nicely with thick slabs of house sourdough and whole wheat bread.

Our service was excellent, thanks to a personable waitress who was happy to find out kitchen details for us. Perfect timing, too--our entrees arrived on the mark. Ann's order of pan-roasted rib-eye steak ($23) was a glorified tribute to all-American meat and potatoes. Served with a "nongooey" wedge of scalloped potatoes, the huge portion of perfectly medium-rare steak was cushioned by fat onions and topped with a horseradish sour cream and a sprig of peppery watercress. Classic and delicious, it was large enough to feed the entire Sharks team.

My evening's seafood special of roasted fresh halibut arrived on a wonderful and flavor-intensive bed of fresh succotash--tiny diced carrots, potatoes, onions, fat peas and crunchy flecks of bacon all bathed in a highly comforting cream of fresh corn ($22). It was completely satisfying. Again, lots of style was present in this creation yet not at the sacrifice of clear, fresh flavors.

Seven makes food you can admire, without needing cross-examination. From start to finish, our server paid attention without hovering and made us feel that we were the only diners in the room, though in fact it was full up with a lively crowd of hedonists.

If we had ordered in advance, we might have sampled the molten chocolate dessert creation. But we didn't feel one bit deprived. A shared plate--a beautiful square of transparent glass--of citrus crème brûlée ($6) finished up this dinner of big American flavors very nicely indeed. I have sworn many times never to order this dessert cliché again, but Ann insisted, and in this case she was so right. The circle of creamy burnt custard was bordered on the top by a crisp half-moon cookie studded with poppy seeds. At the bottom, a handful of micro madeleines spilled forth, also laced with poppy seeds. The cookie textures played against the silky custard. If this was at all typical of what the kitchen's pastry staff can do, I'd say that Seven could quickly turn into a dessert destination, as well as a polished restaurant and lounge. The atmosphere rocks, and so does the menu.
---
Seven
Address: 754 The Alameda, San Jose
Phone: 408.280.1644
Hours: Lunch 11:30am-2:30pm Mon-Fri; dinner 5-10pm Mon-Sat
Price range: Moderate-expensive
Full bar
---
---
Send a letter to the editor about this story to letters@metronews.com.
---
[ Silicon Valley | Metroactive Home | Archives ]