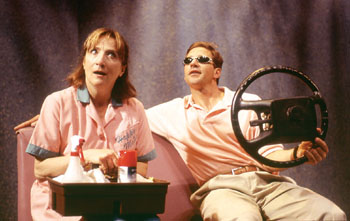 Photograph by David Allen

Steering Maneuver: Barbara (Sharon Lockwood) catches a ride to work with her boss (Darren Bridgett) in 'Nickel and Dimed.'

Working for Change

TheatreWorks dramatizes the plight of maids and clerks in 'Nickel and Dimed'

By Rob Pratt

THE IDEA of translating the most basic stuff of life into theater--taking the everyday grind of work and transforming it into a dramatic event--is not a new concept. Stephen Schwartz, inspired by a Studs Terkel book of oral histories, created a hit Broadway musical from Working in the late 1970s. TheatreWorks' new production of Joan Holden's script for Nickel and Dimed, a drama taken from Barbara Ehrenreich's study of unskilled labor in America during the late 1990s, updates the concept for the nonunionized new economy with less successful results.

Ehrenreich's method of collecting data is fundamentally different than Terkel's oral histories--stories told by his subjects in their own words. Ehrenreich wanted to learn firsthand how unskilled workers could make a living, so she left behind the life of a middle-class writer to wait tables, scrub toilets and clerk at Wal-Mart in three different cities, a month at a time. What emerges is a story of the crushing toil and excruciating economic realities of those whose lives are spent straddling the poverty line. In Ehrenreich's pining to run back to her real life, it's also a portrait of the manifold advantages enjoyed by the middle class.

As in the book, Holden's script follows Ehrenreich, here identified simply as Barbara (and self-effacingly played by Sharon Lockwood), as she struggles to earn a month's rent in a succession of menial jobs. Barbara contextualizes her experiences with asides to the audience citing statistics about wages, working conditions, housing affordability and union membership. The translation from printed page to stage is choppy and often dry, though not without comic moments.

This TheatreWorks production, directed by Dan Chumley, is likewise choppy, though the cast includes some wonderful players. Lockwood manages to keep Barbara from coming off as whiny and overbearing, and Julia Brothers turns in great performances as an eminently competent waitress and a melancholy house cleaner. But many scenes hardly hold a steady beat. They speed through dense diatribes about the social-political realities of unskilled work or languish in self-pity as Barbara laments her circumstances. Chumley's direction does little to smooth out the severe swings in Holden's bipolar script.

Even Kate Boyd's sets send off-kilter messages. Arched with three box trusses that provide rails for sliding panels used to shape the space, the stage hints visually at a factory or a floor of anonymous cubicles in a corporate headquarters. It's especially well-suited to suggesting the life-draining fluorescent ambience of a big-box retail store. But at some point, as cast and stagehands wrangle the unwieldy elements onstage, the audience has to wonder, Is this meant to render the chintzy treatment workers earn in these McJobs or is it just plain distracting?
---
Nickel and Dimed runs Tuesdays at 7:30pm, Wednesday-Friday at 8pm, Saturday at 2 and 8pm and Sundays at 2 and 7pm (except Sept. 28) at the Mountain View Center for the Performing Arts, 500 Castro St., Mountain View. Tickets are $20-$48. (650.903.6000)
---
---
Send a letter to the editor about this story to letters@metronews.com.
---
[ Silicon Valley | Metroactive Home | Archives ]