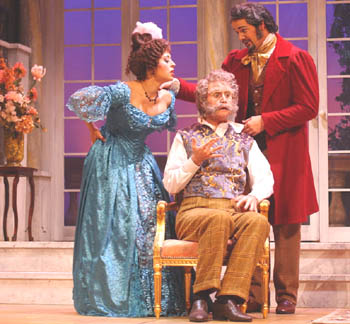 Photograph by Pat Kirk

Master Manipulator: Norina (Sandra Rubalcava) proves to be a skilled manipulator of the men around her--including Don Pasquale (Jesse Merlin) and Malatesta (Jason Detwiler)--in Donizetti's comic opera.

Weighty Trifles

Even the stage business of Opera San José's 'Don Pasquale' adds to the delicate balance of music and comedy

By Michael J. Vaughn

BEFORE THE opening of Opera San José's 20th season Saturday, board president Frank Veloz walked onstage. The company's founder and director, Irene Dalis, notorious for hating curtain speeches, almost went up to pull him off, until she realized the speech was for her--as were the contents of the jewelry box in Veloz's hand. Admiring her anniversary gift, Dalis--also notorious for hating red ink--smiled and said, "This is not in the budget."

Preparing for next season's move into the Fox Theatre, San Jose's uniquely European opera company is under a lot of pressure. Which is why Dalis might have enjoyed her second present--a sprightly, well-crafted production of Donizetti's Don Pasquale--even better.

There's a reason why opera buffs are just as fanatic about their sport as golfers are about theirs: like golf, opera is simply not perfectible. It's a zero-sum game of different disciplines--vocal, orchestral, theatrical, visual--all fighting each other for scraps. When you give to you one, you take from another. Don Pasquale throws on yet another balancing trick: the continuing progression from caricature to character in opera buffa personalities, begun by Mozart, continued by Rossini and carried on by a mature Donizetti in this 1843 work.

All of which makes the stage director--especially a dynamo like OSJ's Josemaria Condemi--such a pivotal player. Condemi makes constant decisions along the borders of comedy and music. An extreme example would be asking tenor Joseph Muir to run up a flight of stairs just before the final, high note of his aria ("Cercheo lontana terra"). Or asking his soprano, Sandra Rubalcava, to sing Norina's introduction--a romantic tale of knights and ladies--while performing a small puppet show.

Compared to the terribly difficult things opera singers do with their voices, these bits of "stage business" may seem like trifles, but don't underestimate their power. A simple gag like tossing a hat into the air, then having the owner of the hat zip back through the door just in time to catch it, is a great way of telling your audience, "Hey, we know it's an opera, but it's OK to laugh."

Of course, as in other spectator sports, it's important to have players who can execute. OSJ's opening-night squad (the opera uses alternating casts) was spotless. Playing Pasquale, the miser who forsakes his nephew's romantic wishes in order to take a new, young wife himself, bass Jesse Merlin deploys more old-man tics and gestures than Tim Conway. And yet he manages to inspire genuine sympathy when Pasquale is literally slapped down by his shrewish bride.

As for that bride (Norina, his nephew's girlfriend, pretending to be "Sofronia"), Rubalcava has become a Lucille Ball of opera. Befitting Norina's declaration of herself as a master manipulator of men, she works her animated features to full effect and throws a couple of other neat tricks in as well: literally singing her husband into a chair with a descending cadenza.

The other vocal candy comes from new resident tenor Muir, who sings Ernesto with a lyric lilt of indescribable tenderness. He had to fight off a couple of early throat-frogs, but his subsequent duet with Rubalcava, "Tornami a dir che m'ami," was the gem of the evening.

These, along with many other intricate passages, were deftly negotiated by conductor Anthony Quartuccio. As Malatesta, Pasquale's doctor (and the orchestrator of the joke marriage), Jason Detwiler provides an impressive display of baritone coloratura, a diaphragm-cramping run of rapid-heartbeat notes just before the tongue-twisting duet with Pasquale, "Cheti, cheti, immantinente." On the visual side, Julie Engelbrecht provided Pasquale with loud, laugh-worthy getups, while Sara Beukers gave him suitably shaggy-dog hair and whiskers.
---
Don Pasquale, an Opera San José Production, plays Sept. 12-13, 16, 18-20, 25, and 27 at 8pm and Sept. 14, 21 and 28 at 3pm at the Montgomery Theatre, San Carlos and Market streets, San Jose. Tickets are $43-$63. (408.437.4450)
---
---
Send a letter to the editor about this story to letters@metronews.com.
---
[ Silicon Valley | Metroactive Home | Archives ]