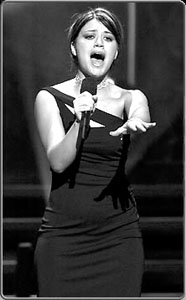 Kelly Belts It: A moment like this really does seem to last forever.





Biter

There Can Be Only One

FOR MANY AMERICANS, the past few weeks have been an extraordinary time of reflection, of difficult choices, of renewed loyalties. As the big event approached, we found ourselves huddled around television sets, challenged--even by close friends and family members--to defend our allegiances, to choose sides.

It's been heartwarming to watch the nation rise as one, united in a quest to prove ourselves to the rest of the world, to shout out with new strength, with new conviction, what we all held unquestionably to be true: that Kelly Clarkson, from Burleson, Texas, was the most talented American Idol--way better than Monsieur Afro or that chick with the pink hair--and that she deserved to win.

Yes, nothing has interfered with America's quest these past three months to smoke out pop talent from the purple hills and dales of the heartland, to prove to the world that the threat of terror cannot crush a nation dedicated to sheathing beautiful young men and women in leather pants and getting them record contracts.

Although putting the fate of the nation in the hands of a privileged few--among them a snobby Brit--was a chancy undertaking for the big media conglomerate known as FOX, the bet paid off. In the Bay Area, Nielsen numbers showed that one in every three households watched the finale last Tuesday night. That's a bigger percentage than voted in the last election.

At Biter's household, the finale played on not one but two TVs, as Biter hustled from the kitchen to the living room on a series of special ops involving chocolate-chip peanut-butter cookies. Halfway through the seemingly endless musical segues, it was easy to predict the winner--you could see it in the cards when Justin Big Hair Guarini sang his prescient but wan version of "A Moment Like This," and the judges smiled kindly. In contrast, when Kelly busted out with her cover, the judges gave her a standing ovation.

The audience pledged its loyalty with giant signs spelling out "K-E-L-L-Y." No one held up

"J-U-S-T-I-N." Maybe it was just too many letters. The excruciating good sportsmanship in Justin's glossy smile as Kelly gasped and gaped was almost painful to watch. Not that Biter really feels sorry for him. Anyone who's been in the care of such stellar family dentistry will go far regardless of the whimsy of phone-in votes.

Aside from Justin's personal grooming, many moments of touching Americana stood out in the final broadcast of American Idol. First, there was the wearing of the flag--or at least part of the flag--by 19-year-old contestant Ryan Starr, whose war-economy sacrifice of not donning any more clothing than was necessary brought tears to Biter's eyes.

And who could forget the Coke commercial dedicated to Kelly and Justin? And the Ford Focus ad dedicated to all the finalists? When was the last time American commerce so solidly backed a cause so worthy? There were ticker tape and fireworks, both so plentiful that the contestants looked in danger of suffocating. What could be more American than excessive special effects?

The peak moment of nationalistic fervor, however, had to have been when the cranky Brit judge, Simon Cowell, confessed, "I have to admit, the talent is better here." "Here" meaning America, popular culture's greatest breeding ground. Biter stood proud, a swollen lump of pride the size of a Krispy Kreme doughnut in our throat. Where else in the world, Biter wondered, could a humble,. down-home Texan, blonde-streaked and mildly talented, backed by a strong and ever-present family and a voting system that was suspicious to many, become president? Er ... whoa--Biter meant, become "American Idol"?
---
Send a letter to the editor about this story to letters@metronews.com.
---
[ Silicon Valley | Metroactive Home | Archives ]