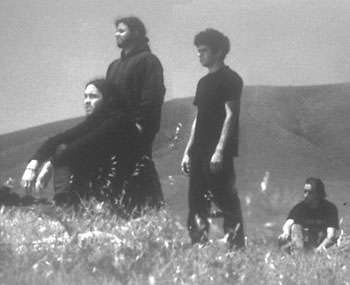 dredg plays Slim's this Thursday with Deadsy and Taproot.

Sideways in SoFA

Get ready for a brand-new club to open by the end of the year--make that two or three!

By Sarah Quelland

THERE'S A NEW CLUB on the horizon for San Jose's SoFA district. JOHNNY VAN WYK (of KLEIDON'S LOUNGE) and his business partner, contractor PETE JANSSEN (of JANSSEN BUILDERS, a company that's completed work at the MISSION ALE HOUSE, the AGENDA, the GLEN, the SHARK AND ROSE and the new SPY), have big plans for 380 S. First St., the former home of Donovan's Hair Studio and Rhythm Music. In the blueprints for a club called SIDEWAYS comes the promise of a rocking new hot spot in downtown San Jose.

Though Sideways will primarily be a nightclub, Vanwyk says on weekdays it will double as a luncheonette, serving a light, healthy menu of deli-style sandwiches, vegetarian sushi and salads--what he describes as "good-for-you stuff." He hopes Sideways' quick and easy fare will attract hungry downtown employees on the go who don't have time for long sit-down meals and crave a break from fast food.

As a nightclub, Vanwyk says Sideways will be open seven nights a week to host a variety of DJs and live bands, including lots of locals. With at least two separate rooms in the 4,000-square-foot space and plans to build an outdoor patio in the back, the setup will be much like Kleidon's, which allows for multiple music events to occur simultaneously. However, kids don't get your hopes up. Even if the club is granted 18-plus status--which Vanwyk says is a real possibility--most nights will be restricted to 21 and over.

Right now, Vanwyk and Janssen are in hearings with the Redevelopment Agency and waiting to get all their permits and licenses approved. Once the papers are signed, and the ink has dried, they'll be off and running. Vanwyk says they should be able to start construction on the club in early October. Optimistic, he anticipates celebrating Sideways' grand opening before the first of the new year.

In related SoFA news, JACEK ROSICKI's new downtown restaurant and nightclub, ZÖE, and its adjoining club, BACKBAR (both housed in the old CACTUS CLUB building), are still under construction. But he reports that he too expects to open before the end of the year. Rosicki's plans to expand his other SoFA property, Agenda, have been put on hold until the completion of Zöe and Backbar, but he hopes to start construction there in the spring.

Meanwhile, STIKMON is still actively working toward his goal of establishing the BURBANK INTERNATIONAL YOUTH CENTER FOR THE PERFORMING ARTS at the old Burbank Theater near San Jose City College. While nothing's concrete yet, he hints that if all goes well, the artists' space could open as early as Oct. 31.

In the meantime, Monday nights at Kleidon's have been going strong, serving as a refuge for local bands displaced by the closing of the Cactus Club. Upcoming shows at the weekly Rock Stars and Bitches night include REACTION 31 Monday (Sept. 16); BILLY ROSENTHAL's side project DRUNKEN STAR FIGHTER and the RESTITUTION on Sept. 23; and DIVIDED, TENFOLD and PROFFITT on Sept. 30. Kleidon's is also giving Saturday-night rock shows a test run with the debut taking place next Saturday (Sept. 21) with STITCH, WURKT, DRIST, FELLATIA, O4D and OFF DAVONA.

HOT TOPIC: After 10 years, the SOFA STREET FAIR may have run its course in the eyes of many downtown businesses, but spy celebrates the spirit of the festival next Sunday (Sept. 22) with the FIRST ANNUAL SOFA REVIVAL, an all-day rock & roll extravaganza featuring an epic lineup of local rock bands. POINT 3, KARATE HIGH SCHOOL, ONES AND ZEROS, ALIEN LOVE SYNDROME, LOS BASTARDOS DE AMOR, REACTION 31, SIFT, SECURITY, LAVABONE, KRENSHAW, HIPPIE AGGRESSION and MIND-EYE will take turns igniting the club. Tickets are $8 (or $5 advance through www.ticketweb.com), doors open at 1pm and bands start at 2pm. SOUTH FIRST BILLIARDS jumps into the mix by opening early for the occasion. The pool hall will have the San Francisco 49ers/Washington Redskins game on and offer drink specials that tie into the 49ers performance on the field.

PLAN AHEAD: DREDG, DEADSY and TAPROOT, Sept. 12 at SLIM'S in San Francisco; ULTIMATE FAKEBOOK, OLYMPIC YEAR, LIMBECK and PLANS FOR REVENGE, Sept. 13 at the LOS GATOS OUTHOUSE; FORCING BLOOM and others, Sept. 15 at the GASLIGHTER THEATER in Campbell.
---
Send a letter to the editor about this story to letters@metronews.com.
---
[ Silicon Valley | Metroactive Home | Archives ]