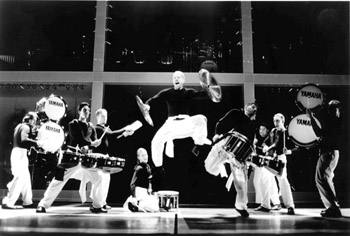 Cymbal Simon Says: Percussion instruments take flight in 'Blast!' extravaganza.

'Blast!' Track

High-energy marching-band show parades through Center for the Performing arts

By Todd Inoue

THE CURRENT American Musical Theatre of San Jose presentation, Blast!, opens with an unintentional joke--a call for turning off all cell phones, watches and pagers. That's rich, because from the first exhalation, Blast! comes loud and fast. Rows of horn and percussion players fall into formation, the majority of which are not condoned by the U.S. military. The air is filled with anthemic music and pierced by colorful flags, rods, sabers and bells. The whole shebang saturates the senses. Even if a cell phone is on vibrate, your attention is locked into the spectacle that literally overflows from the stage.

The quick-paced show is built around the marching bands and drum and bugle corps--but not held to them. There are numbers that celebrate the blues, jazz, techno, classical and world beat. "Everybody Loves the Blues" is a Full Monty-style finger-snapper with 12 guys swinging chairs and brass instruments. "Loss" is a solemn piece of a trumpeter ascending to the heavens.

Just when I wondered if Blast! had a humorous element, "Battery Battle" came along. The piece begins as a cute percussive dual between two snare drummers and builds into a heady climax. Suddenly a roto-tom cage drops to the stage, and the duo is joined by drummers and percussionists, including an amazing vibraphonist, The original snare drummers end up in a pair of inversion cages--like the one that Mötley Crüe's Tommy Lee used on the "Girls Girls Girls" tour. "Battery Battle" ends the first set on a huge "wow!"

The second set begins traditionally before veering into controlled chaos--possibly a nod to Raymond Scott or Carl Stalling. Blast! then fast-forwards to techno territory with a routine using glowing light rods. The rest of the set impresses with flashy visual and musical pieces that travel around the world and back. The show ends with a bombastic finale worthy of an Olympics closing-night ceremony.

It's hard to explain just what Blast! is. It's marching bands on creatine. The music, choreography, airborne flags, big beats, didgeridoos, vibraphonists, percussionists and light show combine for an exhilarating--if aptly named--night out.
---
Blast! plays Tuesday-Friday at 8pm, Saturday at 2 and 8pm and Sunday at 1 and 6:30pm through Sept. 22 at the San Jose Center for the Performing Arts, 255 Almaden Blvd., San Jose. Tickets are $40-$65. (888.455.SHOW; www.amtsj.org.
---
---
Send a letter to the editor about this story to letters@metronews.com.
---
[ Silicon Valley | Metroactive Home | Archives ]