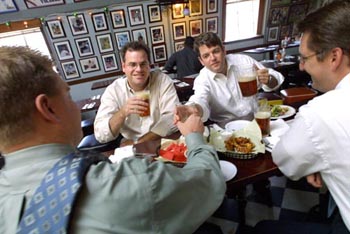 Photograph by George Sakkestad

Not-So-Old Pros: Raising a pint to the sporting life.

Batters Up

Everyone's a good sport at Palo Alto's Old Pro

By Joseph Izzo Jr.

ALL THIS TIME, searching for restaurants along Palo Alto's stretch of El Camino Real, I never noticed The Old Pro. I blame this lapse on the mysterious nature of The Old Pro's exterior. Like the robe of a phantom, an oddball mix of angles and shadows--to say nothing of the plants and the dust--conceals this place from detection.

When a buddy pointed it out, my eyes were opened with the force of a spiritual awakening that altered forever my point of view. Now, I see nothing but the Old Pro (established in 1968) hulking near the corner of Page Mill like a giant pumpkin--or half of a pumpkin, growing sideways from the earth.

To be exact, the Old Pro resides in a Quonset hut: A time-beaten sheet metal structure that reminds me of John Wayne war movies, with a cavernous interior that swallows patrons like the whale swallowed Jonah. I nearly lost myself in the maw of this great room where no less than 11 television monitors flicker endlessly, where people from all walks of life and every age group jabber faster than the land speed record. Raised varnished wood tables and rows of stools comprise a seating arrangement that forces good citizens, sometimes in swarms, to sit side by side. Menus are scattered across the planks.

On the way in is posted a quote by Charlie Connerly, of the bygone New York Giants, that sets the tone of this place. "If you win, you're an old pro. If you lose, you're an old man." This pretty much sums it up. For more quotes, read the edges of the menu.

In addition to all the televisions--working off five satellite dishes--and people, the Old Pro is crowded with a dizzying festoon of photographs, pennants, and newspaper articles from just about every category of athletic endeavor. "See, there's Sandy Koufax . . . whadda you think a that?" my friend gloated as I gawked at all the snapshots of people who made every noise in the world of sports. What I think is that there's no other place like the Old Pro. It takes position in a lineup of rascals with muscles built on the protein of strange human behavior. It throws knuckleballs--and sliders--straight from the hip. All the things I'd come to believe about sports bars were suddenly erased in the half-light of this joint.

We started with frothing glasses of Silver and Black: Smirnoff Ice poured into a half glass of Guinness Stout, tumbled together like the lava in a lava lamp. The result is a quenching beverage full of roasted grain and citrus accents, smooth and delicious.

The Pro is one of the few places around where I've found White Castle hamburgers--sliders, they're nicknamed, and have been since 1921, when the first White Castle opened in Wichita, Kansas. My father called them "the damnedest things," and claimed to eat 10 to 15 at a time as a young man tending bar in Buffalo, New York. Because they are small enough to be easily held between thumb and index finger, they arrive in multiples--from two ($4.95) all the way to eight ($12.50)--on a deck of crispy garlic fries that my pal says are some of the best he's had. For me to eat just a few and push aside the rest required heroic willpower, which I didn't have. In addition to five sliders, I polished off an entire basket of these crunchy tidbits, tossed with real garlic and served with ranch dressing.

The Pro also makes a thick Certified Angus Steak Burger ($7.95 plain), grilled to order and delivered on a fresh, substantial bun without unnecessary condiments. Many variations on the theme are available, including chili-cheese-red onion, sautéed mushrooms, Caribbean spices, barbecue, cheddar and pepperjack.

But the Old Pro doesn't stop there. Decent pizza ($11.95 and up) made with hand-spun dough, Baby Back Ribs ($12.95 with fries and coleslaw) and Andouille Sausage Jambalaya ($10.95) are also offered and turned out with reasonable savor for a place like this. I liked the Cajun rice dish, blended with plenty of spicy sausage and chicken breast in a peppery sauce, more tart than sweet. We also enjoyed the Beer Battered Fish and Chips ($9.75) made with sturdy white fillets in crisp jackets--but we didn't enjoy the Tiger Prawns ($8.75). Though the same beer batter was used in the dipping, no flavor or substance came to the mouth. I sadly report that the shrimp were barely present. What happened to them remains a mystery.

On my visits, I saw two lovely young ladies running the bar and dining area. Sometimes they work together, sometimes not. With the help of one, maybe two, busboys, they take care of the place, jotting down orders, delivering food, beverages, cleaning tables, exchanging quips, while at the same time checking the scores on the 11, maybe more, televisions. On top of it all, they smile and make you feel welcome.

Fine dining will not be found at the Old Pro, and why should it? This is a sports bar, after all, and should be appreciated as such. The place is full of vibrant activity that, if anything, reminded me I was alive in the present tense, and not somewhere else wondering about unimportant things--like when my tax rebate will arrive, or when to change the oil in my car.
---
The Old Pro
Address: 2865 El Camino Real, Palo Alto
Phone: 650.325.2070
Price Range: 4.50--$11
Cuisine: Mixed bag
Hours: 11:30am--midnight, daily
---
[ San Jose | Metroactive Central | Archives ]