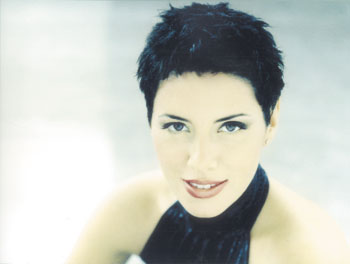 Listen to Me: Soraya puts her talents to good use.

The Healing Arts

Pop star Soraya entertains and educates

By Jesse Chuy Varela

A YEAR AGO, gifted Colombian-American singer/songwriter Soraya was diagnosed with breast cancer, the disease that took the life of her mother just a few years ago. Since her debut in 1996 with parallel English and Spanish albums--On Nights Like This and En Esta Noche--the talented folk-rock performer has earned platinum record status and toured with Sting, Natalie Merchant and Alanis Morissette, as well as charting on the Latino Top 10 with hit singles like "Suddenly/De Repente."

Poised for pop stardom with a follow-up that included a collaboration with her idol Carole King, she continued to forge ahead. But upon the completion of her last album, Cuerpo y Alma, she faced a chain of life-altering events that included leaving Universal Records and discovering that the disease that had killed her mother also afflicted her.

She fought back by getting involved in educating women and raising financial support for research that has led to her position as Latina spokesperson for the Susan B. Komen Breast Cancer Foundation. Last year she helped collect millions of dollars in contributions for the American Cancer Society while continuing to reinvent herself musically. This year, she drew from her Lebanese heritage to remake her global hit "I'm Yours," with the celebrated oud master Simon Shaheen, on the collection Desert Roses & Arabian Rhythms (Mondo Melodia). Much like Colombian pop queen Shakira, Soraya possesses a voice with a unique timbre and emotion that is melancholy and passionate. Yet while she began as entertainer, she is now a humanitarian, using her music and stature to save lives. Soraya has said, "Eleven million women a year get this disease, and 45 percent [of them] don't have to die. You have to educate. People need a face for their message, so I said, I'll be that face."

Soraya will be honored at a gala fundraising event for Las Isabelas, a Silicon Valley support group for Latinas with breast cancer. She will be presented with the Gracia Award in recognition of her work with other women with breast cancer and her own struggle with the disease. Soraya will also sing several of her new songs.
---
Soraya appears Thursday (Sept. 13) at 6pm at a benefit for Las Isabelas at the Mexican Heritage Plaza, 1700 Alum Rock Rd, San Jose. Tickets are $50. 408.254.4080.
---
[ San Jose | Metroactive Central | Archives ]