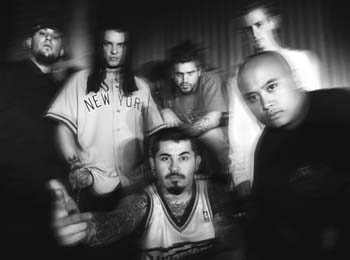 Blunt Ambition: Hip-hop/rock band Insolence has proved to be 'Driven' on their road to success.

Local Mavericks

Insolence lives up to its hype and becomes the next big thing from San Jose

By Sarah Quelland

INSOLENCE HAS LONG been touted as the next band from San Jose to hit big. Now, it seems that prophecy is finally coming true. The heavy ghetto-styled hip-hop/rock hybrid band recently inked a deal with Madonna's Maverick Records, the same label that helped launch Sacramento contemporaries Deftones into the spotlight five years ago.

Formed in 1995, Insolence, a forerunners of the rap/rock genre, has steadily earned its reputation as one of the most popular bands in the South Bay. Known for its furious energy, intense music filled with deep funk grooves, tribal rhythms, and relentless ambition, the band's independently produced albums Within, Universal and Poisonous Philosophy have become mainstays on Top Ten lists for album sales by local bands. The band's promotional gear is also frequently spotted on the street as hardcore fans proudly represent their favorite South Bay outfit.

With small national and European tours bulking up its résumé, Insolence was voted on USA's Jimmy and Doug's Farm Club as one of the Farm Club 5 in June and gave a high-energy performance of "3rd I Satellite," a feat that called national attention to the aspiring band. As the members of Insolence emphasized on the show (with a little help from some conveniently placed cue cards) "Farm Club works."

Apparently so. After shopping around to labels for the past three years, in mid-July the band showcased for Maverick and, according to manager Angie Cardenas, the label "signed them on the spot."

All of us were kind of in shock," the San Jose-based Cardenas (who works with Los Angeles partners Sean Henning and Nic Adler) remembers.

Since Insolence's formation, there has been a fair amount of turnover in the lineup. Early vocalist Ron Taniguchi went on to form the successful, but now defunct, metal band True to Form. Former guitarist Joey Ruiz set his sights on his new band Movement. Early on, Paul Perry replaced bassist Rich Reed who played on Within. It's the current roster though, of maximum-impact tag team vocalists Mark Herman and Billy "Mech 1" Rosenthal, bassist Paul Perry, drummer Mando Cardenas, turntablist Jerry "Da Hermit" Delalo and new guitarist, 18-year-old Mike Rowan, that is making the move forward with Maverick.

The record label is already keeping the promising band busy with a stint in Toronto shooting a club scene and working on the soundtrack for a Sylvester Stallone movie about race cars titled Driven (working title Champs) that's due in theaters next year. It recently performed at a WEA convention in Atlanta, Ga., with Barenaked Ladies and i5. Insolence also contributed its song "Natural High" to the soundtrack for Adam Sandler's latest, Little Nicky. In a mere matter of weeks, the band is scheduled to enter the studio (possibly NRG Recording Services in Hollywood--the same high-quality studio where Papa Roach produced its super-successful DreamWorks debut Infest) to produce its much-awaited major label debut, which is due out sometime next spring.

According to manager Angie Cardenas, who's also married to drummer Mando Cardenas, the new album will have 12 to 14 tracks and the band plans to include songs from Poisonous Philosophy, new material and maybe a few older favorites.

Still, despite these exciting new developments, Insolence is making time for the hometown that helped put it on the map with its unyielding support.

"Without the fans there's nothing," Cardenas emphasizes. "They're the ones that make it happen."

After participating in at least three SoFA Street Fairs inside the band's old stomping ground, the Cactus Club, this year Insolence is performing on ULTRAViBE.com's outdoor stage at the last big shindig of this year's inaugural four-day SoFA Music Experience (which runs Sept. 14-17).

"SoFA's going to be the last thing we do [for awhile]," says Cardenas. When the album is done, the guys, who she refers to as "road warriors," will start touring. But Cardenas says the band will definitely come back through San Jose. "We're way hype about what's going on and will be representing the Bay all the way" she enthuses.

Back in June, in addition to taking cameras into the band members' day job workplaces (where they filmed Herman at the Fatty Zone, Rosenthal at the Wherehouse, Rowan at Jamba Juice and Cardenas at his rehearsal space and place of business, Loud Mouth Studios), Farm Club talked to Zero editor and publisher Larry Trujillo who opined, "If there is a next big thing coming out of this area, it'll be these guys." If nothing else, getting signed to Maverick is a great start.
---
Insolence performs at the SoFA Street Festival on Sunday, Sept. 17, at 2:30pm on the ULTRAViBE stage in Gore Park.
---
[ San Jose | Metroactive Central | Archives ]