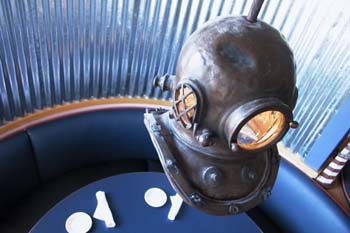 Shell Game: The oysters on the half-shell alone make a visit to Hammerheads worth the trip.

Ocean Treasure

Generous portions and comfortable atmosphere make Hammerheads a winning destination for seafood

By Andrew Pham

HAMMERHEADS FISH HOUSE has a rugged ring to it. One could imagine a salty crust of diners swilling beers and gnawing on fish 'n' chips in a sort of place where bottom feeders and scavengers mix it up. Of course, given that it's in the middle of one of the most renovated and revitalized areas of Silicon Valley, nothing could be further from the truth.

Located near the junction of Prospect Road and Saratoga Avenue, Hammerheads completes a sort of local triangulation in seafood restaurants, falling somewhere between the veteran Fish Market and the more recent and hip Hawg's Seafood Bar. Reminiscent of theme park diners, Hammerheads' spacious décor and color scheme seem popular with families. Entrees come on old-style platters, generously heaped, but salads don't come with meals, in keeping with contemporary restaurant pricing tactics.

The place, formerly Lyon's, is remodeled in ocean blue and crustacean pink, pastel-softened. To round out the authentic feel, a little skiff is wrecked on a mound of sand near the front entrance. Inside is an open, square layout with comfortable booths and bistro dinettes. Heavy wood blinds block out views of Prospect Road traffic. The tables are bareback, no linen; after all, it's a fish house. The walls and ceiling are strung with nets, bleached ropes and other paraphernalia associated with waterfront life. Edges are trimmed in shiny, corrugated roofing tin to lend the place an "everyman" aura.

We order up as an appetizer a pair of crab cakes ($9.95). The size of sand dollars, they are tasty, but a bit on the oily side. The accompanying remoulade sauce, despite its lush peach tone and fancy name, tastes very much like regular mayonnaise. The next dish, however, leaves us delighted. Served on a bed of ice, flanked with cocktail sauce, lemon and horseradish, the baker's dozen of bluepoint oysters stands out as the best appetizer, at a reasonable $11.95. They are succulent, the fresh juices balanced between a shellfish sweetness and a sharp sea-tanginess. We can easily see ourselves slurping these aphrodisiacs and sipping ale all evening.

The day's special is a halibut steak ($15.95), as generous as is to be found anywhere. Beautifully scored and grilled to perfection, the hefty fillet, drizzled with lemon-butter, yields to the fork in even, tender flakes. It is sided with a fist of crispy string beans and "finger-length" potatoes, which are oven-baked for a delectably chewy effect. This is far superior to the battered and fried jumbo scallops ($13.25) which come steaming to the table, but perhaps a little too hastily, as the crust seems slightly undercooked.

The extra-tomatoey cioppino ($21.95) is fleshed out with half a Dungeness crab and several fistfuls of prawns, mussels and clams--no fish, hence a lighter-bodied broth. With a distinctive wine influence, it is ladled out by the basin, and is ample enough for two appetites. There is just a light hint of garlic, parsley and fresh basil--no spiciness to mention. The crab made the broth enticingly sweet. Although this isn't the "deep stew" more commonly found around San Francisco's Fisherman's Wharf, it does come across as a milder yet lovely rendition of the old Italian-American gem.

When our friendly waiter urges us to sample the "delicious dessert," we request the name of the pastry chef. After a quick retreat to the kitchen, he triumphantly returns with the answer: "Sysco"--the mega-corporation restaurant supplier. At $4.95 for a slice of New York-style cheesecake, we judge, after a few bites, that better sweets can be had at any coffeehouse. We topped the night off with Irish coffees. The house boasts a full bar, but the Irish coffees are delivered sans cream, providing us a good-natured round of chuckles.

There is promise here for those who prefer honest, platter-style meals of fresh seafood. Portions are generous and the menu broad, although the friendly service still needs some fine-tuning. As these details get smoothed out, Hammerheads Fish House will make a great alternative to the Fish Market and Hawg's.
---
Hammerheads Fish House
Address: 5291 Prospect Road, San Jose
Phone: 408.861.1200
Hours: Mon-Sat 11:30am-2:30pm, 5:30-10pm; Sun 3-10pm
Prices: Moderate
Cuisine: American seafood
---
[ San Jose | Metroactive Central | Archives ]