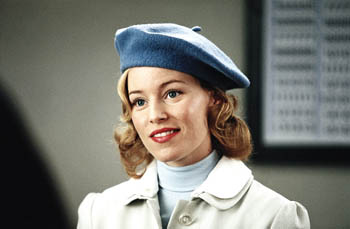 Parker Posing: Elizabeth Banks plays a Parker Posey type in the romantic comedy 'The Baxter.'

Nerdtopia

'The Baxter' is a cozy little comedy about the too-nice guy who gets stranded at the altar

By Richard von Busack

THE OLD-ENGLISH meaning of the word "baxter" is a female brewer—such a woman would have little need for Match.com. What director Michael Showalter calls "a Baxter" has also been called "a Lloyd." Maybe the best term is "a Bellamy," since it was always Ralph Bellamy who played the too-safe, too-sane, too-nice suitor in the Cary Grant–era of romantic comedies. He was the one who was trying to haul the heroine off to live in Albany or Oklahoma. Michael Showalter, a member of the three-man comedy group called Stella, directed The Baxter as a tribute to the second lead in a rom-com. Showalter himself plays hero Elliot Sherman (not bad nomenclature, for that matter, either: "an Elliot" or "a Sherman" would have fit in there with the previous name).

In a lighthearted way, The Baxter tries to show the heartbreak of an also-ran. Defying the adage that "there's no accounting for taste, and there's no taste for accounting," Showalter plays the buttoned-down Elliot as a devoted dweeb; holding his head at what he supposes is a straight angle, he has the same WASP crick in his neck that Edward Herrmann has, and the same myopic soft-boiled-egg eyes.

Showalter has Bellamying down to a silence, but the reason to see The Baxter would be Michelle Williams as his natural mate, to whom he, of course, can never get close. Her nerdette Cecil, a temp worker with negligent hair, apparently lets her granny choose her clothes. In the best scene, Cecil becomes an impromptu overnight guest (a night of too many drinks because of the rotter she's involved with). She is expert at re-creating the young Shirley MacLaine, traipsing in the floppy red-plaid flannel pajamas Elliot breaks out for her. And Showalter is fairly deft at counteracting Williams' sugar with a little salt. Peter Dinklage (The Station Agent) has his first truly size-ignoring role) as the movie's Franklin Pangborn, just as Elizabeth Banks is the Parker Posey.

Back East, The Baxter has been getting scathing reviews. As I interpret it, Showalter's crime is ignoring the polyglot culture of Brooklyn, a borough where so many New York movie critics dwell. (As they say, just because you write for The New Yorker doesn't mean you get to live in New Yorker style.) This cultural stick could have been used to beat many a Hollywood romantic comedy, but wasn't. It hardly seems worth drawing a bludgeon against a movie this modest and inoffensive.

The Baxter is reminiscent of the similarly unsprung Napoleon Dynamite, and maybe its proudly pro-nerd slant will make it a cult favorite. Like Napoleon Dynamite, The Baxter is engineless. And it's sometimes not as fine with the use of locales as it could be. The bar where Elliot hangs out is far too hip-looking: a formerly Eastern European watering hole where it's more likely that the real-life Showalter would go than his character. As a writer/director Showalter gets a laugh with some alarming talk of sex—it breaks the frame so loud you can hear it shatter. One wonders if he shouldn't have done without. A key part of the rom-com audience longs for the zone where no dialogue is more risqué than anything that turned up in Pillow Talk.
---
The Baxter (PG-13; 90 min.), directed and written by Michael Showalter, photographed by Tim Orr and starring Showalter, Elizabeth Banks and Michelle Williams, opens Friday at selected theaters.
---
---
Send a letter to the editor about this story to letters@metronews.com.
---
[ Silicon Valley | Metroactive Home | Archives ]